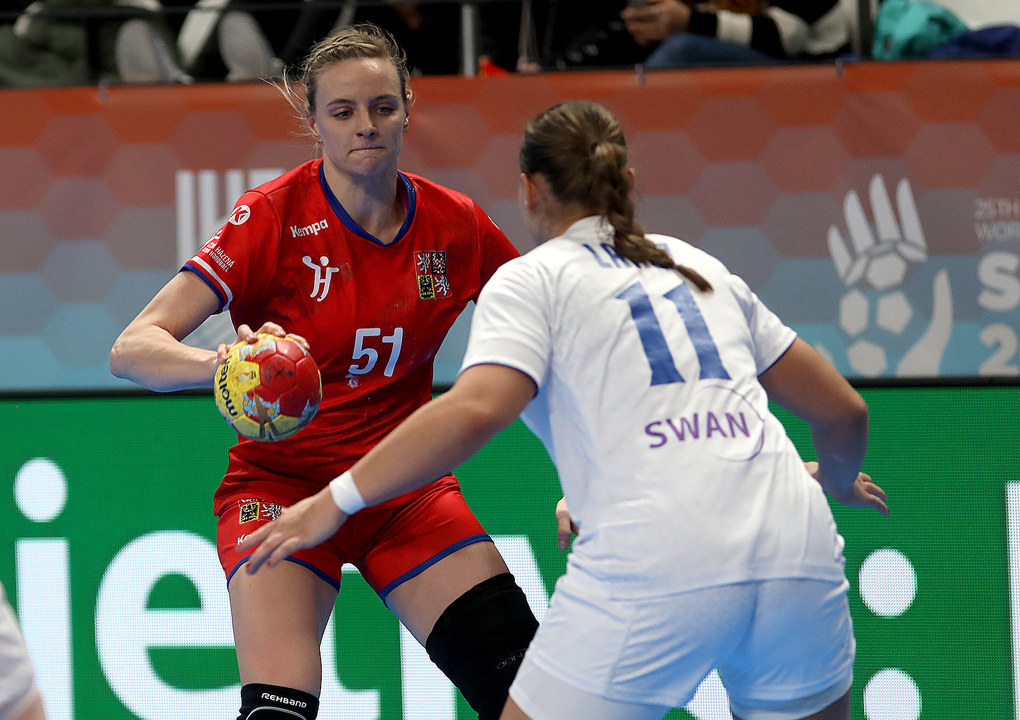 All but one European team still in medal race
The first stage of the 25th Women's World Championship is completed – and the European armada has cruised to the main round with almost all of its ships. The only European side which will play in the Presidents' Cup for positions 25 to 32 is Slovakia.
After both Czech Republic and Slovakia had lost their first two matches in the all-European group E against Germany and Hungary, they had a true final for the last main round spot. Although the Slovaks were ahead 12:7 at one point in the first half, they lost 23:24, with Vipers Kristiansand back Markéta Jerábková scoring the last two Czech goals.
In this group, Germany topped the ranking with three victories, including the final 25:24 thriller against Hungary. The Germans will face another European team with a clean record in the final match of main round group 3 on Sunday – record Olympic champions Denmark.

Denmark finished the preliminary round with six points and a goal difference of +46 after clear wins against Korea, Tunisia and Congo and despite a bad knee injury to Mia Rej in the opener against Tunisia. The upcoming hurdles of Germany and Hungary will definitely be tougher for the EHF EURO 2020 hosts and semi-finalists.
As predicted, four European powerhouses will duel for the two quarter-final spots in main round group 2. EHF EURO 2020 champions Norway start with the maximum of four points, including a dominant 33:22 win in the group final against Romania (2 points).

Sweden and defending champions Netherlands finished an intense battle for the top spot with a draw and each carry three points to the next stage. The biggest gap in the second half was one goal, and the Netherlands took the lead for the first time in minute 50 – but finally the draw was fully deserved.

Both sides previously had goal fests against Puerto Rico and Uzbekistan. The Netherlands scored 113 goals in those two matches (55+58), while Sweden's Nathalie Hagman scored 19 individual goals against Puerto Rico, and tops the scorer list with a total of 29 goals after three matches.
In groups A and B the two Olympic finalists finished with a clear record of three wins, and will face each other in the main round. Gold medallists France beat Angola, Montenegro and Slovenia, while silver medallists Russia beat Serbia, Poland and Cameroon.

Thanks to 12 goals from last season's DELO EHF Champions League top scorer Ana Gros, Slovenia took a draw against Angola in group A, which was enough to proceed thanks to a 28:18 win against Montenegro in the opener. The EHF EURO 2012 champions also made it to the main round, but start with zero points like Poland from group B.
After being the surprise at the EHF EURO 2020, finishing with bronze medals, Croatia found the world championship group phase tough. Nenad Sostaric's team lost against unbeaten group winners Brazil and Japan in group G, and only beat underdogs Paraguay to make it to the main round.
There they face another European team, which was hit even harder, but not on court. Seven Austrian players and coach Herbert Müller are in quarantine. Austria courageously beat China, before losing to Argentina and hosts Spain, but still clinched a main round berth. In group 4, Spain and Brazil start with the optimum of four points.
The main round begins on Wednesday, with the two best teams from each of the four groups looking to book their quarter-final tickets.
Photos copyright: IHF, RFEBM / J. L. Recio & J. Navarro