Summary: Györ and Metz keep perfect record; FTC also unbeaten
Round 4 of the DELO EHF Champions League opened on Saturday with big wins for the 2020/21 finalists Brest and Vipers, as well as an exciting draw in the Match of the Week. On Sunday, the action continues with five matches. 











SUNDAY 17 OCTOBER
18:30
With our match reviews complete, that's the end of coverage for the DELO EHF Champions League round 4.
See you next week for more action, throwing off on Saturday 23 October at 16:00 CEST as Rostov-Don host Dortmund and FTC host Brest Bretagne, followed by the Match of the Week at 18:00 CEST when Metz Handball welcome Györ. We can't wait!
18:13
Wrapping up the results from the round - we've had some close matches this weekend, with one draw and two one-goal wins. Meanwhile Vipers and Brest Bretagne both produced their biggest performances ever in the DELO EHF Champions League.
Non-stop, non-scripted drama - you can't never predict what's going to happen!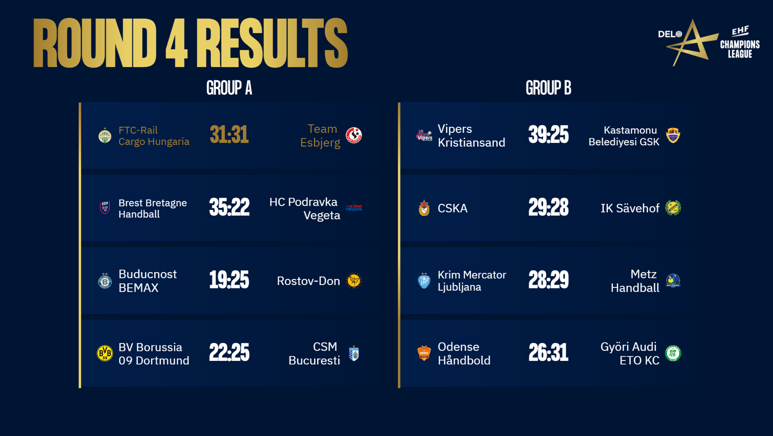 18:04
After round 4, Györ are the only team with a perfect record of four wins from four games. Metz have won three out of three and have a game in hand, and FTC are unbeaten after two wins and two draws. Every other team has lost at least once.
Buducnost and Kastamonu are bottom of groups A and B respectively, after suffering four straight defeats. Buducnost's goal difference of -33 is the largest in the competition.
17:45 | RESULTS
A few mistakes by Dortmund right at the end, and everything goes CSM's way as Elizabeth Omoregie nets the winning goal for the visitors. Dortmund's unbeaten run comes to an end. Cristina Neagu top-scores with six goals; Yara ten Holte is the best goalkeeper, with an astonishing 17 saves from 41 shots. 
Another day, another loss for Buducnost. Rostov join FTC-Rail Cargo Hungaria with six points from four games at the top of group A, and have the superior goal advantage of +10.
A match filled with goals, but more of them Györ's. Dione Housheer again shone for Odense, netting seven times, but against a solid team performance from the visitors it wasn't enough. Györ right back Ryu Eun Hee added another six goals to her season tally in what is turning out to be a brilliant Champions League debut.
Heartbreak for Krim. The hosts played their best match of the season, leading for much of the game - but when Louise Burgaard scored for Metz with four seconds left that was it.
Oceane Sercien Ugolin collapsed at the end of the match and both teams promptly formed a circle around her while she was looked after. 
17:25
Still nothing decided in Dortmund or Ljubljana. Andre Fuhre takes his last timeout as Dortmund fight to pull back CSM's two-goal lead. Uros Bregar has called a timeout too for Krim, with Metz just taking a 28:27 lead with three minutes to go.
17:16
If you're not watching the Dortmund vs CSM clash, make sure you tune into EHFTV now (oh and by the way, there's German commentary too). 
CSM lead 21:19, but there's eight minutes left and a Dortmund crowd to cheer on the women in black and yellow.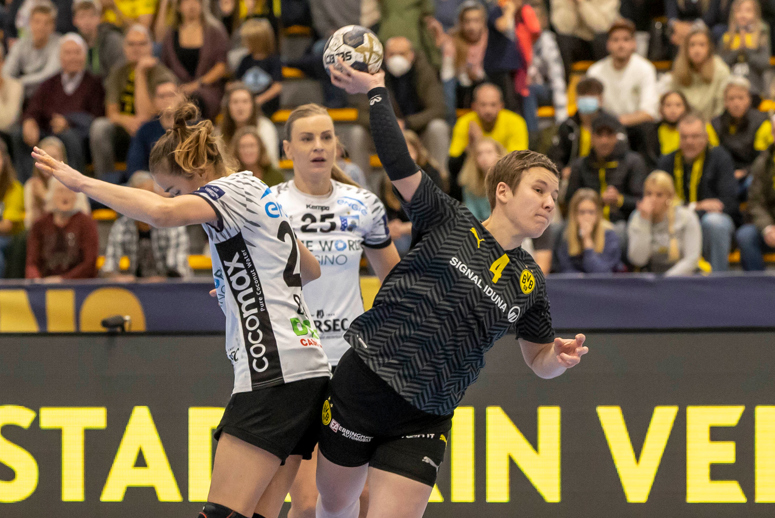 17:08
Metz have pulled level with Krim now as Meline Nocandy comes into her own, with seven goals so far. It's 24:24.
Dortmund are fighting hard against CSM and the match is still largely level as the two sides exchange goals - Barbara Lazovic makes it 18:18.
17:02
A pause in Dortmund as Alina Grijseels goes down hard while shooting. After being attended to she gets up and walks off court for a rest. CSM still lead by a single goal.
16:55
And we're back underway in all four games. 
Krim and Odense have their mascots on site to encourage their sides. We rather like the Odense fox's funky dungarees.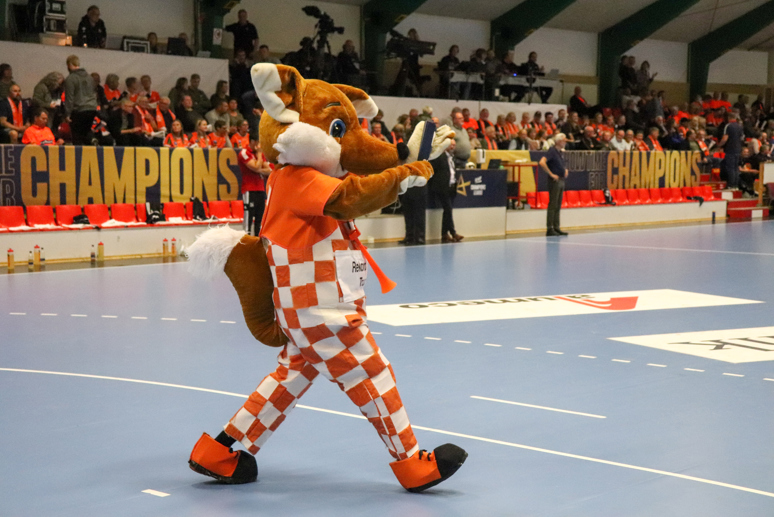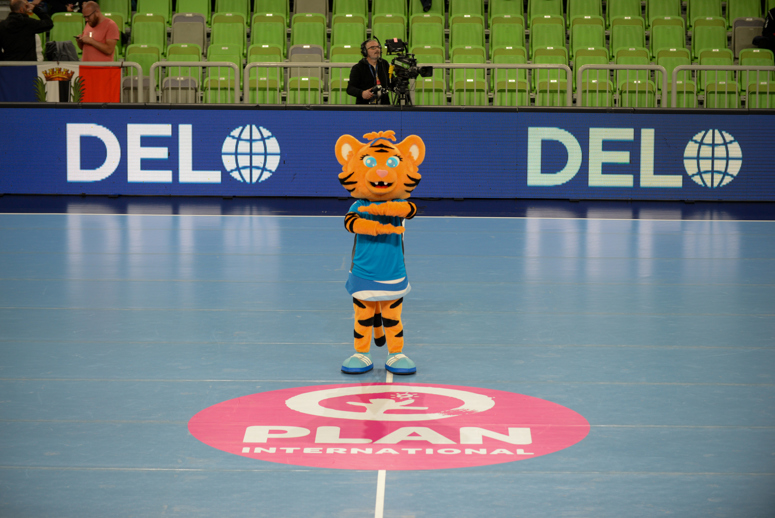 A five-goal lead gives Györ a good chance to claim a fourth straight victory. The visitors had the upper hand in the first half, capitalising on Odense's mistakes and scoring a number of goals from fast breaks. The home side fought hard, with Dione Housheer scoring four goals from as many attempts, yet it is hard to compete with the Hungarian heavyweights.
For 17 minutes, it looked like CSM were going to deliver a pitch-perfect defensive display, conceding only four goals. Yet Dortmund bounced back admirably. With Dutch shot stopper Yara ten Holte in fine form, the German champions still look like they could preserve their unbeaten status in the European top competition.
16:40 | HALF-TIME UPDATES
BV BORUSSIA DORTMUND 09 11:12 CSM BUCURESTI
DELO EHF Champions League top scorer Alina Grijseels has helped her team draw back an early four-goal deficit against CSM and the teams are level at the break. Yara ten Holte is impressive too in goal for the hosts.
BUDUCNOST BEMAX 10:14 ROSTOV-DON
Rostov did not let Buducnost extend that lead they had earlier, and it's not looking like that elusive win for the home team is going to come tonight. Four goals from both Iuliia Managarova and Grace Zaadi Deuna have helped Rostov move to a comfortable advantage.
ODENSE Håndbold 12:16 GYÖRI AUDI ETO KC
Györ had the better start; Odense fought back; Györ moved away again. However, a 3:0 run before the break makes their lead look stronger than much of the match has been so far. Nadine Schatzl is top scorer with five so far.
KRIM MERCATOR LJUBLJANA 17:15 METZ HANDBALL
Metz have recovered a bit of ground, but Krim will be pleased with the way they played that first half. Although Krim have won more head-to-head matches with the French club, Metz won both of last season's encounters.
16:30
Pop over to our social media accounts for clips from the matches - including a brilliant early save from Odense's Althea Reinhardt.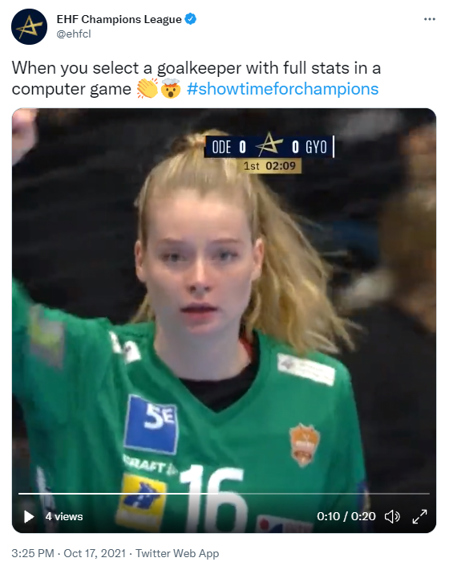 16:22
Metz are in trouble! Alison Pineau, who knows several of the Metz players well from the French national team, has led Krim to a 10:7 lead. Emmanuel Mayonnade calls a timeout to try and fix the problems before they worsen.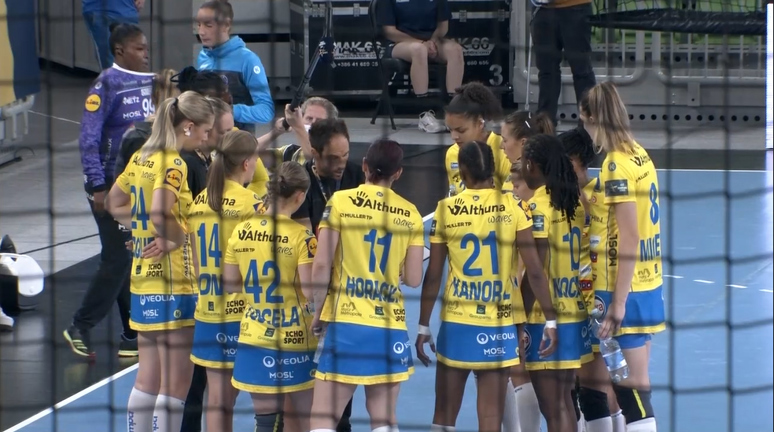 16:15
An impressive start from Buducnost keeps them level with Rostov for now. Krim also had a solid start and trail Metz by a single goal.
In the clashes to decide the group leaders, Dortmund are facing a CSM Bucuresti playing with energy, and it's 4:5. Odense, however, are already letting Györ slip away as the record champions take an 8:4 lead before a quarter of the match is done.
16:05
As the games get started, a few facts from our round preview:
a win for Buducnost would be their 150th in the competition - Györ are the only team to have won more matches
CSM are the tallest team in the competition, with an average height of 178 cm, while Dortmund are the shortest, at 172.6 cm
Györ are the most efficient side in the tournament so far
Odense have never beaten Györ. Last season they drew 32:32 in Denmark
Krim hold an advantage in head-to-head encounters with Metz, winning nine of their 14 meetings, while the French team claimed victories in the five remaining games
15:50
With four matches at once the challenge is always to know which one to watch. Why not all at once! Remember you can choose up to four games in EHFTV so you can really keep an eye on every moment.

15:40
Next up we have four matches to conclude round 4, all throwing off in 20 minutes at 16:00 CEST.
In group A, BV Borussia Dortmund 09 take on CSM Bucuresti in a bid to keep their dream start to the season going. They topped the group after round 3, and another win would keep them there. EHF journalist Eric Willemsen spoke to Dortmund's Dutch goalkeeper Yara ten Holte about how things are going earlier this week - check out the interview.
Also in group A, Buducnost host Rostov-Don. The Montenegrin side desperately need a win after three losses so far.
Group B leaders Györ are in Denmark to play Odense; can they be the only side to win four matches out of four? Last, but not least, Krim host Metz - a win for the hosts would mean there would be five teams in the group with four points.
15:27
Karina Sabirova netted her sixth goal to give CSKA a three-goal lead with less than two minutes on the clock, and maybe CSKA thought that was enough. A moment's inattention, however, was dangerous as Sävehof scored twice in 30 seconds to bring it back to 29:28.  
After a final timeout, CSKA slowed things down enough to keep possession. Although Sabirova's last shot hit the posts, Sävehof ran out of time and the hosts take a one-goal victory and their second win of the season.
15:20
CSKA cling on to the lead by their fingertips. They are still more accurate in attack and defence than their opponents, and it might be enough.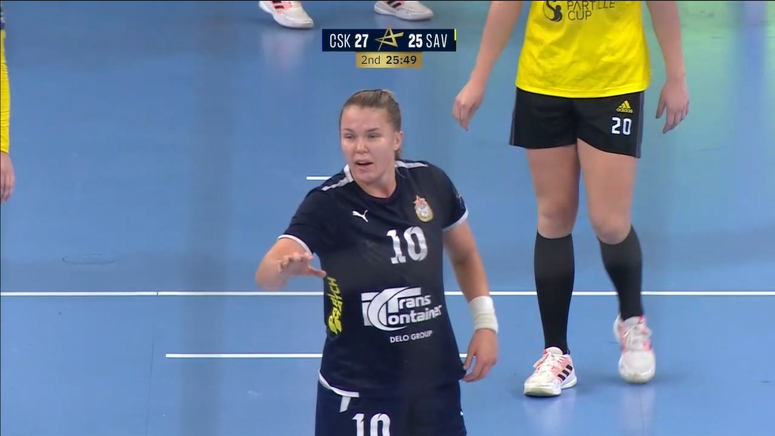 15:13
Update on those top-scoring stats: Jamina Roberts has now scored 31 goals in the current DELO EHF Champions League season, the first player to break through 30 successful shots. She's netted six of 10 attempts in this match.
15:10
A couple of goals by Mathilda Lundström and Sävehof level the match at 21:21, with just over 13 minutes left. Things are getting tense!
15:00
Everything slowed down a bit for several minutes, despite the CSKA cheerleaders and drummer in the stands trying to energise their team. Sävehof keep bringing it back to a one-goal game.
CSKA's also got a guitarist high up in the stands to entertain the fans!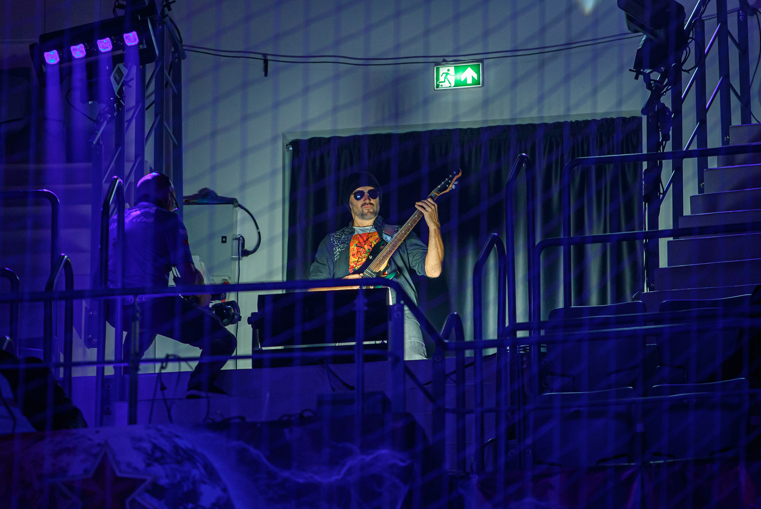 14:50
The second half is underway - will CSKA be able to hold onto the lead and secure a win?
Both sides missed a lot of chances in the first half, asthe goalkeepers did a great job. In particular, CSKA's Polina Kaplina stopped 11 shots for a 50 per cent save efficiency, and she also managed to score a goal from her own half. Sävehof's Wilma Kroon also stood out with her nine saves, and while CSKA are enjoying a three-goal lead, it can still be anyone's game.
14:35
HALF-TIME UPDATE: CSKA 14:11 IK Sävehof 
A flurry of goals just before the break and CSKA have a handy three-goal lead. Both teams have a low scoring percentage - because of their goalkeepers! 

14:29
CSKA get their first two-goal lead just before 25 minutes courtesy of Ekaterina Ilina, their top scorer so far with three goals, and she brings it back to two goals again about a minute later.
14:18
A gorgeous, clever hip-shot by Sara Ristovska gives CKSA their first lead of the game at 7:6. It's a close match - Sävehof held a 4:2 lead briefly, before two goals inside a minute brought the home team level. 
Polina Kaplina and Wilma Kroon Andersson between the posts are playing brilliantly, both with six saves in less than 20 minutes.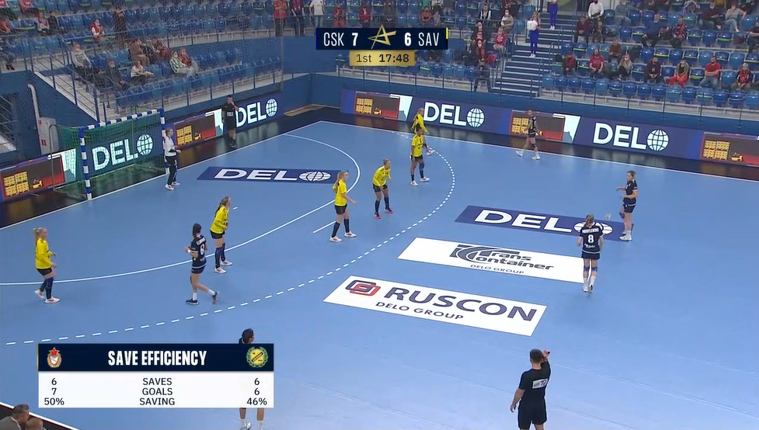 14:10
Jamina Roberts bangs in her first goal of the game and it's 3:2 to Sävehof. Roberts now needs just three more goals to top the top scorers list of the season - although you can bet that Alina Grijseels will add to her tally for Dortmund later.
Last season's top scorer, Ana Gros, switched teams to CSKA this year. She's scored 16 goals so far but is out injured at the moment.
14:00
Throw off is just moments away! Here are the squads - CSKA missing Polina Vedekhina after surgery on her heel last week.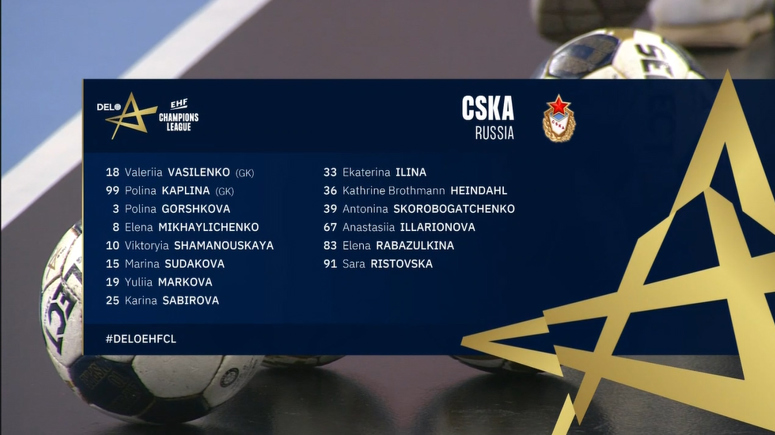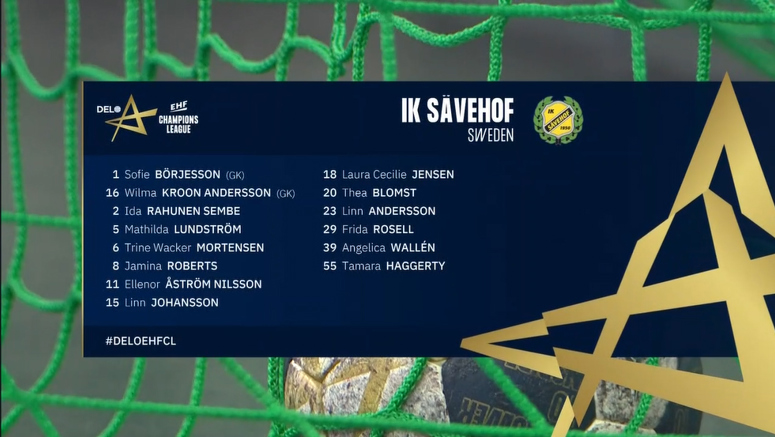 13:50
Earlier this week the European Handball Federation announced it had extended its collaboration with charity Plan International. The partnership includes a campaign focusing on how misinformation and disinformation online affect the lives, learning and leadership of girls and young women, and coincides with the International Day of the Girl Child on 11 October.
All the courts this weekend will display the Plan International logo, and the partnership also sees interviews with players and ambassadors of both the DELO EHF Champions League and the EHF Champions League Men to promote the campaign and Plan International's girls' petition calling on governments to educate children in digital literacy.

13:30
CSKA have posted an arrival gallery on their Facebook page - the players look focused and determined ahead of what ought to be a great game.

13:15
After a scintillating Match of the Week yesterday, plus two big wins for Brest Bretagne and Vipers, we're back in 45 minutes as CSKA meet IK Sävehof for the first time ever.
Both teams have won one match so far; having missed round 1, CSKA lost to Györ in round 3. Sävehof beat Krim in round 1, and went on to lose to Vipers and Odense. 
Key to the match will be Sävehof left back Jamina Roberts, who has been impressive so far with 25 goals across the four matches. That puts her in second place in the goalscorer rankings behind Dortmund's Alina Grijseels, who we'll see later on against CSM Bucuresti.
Before that starts, why not head to EHFTV to see the highlights of yesterday's games?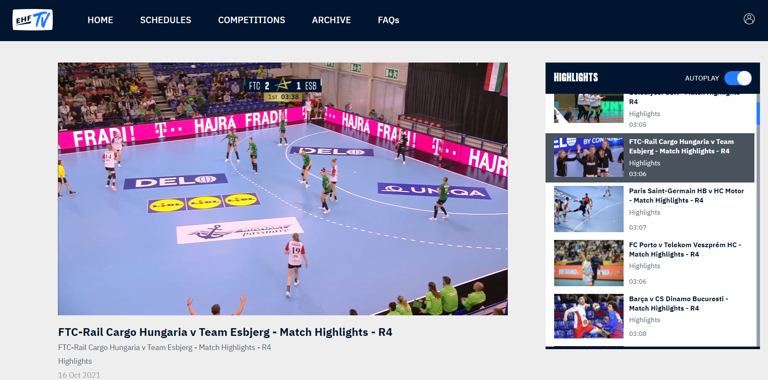 SATURDAY 16 OCTOBER
20:20
That brings us to the end of our live blog coverage for Saturday's DELO EHF Champions League action!
Be sure to tune in again tomorrow when round 4 continues with five matches:
14:00 CEST CSKA vs IK Sävehof 
16:00 CEST Odense Håndbold vs Györi Audi ETO KC
16:00 CEST Krim vs Metz Handball 
16:00 CEST Borussia Dortmund vs CSM Bucuresti
16:00 CEST Buducnost vs CSM Bucuresti
19:59
The opening day of round 4 of the DELO EHF Champions League 2021/22 comes to a close and now you can relive it all through our match reviews. Check them out below! 
I'm happy because it's never easy after an international break. We didn't have a lot of time to work. We played a great game, we were strong in defence, we were able to play fast and score a lot of goals on fast breaks, but we are still a team in search of stability with a lot of young players who lack collective experience.












We are very happy with the performance. We faced a good team, and we had to be at our best. We have seen Kastamonu in the three games so far, and they could have gotten points from all three with a bit of luck. I'm very pleased with how my girls responded to this difficult week they've been through, with both Covid cases and injuries.
19:29
RESULT: BREST VS PODRAVKA VEGETA 35:22
Brest secure their second victory of the 2021/22 season with a commanding result against Podravka Vegeta, for whom it is the third straight loss in the competition. 
The critical two points see Brest put some distance between themselves and the bottom-ranked Podravka and Buducnost, as well as CSM, should the Romanian team be defeated in their round 4 clash on Sunday. 
Brest line player Paulette Foppa finishes as the top scorer of the clash, with seven goals at 100 per cent accuracy, while backs Helene Gigstad Fauske (Brest) and Dejana Milosavljevic (Podravka) score six each. 
19:25
RESULT: VIPERS VS KASTAMONU 39:25
Vipers earn a big win over Kastamonu that takes the Norwegian side to four points on the group B table, where they sit alongside Metz and Odense — although the French and Danish side's have a game in hand as they will play their round 4 clashes on Sunday. Kastamonu remain on zero points at the bottom of the table. 
Four Vipers players pass the six-goal mark during the match, with Jana Knedlikova finishing with six, Vilde Jonassen and Ana Debelic tallying seven, and Nora Mørk scoring eight. In Kastamonu's camp, Nurceren Akgun Goktepe nets six to lead her side. 
19:03
Brest and Vipers continue their rampage towards victory with both sides remaining clearly in front — Brest lead Podravka 23:11 with 22 minutes on the clock and Vipers have the advantage over Kastamonu 30:17 in the 41st minute. 
Brest have passed the magic 1,500-goal mark in the Champions League, with Kalidiatou Niakate having the honour when she took the score to 21:10 in the 36th. 
On both courts, the line players are benefitting as their teams capitalise on their stronger attack for the passes and easy goals to come raining in: Pauletta Foppa (Brest) and Ana Debelic (Vipers) lead the individual scoring races with seven goals each. 
18:46
Two interesting openings as we see Brest and Vipers, who battled for the title in Budapest last season, power to big leads. Let's hear from our journalists about these first halves. 
First up, Adrian Costeiu weighs in on Brest vs Podravka:
This was both Podravka's worst first half this season and Brest's best first half in the competition. And the promising line player Pauletta Foppa is seeming to really be hitting her prime, being more and more consistent in attack.

From what we just witnessed, Brest simply cannot lose this game, provided they continue to play at this level. As for Podravka, they are heading for their third loss in a row, just as Antonio Pranjic took over Neven Hrupec as the team's coach.
Sergey Nikolaev shares his thoughts on Vipers vs Kastamonu: 
When title holders host debutants, the favourites are obvious, and Vipers have lived up to that status so far. The trio of Vilde Jonassen, Ana Debelic and Jana Knedlikova combined for 12 goals in the first half, propelling the Norwegian team to a nine-goal lead.
Kastamonu are missing their top scorer Jovanka Radicevic, who is absent for family reasons, and it looks like the Turkish side will have to wait for their first points for some more time.
18:38
HALF-TIME UPDATE: BREST VS PODRAVKA VEGETA 17:9
The 2020/21 finalists Brest have almost as big of a lead as the title holders over in Norway, holding an eight-goal distance over their Croatian visitors as we go to the break. 
Like Kastamonu, it is clear Podravka are set for a difficult task in the second period. 
Meanwhile, Brest are just four goals shy of their big 1,500 Champions League goals milestone. 
18:36
HALF-TIME UPDATE: VIPERS VS KASTAMONU 20:11
Vipers end the opening half with a decisive advantage that sees them on track for their second win of the 2021/22 season, while Kastamonu look set to keep waiting for their first taste of victory in the Champions League. Can the Turkish side turn this around in the second half?
18:18
The home sides have opened commanding advantages as the first halves progress in Kristiansand and Brest. 
Vipers are facing a solid challenge from Kastamonu but have a comfortable 11:6 advantage as we ender the second quarter of the clash, while Brest are enjoying exactly the same lead of five goals on their court, at 9:4. 
Brest line player Pauletta Foppa is destroying Podravka's defence and has already scored four goals from four attempts. In Norway, wing Jana Knedlikova is proving the biggest danger with the ball, with the same tally of four goals for Vipers. 
I really like matches against Esbjerg — all of them are a tough tactical fight — and I really like how my colleague works with his team.

I eagerly await the next episode of this Esbjerg-Fradi series.
18:09
MOTW coaches Gabor Elek (FTC) and Jesper Jensen (Esbjerg) had nothing but praise for each other's teams following the exciting draw today. 
"Thanks for being part of such a fantastic game in an amazing atmosphere. I like playing here," said Jensen in the press conference. "Against FTC I always feel that we are playing a chess game, so I am really proud of our team for collecting one point even though we had important missing left-handed players. We did 100 per cent of what we have, against a strong team, which has good players and a good trainer."
Elek agreed with Jensen that it is always a highly enjoyable tactical clash when their teams meet:
"I expected a match like this, because last year we experienced against Esbjerg how strong a team can be even with missing players — like now Esbjerg became strong and collected. I really like matches against Esbjerg — all of them are a tough tactical fight — and I really like how my colleague works with his team.
"We were not sharp enough, and should have shown a better defence to win this game, but five minutes before the end I would be actually really glad with this draw. I eagerly await the next episode of this Esbjerg-Fradi series."
18:05
The two last matches on this DELO EHF Champions League Saturday are now underway in Kristiansand and Brest! 
In France, Brest are off to an early lead over Podravka, 3:1 after the opening five minutes. In Norway, it's all square after five minutes, at 3:3. 
Catch both matches live on EHFTV.
17:52
Time for a closer look at our other upcoming clash, Vipers vs Kastamonu. 
The defending champions Vipers have lost two of their three matches so far — both away from home, at Györ and Metz. The Norwegian side claimed their only win in round 2 in the home match against Sävehof. 
Champions League debutants Kastamonu, who sit bottom of the group, are yet to claim their maiden points in the continental top flight. So far they have been defeated by Odense, CSKA and Krim. 
It will be the first meeting of the two sides in European club competitions.
Loke the super mum
Fun fact: Vipers' veteran Heidi Loke announced she is pregnant last week. The 38-year-old is planning to resume her career after giving birth to her third child. Loke was already part of the exclusive This is me series, and focused on exactly this topic, which has garnered so much attention throughout her career:
"This also helped me to be a good mum…I love to train and I love to play handball and it gives me extra energy for the kids.
"I think it's very important to speak about this. This is my experience, and I know all pregnancies are very different." 
Read Loke's story here. 
17:46
After her stellar performance for FTC today, Angela Malestein received the DELO Player of the Match award.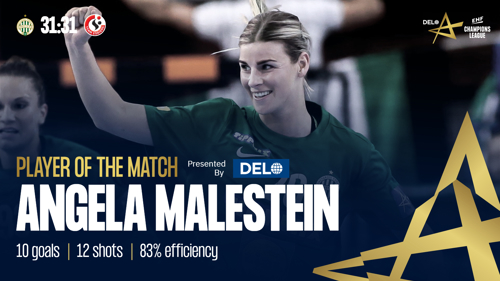 Her 10 goals see Malestein jump from a season total of 17 to 27, where she is currently second behind Dortmund's Alina Grijseels — although all players outside FTC and Esbjerg have a game in hand. 
Another high-scoring Dutchie will be on court no doubt increasing her season tally tomorrow: Odense's Dione Housheer, playing her first season in the Champions League yet having entered round 4 as the third top scorer. Housheer has netted 23 goals so far and has marked herself quite the rookie to watch. 
17:40
Don't go anywhere! We still have two exciting matches coming up on this Saturday of DELO EHF Champions League. 
Let's start looking ahead to the next games with a deeper dive on Brest vs Podravka. 
After two consecutive losses, against FTC and CSM Bucuresti, Podravka dropped to seventh place in the standings but are equal on points with Brest in sixth (both two points). The Croatian team had started their season with a win versus regional rivals Buducnost. 
Brest have posted their least successful start in the DELO EHF Champions League since the 2017/18 season, when they lost all six games in the group phase. Nevertheless, the French side are on a 37-game unbeaten streak — with 34 wins and three draws — in all competitions on their home court, with the last loss coming against Nice in the French League in May 2019.
And be sure to keep an eye out for this special moment: The 21st goal scored by Brest will be their 1,500th in the premium European competition. The French side will become the 22nd team in history to reach this milestone.



















17:30
RESULT: MOTW FTC VS ESBJERG 31:31
What an ending to the MOTW! Just when it looked as though FTC might be watching the points packing to go back to Denmark, the home team fought back from two goals behind (29:31 in the 56th) to give us a finish that was pure drama. In the end, the points are split with a draw — and FTC keep their unbeaten run through the 2021/22 season alive. 
17:24
If you can get to a screen, tune in on EHFTV.com NOW as the MOTW has just entered the final minutes and we are on the edge of our seats with the score level at 31:31. 
A huge save from Blanka Biro in FTC's goal kept Esbjerg from taking the lead inside the last two minutes and all is still to be decided. FTC sure have a habit of delivering close games this season! 
17:19
Angela Malestein joins Henny Reistad in reaching the nine-goal tally as she brings FTC back within one, at 29:30 with six minutes to go. 
Three of Dutch wing Malestein's goals have come from the penalty line, while only one of Reistad's has — and she has now reached double figures at 10 goals. 
Despite the close score line, FTC are certainly fighting against the momentum and the two points look to be slipping away for the home side here in the MOTW...
17:08
As we hit the 45-minute mark in the MOTW, FTC are again chasing their rivals — 25:26, with a one to two-goal deficit against them for the last few minutes. 
The Hungarian team had opened the half stronger and put in a two-goal gap over their visitors, 21:19 in the 38th minute, but they could not hold on and the tide turned against them again. 
For Esbjerg, Henny Reistad continues pummelling the goal with nine strikes now.


















16:46
Are FTC on their way to another close finish? The Hungarian side started their season with a draw that felt like a loss in round 1, 25:25 vs Dortmund, with the German team having the final say in the result as goalkeeper Yara Ten Holte made the critical save off FTC's last shot. 
In round 2 FTC won decisively vs Podravka Vegeta, before surviving another tight battle but this time emerging with the points, as they beat Rostov-Don 20:19 in Russia. 
Team Esbjerg opened their 2021/22 campaign with a narrow victory over CSM, 22:21, before two clearer results — 23:26 vs Brest and 35:20 against Buducnost. 
Remember that if FTC win, they will need only one more victory to reach the 100-win milestone in the top flight, and they would join a very small group when that time comes. Given their form, it certainly looks as though FTC will celebrate this milestone this season, and soon. 
16:39
Our journalist Adrian Costeiu shares his thoughts on the MOTW clash: 
The German connection of backs Emily Bolk and Alicia Stolle and line player Julia Behnke worked well for FTC-Rail Cargo Hungaria, as the three scored nearly half of their team's goals in the first half — seven out of 16.

But Esbjerg bounced back admirably as Norwegian backs Kristine Breistol and Henny Reistad combined for seven goals of their own, to lift their side out of a difficult rut and tie the game at the break.

This could be anyone's game. FTC's unbeaten status is under threat from the plucky Esbjerg side.
16:36
HALF-TIME UPDATE: MOTW FTC VS ESBJERG 16:16
The late timeout shakes the home side up and they manage two goals inside the last 75 seconds to prove their engine has restarted. So we go to the break in the MOTW exactly the way we like it best: all level and with everything completely open for in the second 30 minutes. 
Individually, Emily Bölk and Angela Malestein lead FTC with four goals apiece, while DELO EHF FINAL4 2021 MVP Henny Reistad counts the same to her name. 
16:31
Timeout and FTC coach Gabor Elek is not pleased — his team have been goal-less for more than five minutes, allowing Esbjerg to snatch the lead, 15:14, as half-time looms. 
16:26
FTC have created a narrow upper hand as the clash in Hungary continues, settling into a three-goal advantage, 14:11, over Esbjerg. But FTC's advantage is not reflected in the statistics — the Hungarian side have taken 24 shots to Esbjerg's 17, and could be enjoying a more commanding lead if their conversion rate were improved.  
16:11
10 minutes in to the Match of the Week and we're all level at 5:5. 
The German trio of Emily Bölk, Alicia Stolle and Julia Behnke contributed four of the five goals for FTC against their national teammate — former in Behnke's case — Dinah Eckerle in Esbjerg's goal.
Behnke announced a break from the national team after a series of disappointing breaks for the squad. Germany ranked below their own expectations at the EHF EURO 2020 and dramatically lost both a strong chance for a semi-final spot at the 2019 World Championship and a place in the Tokyo 2020 Olympic qualification event in one fell swoop after a superb campaign. 
Behnke turned her focus solely to club handball and has been a solid addition to the FTC squad since joining before the 2020/21 season. Bölk and Stolle transferred to the club at the same time, marking an interesting choice by the club to recruit the three Germans together — but one that is clearly paying off. 
Bölk in particular is living up to the expectations of her potential, scoring 56 goals in the 2020/21 season and 16 so far in 2021/22. 
16:00
Starting whistle in Hungary and we are underway with round 4. 
Watch the MOTW FTC vs Esbjerg now on EHFTV.com, and don't forget you can also keep up with all the live clips of the best action on our Twitter page in particular. Plus, you can follow all the statistics right here on the live ticker. 













15:47
Let's take a closer look at the Match of the Week! 
FTC are one of the last four unbeaten teams in the Champions League and, across all competitions, are on a four-game winning streak on their home court in Erd. The Hungarian side can equal their best-ever start in the competition — three wins and a draw, recorded in the 2016/17 season. They enter this round on five points after two wins and a draw. 
Esbjerg come into the game with four points after two victories and a loss. They occupy third position in group A, while FTC are second.
Esbjerg won only three of their last 14 away games in the past three seasons, with their last away victory coming in the group phase of last year's season — 28:24 against FTC in January 2021. 
If FTC beat Esbjerg, they will be only one win shy of the 100-victory milestone in the DELO EHF Champions League, hit only by five teams — Györ, Buducnost, RK Krim Mercator, Hypo and Larvik HK. 
The sides have met four times in the past 20 months in the premium European competition, winning two games each. 
15:20
Welcome to our live blog coverage of round 4 of the DELO EHF Champions League! 
We are all set to start the round with a big clash: the Match of the Week, FTC vs Esbjerg, at 16:00 CEST. 
At 18:00 CEST, Saturday's DELO EHF Champions League action wraps up with Brest Bretagne vs Podravka Vegeta and Vipers Kristiansand vs Kastamonu. 
While we wait for throw-off, read all about what's coming up in our round preview, check out our special feature on FTC wing Gréta Márton, and review what's happened so far this season with our journalist Adrian Costeiu's examination of the first rounds.