Summary: Esbjerg remain top of group A; Vipers go second in group B
After a seven-week break from action for the IHF Women's World Championship, the DELO EHF Champions League 2021/22 group phase returned with five matches from round 9. In the feature match of the weekend, Team Esbjerg beat Rostov-Don to remain top of group A.
Sunday 9 January
19:05
As we conclude the blog for this evening, here is an overview of the results from round 9 of the DELO EHF Champions League.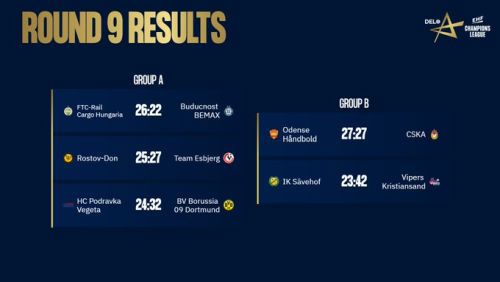 The competition will continue next Saturday with three matches from round 10, including Györi Audi ETO KC vs Metz Handball.














18:45
Sergey Nikolaev's match reviews of the two group B games are now online for you to read. Interestingly, a Norwegian right back is now the top scorer in this season's DELO EHF Champions League. I think you can work out who that is...
18:37
Some post-match reaction from the coaches has been received. Perhaps unsurprisingly, Rasmus Overby is disappointed by the size of Sävehof's defeat against Vipers Kristiansand. Ulrik Kirkely is pleased that Odense earned one point from their match against CSKA.
As far as we talk about Champions League and we know how important it is to win our home matches, then we have a feeling that we lost the match today. It was a tough match, but I think the draw was fair. I think it was important for us – after we have been in front in most of the match and then after being down with two goals – that we have the confidence and the power to come back into the match.
Today, we didn't reach the level that we wanted to play at. Vipers are a good team, but I don't think that we should lose by 19 goals. We want to play a lot better than we did today.
18:30
The impact of Sunday's results on the group B standings is clear: Vipers Kristiansand are now in second place. As we outlined at the beginning of the day, Metz's match this weekend was postponed, so the French side now have a game in hand. In what could be a significant match, Vipers will face Metz in Norway on 5 February.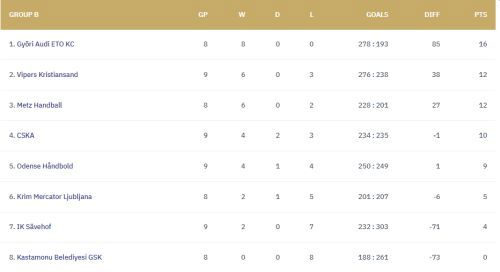 18:10
This weekend four teams were victorious in round 9 of the DELO EHF Champions League: Team Esbjerg, FTC-Rail Cargo Hungaria, Vipers Kristiansand and BV Borussia 09 Dortmund. 
In this evening's poll, we are asking which of these teams is most likely to win the DELO EHF FINAL4 2022. As things stand, they are all in the top four places in their respective groups.
17:52
Despite Podravka's 32:24 defeat against Borussia Dortmund, the Croatian club scored their 4,000th goal in the EHF Champions League when Dijana Mugoša scored their ninth goal of the match.
Mugoša received a shirt with "4000" on after the match to celebrate the club's achievement.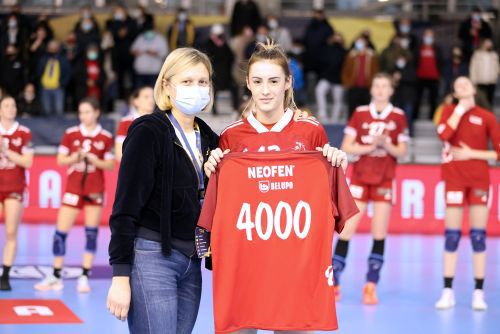 17:44
Right on cue, here is Althea Reinhardt's huge stop for Odense inside the final minute. We should give full credit for the vital save!
Odense and CSKA cannot be separated after 60 minutes of handball in Denmark. CSKA had a golden fast break chance in the final minute, when Polina Gorshkova was denied by Althea Reinhardt, but neither side could score after Abbingh's equalising penalty in the 58th minute.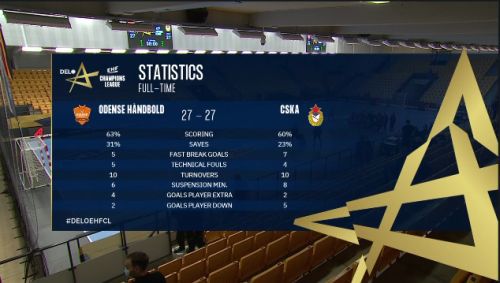 Celebrations are underway for Vipers Kristiansand after a comprehensive victory against IK Sävehof. 40 goals scored in a match in the DELO EHF Champions League is always an impressive accomplishment! 42 is the highest number of goals that Vipers have scored this season, bettering the 39 scored against Kastamonu in October.

17:25
Polina Gorshkova races away on the fast break to give CSKA a two-goal lead, 27:25, with less than five minutes remaining. Kirkely does not hesitate and opts to use Odense's final timeout immediately. On the next attack, Lois Abbingh scores a penalty to put the Danish side back within one goal. 
17:19
A tense finish is approaching in Denmark between Odense and CSKA. The score is 24:24 and Odense head coach Ulrik Kirkely has called a timeout with just under eight minutes remaining. Interestingly, both teams have scored 24 goals from 37 shots.
17:17
You do not often see a difference between the scoring efficiency for two teams in a half as big as the one between Sävehof and Vipers Kristiansand in the second half.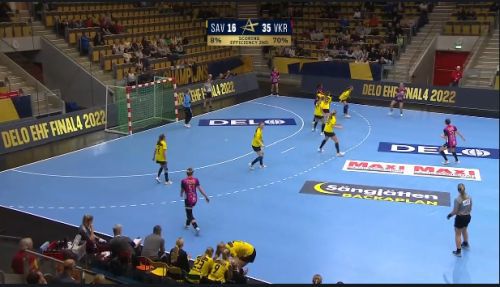 17:10
Vipers have hit the accelerator in Sweden against Sävehof. The Norwegian side lead 32:16 after 46 minutes played.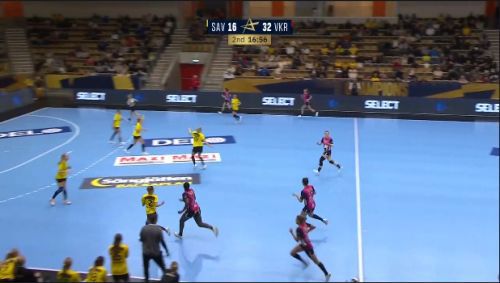 17:06
Did Ana Gros have any doubt that she could score from 9m+ with only a few seconds remaining in the first half? Probably not!
17:02
It is all about Maren Aardahl in Denmark at the moment! The Odense line player has scored five goals in less than 10 minutes in the second half, including Odense's last four goals, and the Danish side now have a 20:17 lead.
16:55
The second half is underway in both of our games that began at 16:00 CET, but there is some reaction from the coaches from our earlier match between Podravka and Borussia Dortmund.
We are happy that we took two points and it was very important to take them because we want to reach next round. I think we made a good match and we played our way of handball. I found some small mistakes in defence and attack, but I am happy to take these points.
I want to congratulate BVB for the victory. They were better team through the whole game, but especially in first half. We had a strong wish to play a very good game today, but considering the injuries that we are fighting all this time, we are changing the system of playing for the fourth time.
16:50
Ragnhild Valle Dahl certainly could not be stopped in the first half. The Norwegian left back scored a perfect six goals from six shots for Vipers against Sävehof in the opening 30 minutes.
16:45
There is no doubt that Sävehof have responded after a slow start against Vipers Kristiansand, but the reigning DELO EHF Champions League champions enjoy a six-goal lead after the first half. 
As the statistics show, Vipers' attack has been crucial to their advantage. They have scored six fast break goals, had 29 shots on goal and are scoring at over 60 per cent. Ragnhild Valle Dahl is Vipers' top scorer after the first 30 minutes, with six goals.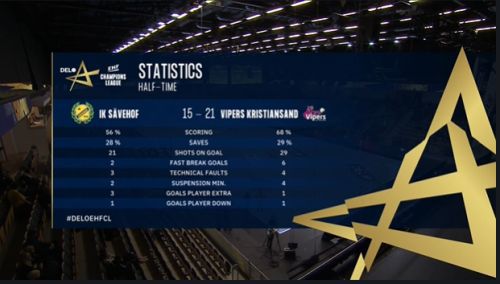 16:40
Ana Gros beats the buzzer for CSKA against Odense – and the match is all-square at the break, 12:12.
Gros has been CSKA's top scorer in the first half, with four goals, but Odense's shot efficiency has been higher than the team from Russia.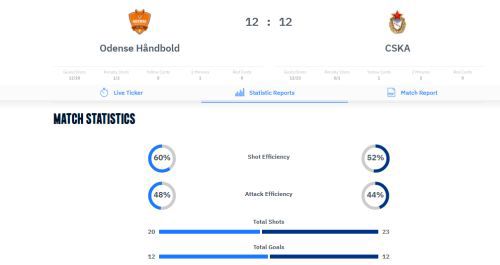 16:33
While Odense and CSKA are locked in a tense battle and the score is level at 11:11 after 28 minutes, Sävehof's position has improved against Vipers. Vipers' lead has been cut to five goals, 19:14, with three minutes left in the first half.
16:30
After almost 27 minutes played between Odense and CSKA, Odense goalkeeper Althea Reinhardt has made six saves from 17 shots (35 per cent efficiency). 
16:20
Odense have just ended a goal drought against CSKA that lasted more than five minutes. No damage has been done as the score is 7:7.
Meanwhile, here is an example of Nora Mørk supplying Jana Knedlikova for Vipers in the early stages against Sävehof.
16:16
Katrine Lunde setting up Jana Knedlikova for a fast break goal has prompted a second timeout for Sävehof, who trail 12:3 after 12 minutes played against Vipers.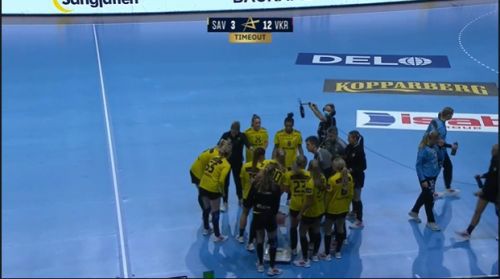 16:12
A tighter encounter is on offer in Denmark. Odense led 2:0 after two minutes but CSKA are level with their Danish opponents at 5:5 after 12 minutes.
16:09
Vipers Kristiansand have utilised their opportunities down the right-hand side of the court in the early stages. Jana Knedlikova has scored three goals, with Nora Mørk creating two of the chances, and Mørk's breakthrough ability allowed her to score her first goal of the game. Vipers lead 7:2 against Sävehof after seven minutes, and the Swedish side have already taken their first timeout of the match.
15:58
Esbjerg won the first clash between Danish and Russian clubs this weekend, beating Rostov-Don 27:25 on Saturday. Can Odense make it a Danish double against CSKA? We are about to find out!
15:52
We are less than 10 minutes from the two matches that begin at 16:00 CET in group B.
Isabelle Gulldén has been warming up for Vipers ahead of their clash against IK Sävehof. Sävehof were, of course, Gulldén's first club.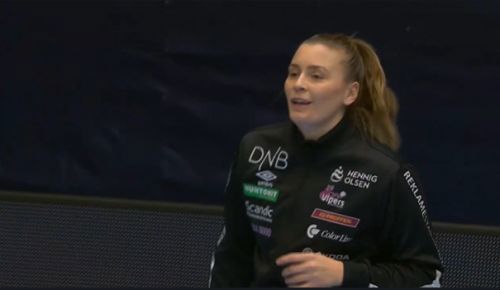 15:41
The significance of Borussia Dortmund's victory on the standings is that they now have nine points, and move above CSM Bucuresti and Brest Bretagne Handball. With the match between CSM Bucuresti and Brest Bretagne being postponed this weekend, Borussia Dortmund have played one more game than both of those teams.
Podravka, who remain in eighth place in group A, are now six points adrift of sixth place. 
15:34
Borussia Dortmund complete a clear eight-goal win, 32:24, over Podravka Vegeta in Croatia. While Dortmund did not significantly extend their cushion in the second half, other than a fleeting moment when Podravka reduced the deficit to four goals, the result was not in any doubt.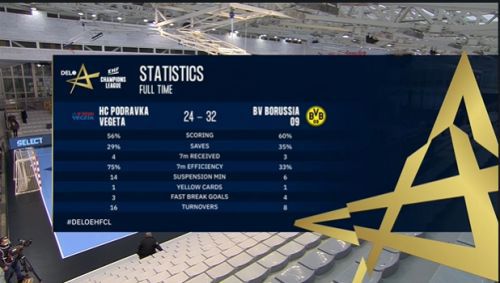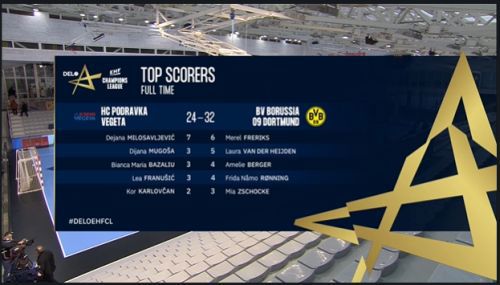 15:24
This is the fast break goal that we said Dijana Mugoša looked extremely pleased to score. It is no wonder when you watch it!
15:21
One feature of the second half is that Dortmund coach Andre Fuhr has been able to use his bench to some degree. Right back Tessa van Zijl has scored three goals while Laura Van der Heijden has been off the court.
15:17
One last roll of the dice for Podravka, possibly, as they call a timeout with Dortmund now leading by eight goals, 28:20...

15:15
With six goals in open play, Dejana Milosavljevic is making a strong impression for Podravka from the back court. However, Dortmund's lead still stands at seven goals, 27:20, as we enter the final 10 minutes, and it appears as though the German side are on course to collect the two points. 
15:05
Dijana Mugoša was extremely pleased after her fast break effort beat Ten Holte – reducing Podravka's deficit to six goals. Speaking of Yara Ten Holte, here are two of her best stops from the first half.
15:02
Podravka scored three goals in under two minutes at the beginning of the second half, but they have not made any dent in Dortmund's seven-goal advantage. Dejana Milosavljevic missed a penalty for Podravaka, which obviously did not help, and Dortmund lead 21:14 with 10 minutes played in the second half.
14:43
It is safe to say that Borussia Dortmund will be extremely satisfied with their performance in the first half. Yara Ten Holte has shone in goal behind a solid defence, Laura Van der Heijden and Merel Freriks have scored four goals each, and they have a seven-goal lead at the break.
While Yuliya Dumanska has made six saves for Podravka and Dejana Milosavljevic has scored four goals, the Croatian side will need to find a way to reduce their errors if they are to come back in the second half.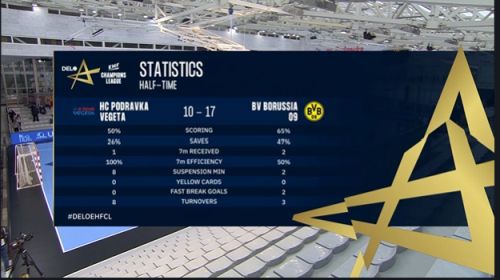 14:35
With less than two minutes left in the first half, Andre Fuhr has called a timeout. The commentator on EHFTV is rightfully praising Dortmund's "super defence".
14:32
Mia Zschocke's second goal of the watch was one that is worth checking out!
Meanwhile, Dortmund have now stretched their lead to six goals, 15:9, and Ten Holte has made nine saves at a 50 per cent rate.
14:27
There is no Alina Grijseels for Dortmund but line player Merel Freriks is featuring heavily as part of Dortmund's attack. Freriks has scored four goals and has been involved in some physical battles on the line as she fights to receive possession. 
14:19
Dortmund's intent to limit Podravka's time and space in attack is clear. As soon as they get the ball in attack, however, the German side want to take any fast break opportunity that might be available.
14:13
Yara Ten Holte made two saves for Dortmund in the opening nine minutes, and on both occasions her team took advantage on the following attack by scoring on the fast break. After Mia Zschocke scored her second goal of the match to give Dortmund a 7:3 lead, Podravka head coach Goran Mrden called a timeout.
14:00
If you are planning to watch the Podravka vs Dortmund match on EHFTV and speak German, there is the added bonus of commentary in German. 
13:50
One name not on the team sheet for Podravka is Larissa Kalauz. Kalauz, who scored nine goals against Dortmund in October, had been struggling with a shoulder injury. With Alina Grijseels ruled out for Dortmund after breaking her nose last Sunday, both teams will have to rely on other players to step up this afternoon. 
13:35
When Borussia Dortmund met Podravka Vegeta earlier in the season, Dortmund won 38:14. On that occasion, centre back Alina Grijseels scored an incredible 15 goals from 15 shots for the German side.
However, Dortmund head coach Andre Fuhr is not expecting their second clash against Podravka to produce a similarly one-sided match. He said: "Podravka had big problems at first, but they have changed coaches and are back on track. They will also be extremely motivated going into the match. 
13:20
A huge milestone is on the horizon this afternoon for Podravka Vegeta. As was featured on the EHF Champions League Twitter account on Friday, the Croatian side's ninth goal against Borussia Dortmund will be their 4,000th goal in the EHF Champions League.
13:10
Good afternoon and welcome back to the live blog for Sunday's action from round 9 of the DELO EHF Champions League 2021/22 group phase.
Group A had the spotlight all to itself on Saturday, and we begin on Sunday at 14:00 CET with another group A match as Podravka Vegeta meet Borussia Dortmund, but group B will take centre stage at 16:00 CET when Odense Håndbold host CSKA and IK Sävehof face Vipers Kristiansand.
For Odense and CSKA, a win would see them close the gap on second-placed Metz Handball, whose game this weekend against Kastamonu was unfortunately postponed. Vipers Kristiansand could join Metz on 12 points if they beat Sävehof, but the Swedish side will be hoping to pick up two points that would see them move above sixth-placed Krim Mercator Ljubljana.  
Saturday 8 January
19:00
That is all for this evening!
Team Esbjerg's thrilling victory over Rostov-Don leaves the Danish side top of group A, while FTC are now in second place after a comfortable victory against Buducnost. 'Which team will finish first in group A?' is a question that will be answered in future rounds!
The live blog returns at 13:00 CET on Sunday afternoon for three more matches from round 9 of the DELO EHF Champions League, with HC Podravka Vegeta vs BV Borussia 09 Dortmund scheduled to get us underway at 14:00 CET.
18:40
With Saturday's DELO EHF Champions League match reviews now online, click on the links to find out more about Esbjerg's winning sequence in the competition and FTC's hopes of making the DELO EHF FINAL4. 
It was a good game. We expected a hard game like this. I am proud of my young players, they showed that they have potential. We have many problems, but we wanted to play and even though we did not win, I saw many good things in our team and I can be proud of them.

In the second half we gave more energy in defence, so we have less in attack, and also Buducnost had a better goalkeeper performance in that half. Winning is the most important today, but I am happy that I could rest the players, because next week we will have two matches.
18:03
While we wait for post-match reaction from the press conferences, enjoy a selection of the best photos from Saturday's two matches in our gallery below.
















17:47
Reistad to Tranborg, Tranborg fires the ball into an empty net and the celebrations can begin for Esbjerg!
17:37
While the outcome was settled midway through the second half, FTC's margin of victory was only four goals. Buducnost goalkeeper Armelle Attingré deserves a lot of credit for her performance in defeat. She made 11 saves at a 38 per cent efficiency, one more stop than counterpart Blanka Biro made for FTC. 
Of course, with this win, FTC will move above Rostov-Don and finish the evening in second place in group A.
17:32
A dramatic conclusion sees group A leaders Team Esbjerg claim a 27:25 away win in Russia against Rostov-Don.
After Rostov failed to score on their last attack, an empty-net goal sealed a two-goal win for the Danish side. 
With Rostov only scoring 10 goals in the second half, Michala Møller's belief that Esbjerg's defence needed to stand their ground probably paid off.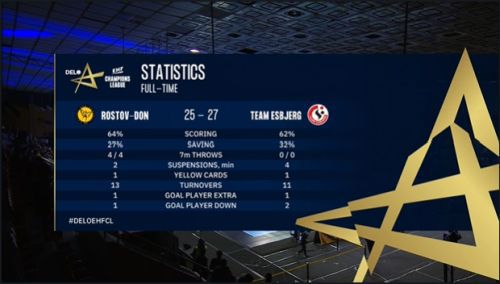 17:26
A great pass from Kristine Breistøl finds Marit Malm Frafjord, and Frafjord scores for Esbjerg to give the Danish side a 25:24 lead with 10 seconds left. Rostov call a timeout!
17:24
Buducnost scored seven goals in the first 10 minutes against FTC. It is fair to say that Blanka Bíró has had a huge say in the outcome since then...
17:22
Per Johansson is becoming energised on the Rostov bench as the match enters the closing stages. A couple of minutes ago, Esbjerg goalkeeper Rikke Poulsen denied a golden fast break chance for Kristina Kozhokar.
17:16
Who would you expect to score a valuable equaliser for Esbjerg but Henny Ella Reistad?
17:14
With 11 minutes remaining, FTC's lead against Buducnost remains seven goals (25:18). They will have the opportunity from the seven-metre line to extend it to eight goals shortly.
17:11
After a 4:0 run for Esbjerg, the Danish side levelled the match at 20:20. Kaja Kamp Nielsen's goals have been pivotal, but Michala Møller has just broken through Rostov's defence to give Esbjerg a 22:21 lead. The Russian side call a timeout with almost 11 minutes remaining, and a thrilling finish now appears likely. 
17:00
Kristine Breistøl's most recent shot snuck past Lagina as she scored Esbjerg's 16th goal of the game. The Norwegian left back scored a more impressive goal in the first half!
16:57
It is early stages in the second half but Rostov and Esbjerg have been matching each other goal for goal. Of course, with the score for just the second half at 3:3, Rostov remain in control after 36 minutes (18:15).
16:47
Indeed, while FTC are firmly in control against Buducnost, Nina Bulatovic's lob skills for the Montenegrin club were on display in the first half in Hungary.
16:44
After making a reasonably good start in the first quarter of the match, Buducnost trail by seven goals against FTC-Rail Cargo Hungaria. FTC's relentless attack in the first half has seen them score 18 goals, two shy of the 20-goal mark that they reached in the first 30 minutes earlier in the season against CSM Bucuresti.
16:40
Henny Ella Reistad released the last shot of the half just before the buzzer for Esbjerg, but it was comfortably saved by Anastasiia Lagina, who finishes the first half with a total of four saves as Rostov enjoy a three-goal lead at the break.
Rostov's high scoring efficiency in the first half is arguably the main reason why they are in front at the break. For Esbjerg, the challenge in the second half will be to find a way to lift their own scoring percentage.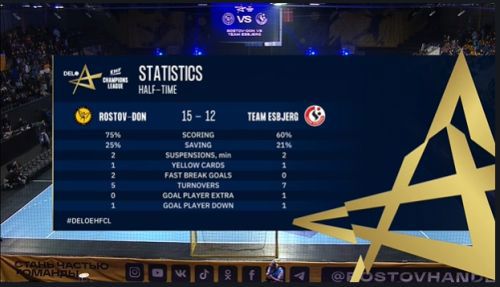 16:33
As half-time approaches, FTC have raced away from Buducnost to lead 18:11. Katrin Klujber, Zita Szucsánszki and Emily Bölk, three of their most important backs, have scored a combined 11 goals. 
16:25
Ahead of the match, Team Esbjerg right back Michala Møller emphasised that defence would be key against Rostov-Don. She said: They have world-class players all around. We need our defence to stand its ground and that is the way to win."
With 11 goals conceded in the opening 23 minutes, Esbjerg's defence has not been disastrous – but stopping Eduarda Amorim, who has scored three goals, has been challenge.
16:16
If matches with a high number of goals excite you, then FTC vs Buducnost is delivering. A 3:0 run has given FTC an 11:7 lead after 15 minutes, and Emily Bölk has already scored five times for the Hungarian side. 
16:08
We have our first two-goal lead of the afternoon in the Rostov vs Esbjerg match. After a wonderful long pass from goalkeeper Anastasiia Lagina, Iuliia Managarova duly converted on the fast break to give Rostov a 4:2 advantage. 
15:56
Build-up coverage is well and truly underway for both games on EHFTV, but you can enjoy some build-up photos in our gallery below. 












15:45
While home advantage is, in theory, an advantage for Rostov-Don this afternoon, their record at home this season is the same as their away record: three wins and one loss.
Meanwhile, Esbjerg's away record in the 2021/22 season is two wins, one draw and one defeat. Their two victories came in their last two away games in the competition – against HC Podravka Vegeta and BV Borussia Dortmund 09 – and they were both by reasonably narrow margins.
15:25
In the first meeting between Esbjerg and Rostov-Don this season, the Danish side won 25:18 at home.
As was highlighted on the EHF Champions League Twitter account on Friday, Dinah Eckerle and Anastasiia Lagina produced big performances in goal for their respective sides. Eckerle made 12 saves and finished with a save percentage of 38.7%, while Lagina stopped 10 shots and ended the match with a 35.7% save efficiency.
15:10
Good afternoon and welcome to the live blog for round 9 of the DELO EHF Champions League. Although three matches that were originally scheduled have been postponed, we still have five matches set to be played this weekend.
With Rostov-Don hosting Team Esbjerg in a top-of-the-table clash and FTC-Rail Cargo Hungaria facing Buducnost BEMAX, the spotlight is on group A today. 
In case you have not done so already, check out our round preview prior to the action getting underway at 16:00 CET.