PSG win MOTW; Veszprém with record win over Dinamo
Round 9 of the EHF Champions League Men 2021/22 group phase took place on Wednesday and Thursday the 1 and 2 December, highlighted by the Match of the Week and Paris Saint-Germain Handball's win over Lomza Vive Kielce on Thursday.
22:53
We will close tonight's blog with some of the best photos from each of tonight's four EHF Champions League ties. 

Kielce remain top of group B but the gap has now narrowed to just two points to second placed Veszprem and PSG and Barca now sit on 11 points each. This is really setting us up for a wonderful final five rounds of the group phase.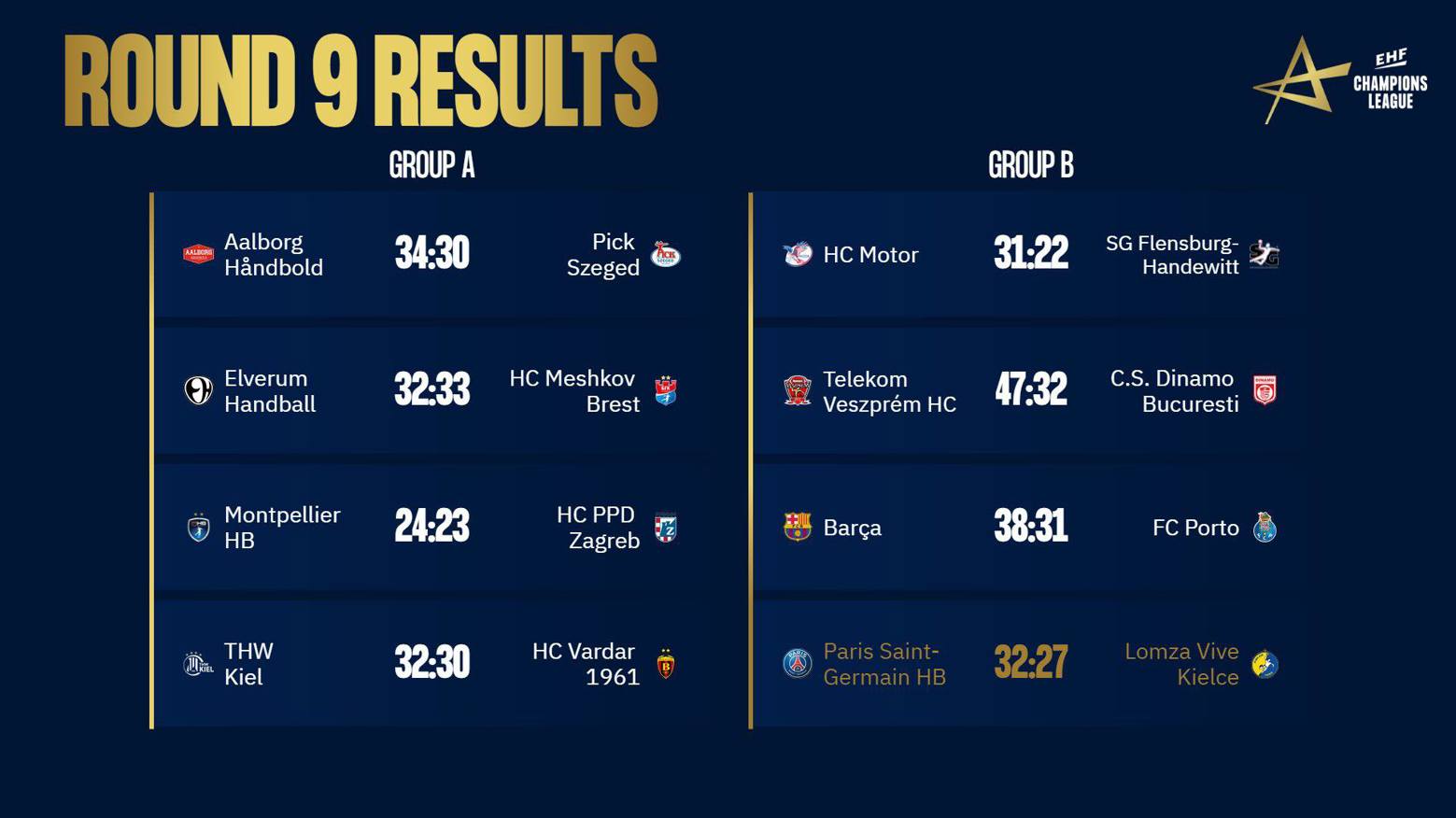 22:37
Gotta be the best save of the game! And what an angle the camera has for it just perfect. The big bad Wolff! 
22:21
Our player of the match for Match of the Week is a man who was a solid as rock for PSG Handball, the one and only Vincent Gerard (13/40, 32%)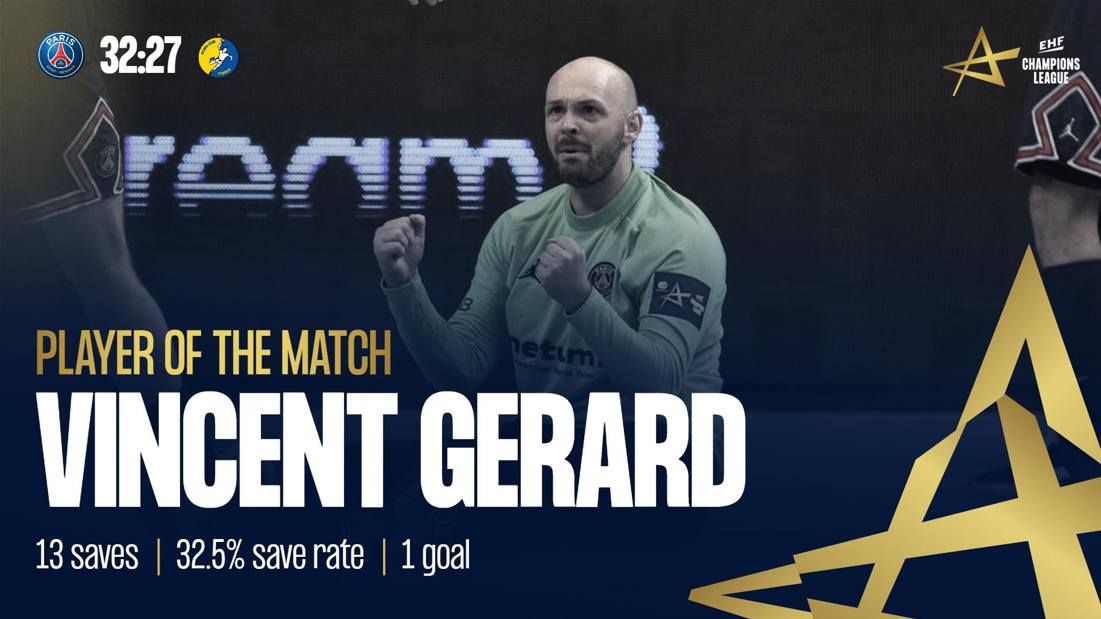 22:18
RESULT: Paris Saint-Germain Handball 32:27 Lomza Vive Kielce 
22:16
One of PSG best games this season for sure. They never let Kielce find their feet fully. With 20 seconds on the clock there is a timeout taken by Kielce. 
22:09
Kamil Syprzak is having such a great game. Really using his body well on the line, creating so much space and he has been a real handful for the Kielce defence. The Pole is five from six shots. 29:25 to PSG.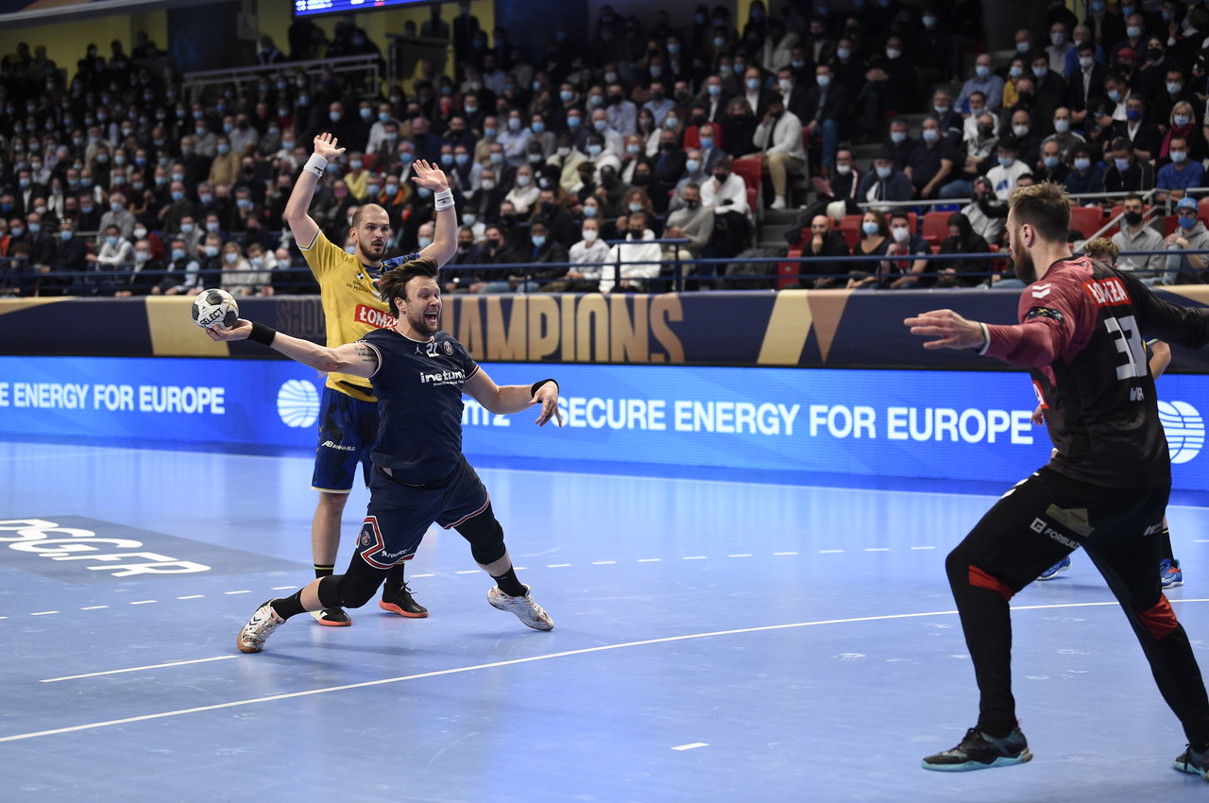 22:06
Kielce will need to push the pace now to have any chance. This game is getting away from them. Dylan Nahi is getting warned by the refs and seemed to have annoyed a few heads tonight. 
22:02
Save by Gerard and a fast break master-minded by Luc Steins and finished off by Konukoud. Some lovely work by the Paris side. 26:22 to PSG. 
21:51
Kielce back within one goal with eight minutes gone thanks to Oliejniczak. 20:19 to PSG.
21:44
He moves quickly for a big man...
21:27
HALF-TIME: PSG Handball 16:14 Lomza Vive Kielce 
There were three seconds left and Wolff picked up the ball with an open net and he threw the ball like there was 0.5 seconds left, releasing the hot potato to the left and wide. Interesting first half.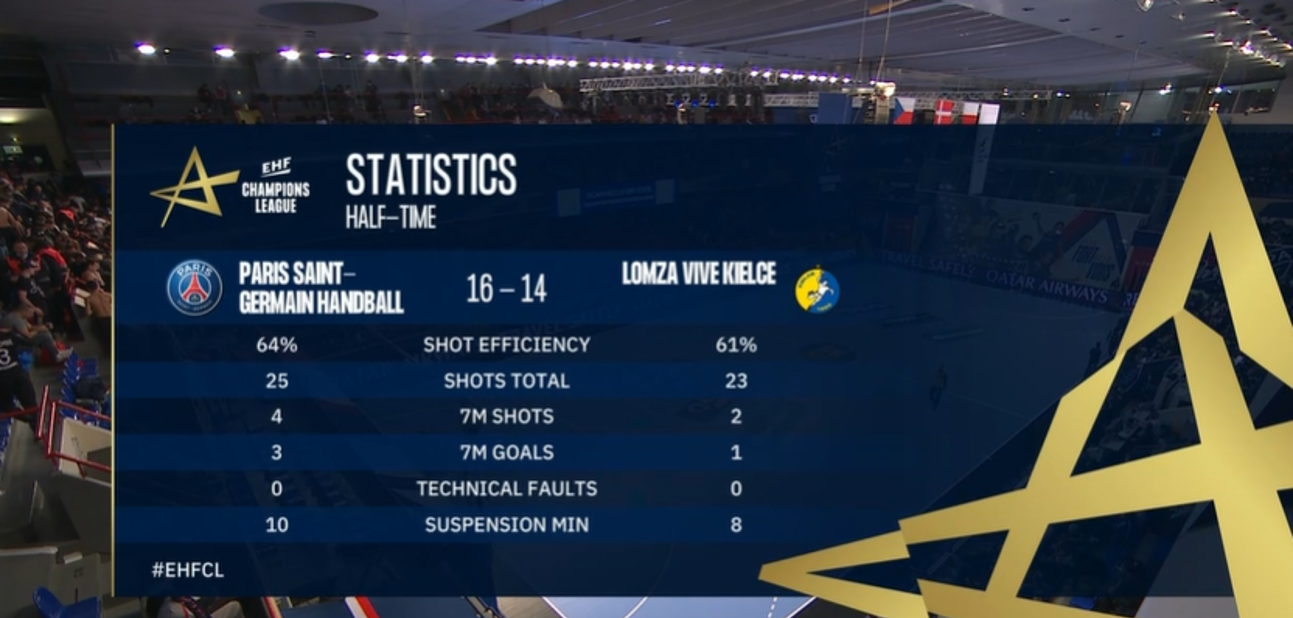 21:18
Nikola Karabatic taking the law into his own hands here. He seemed to have been stuck in the nose in attack and on the way back cleared Tomasz Gebala out of it and picked up two-minutes for his work. 
21:18
Artsem Karalek picks up a two-min suspension for a high tackle on Nikola Karabatic and he isn't one bit happy about it. But Kielce despite being one man down score into the empty net on the break thanks to Icelander Gudjonsson.
21:03
And Gerard at the other end makes a stop from the spot! But it was a really poor shot by Mortyto, threw it right at him, all Gerard had to do was stand tall. PSG 8:4 Kielce. 
21:01
Huge save from the spot by the Kielce #1 Mateusz Kornecki, he stopped Mikkel Hansen with a strong right hand. Dylan Nahi was right in Hansen's ear as he walked up to take it, mind games or friendly banter? 
20:49
That's 3:0 PSG! Are Kielce are asleep here! The Karabatic brothers and Remili net to give the hosts the lead.
20:45 
Here are the team rosters taken off EHFTV! We are ready to rock, are you? Join us now on EHFTV for this top clash!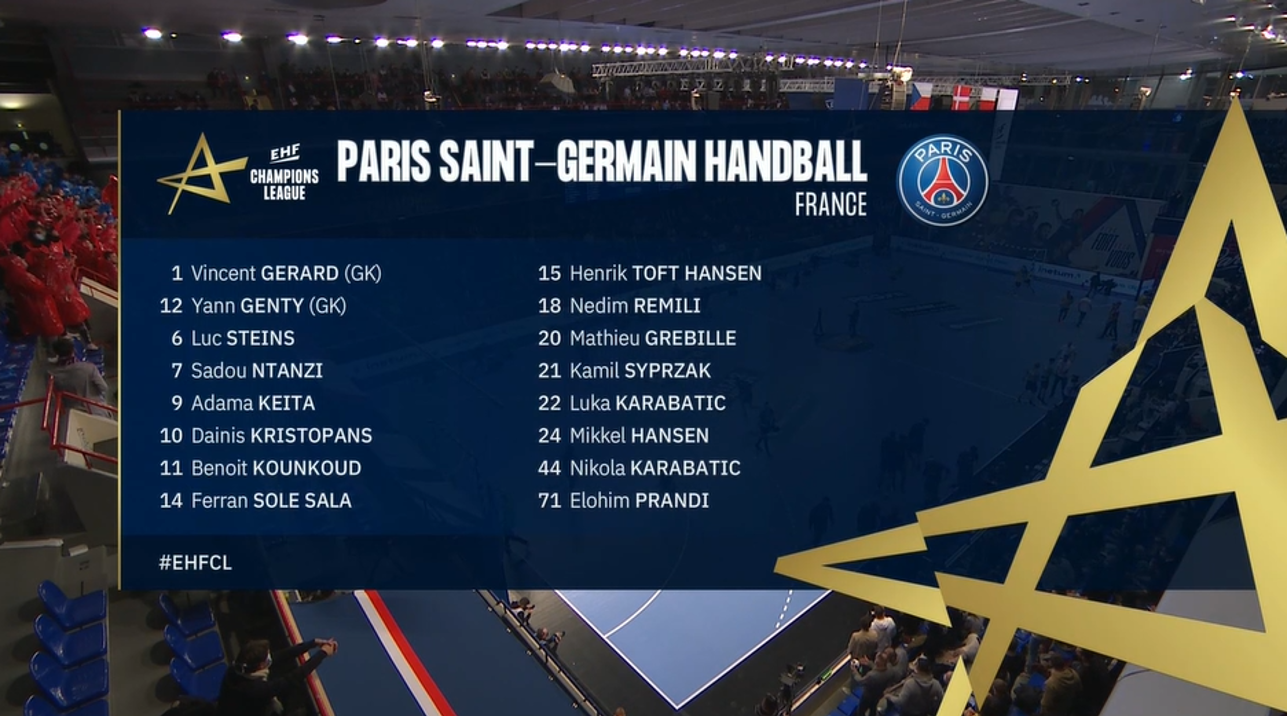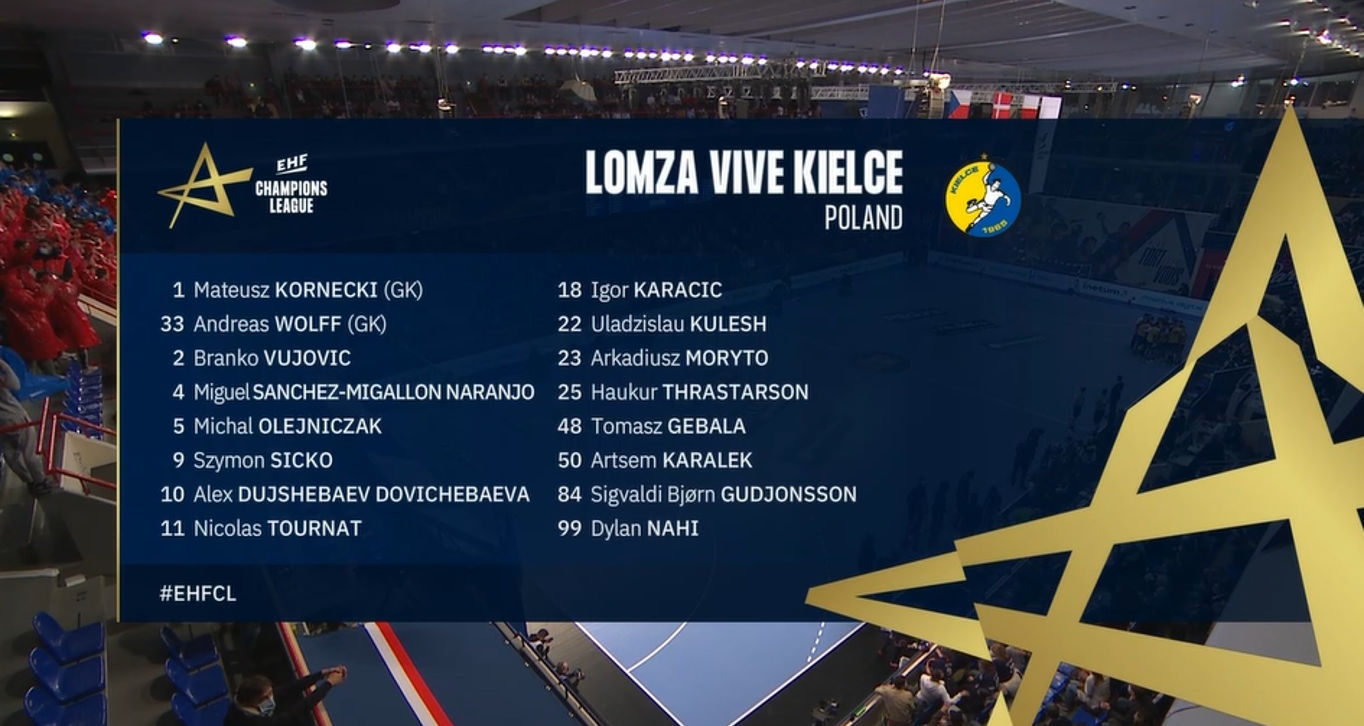 20:32
It is MOTW time! Just 15 minutes to go until we throw off out highlight match of the round between PSG Handball and group A leaders Kielce. How would you show up to this top tie? In a limo? A fancy car? Helicopter? Or would you stay grounded to your roots like Luc Steins? 



20:14
RESULT: Telekom Veszprém HC 47:32 C.S Dinamo Bucuresti 
Veszprém were not here tonight to make friends. They hammer Dinamo 47:32 to score not only the most goals of the season so far but to set a club record for most goals in a Champions League game beat their record of 46 from 2006 against MSK SIRS Povazska. 
Dinamo have also set a record for most conceded goals, their record was 40 it now stands at 47.
20:02
Listen to Veszprém last scorers Cupara, Ligetvari (x2) Blagotinsek, Ligetvari and youngster Dornyei. That tells you a nice story about who is winning in the 7v6. 
19:58
Oh no... Dinamo are falling apart out there. Not their best showing. Three open net goals back-to-back, that stings. Really sloppy with their subbing on and off after a 7v6. 
19:52
Hard to remember the Dinamo side that beat Kielce in round 1 when you look at this tie. Poor Dinamo look well off the pace tonight and are making some really poor and simple passing errors (often unforced). It's a steep learning curve this Champions League. 
19:48
My goodness, Veszprém's fastbreak is a joy to watch and I am sure not a joy to play against. Their first runner is gone and off the mark so quicky it is incredible. We often focus so much on the Veszprém backcourt and keepers that we forget how clinical they are on the break!
19:42
Manuel Strlek who turned 33 yesterday, pops up for his first goal of the game. The Croatian was on the end of a nice fast break move. The hosts are now 25:16 up...
19:23
HALF-TIME: Veszprém 22:15 Dinamo 
Maqueda lets another one fly into the visitor's net right before the buzzer. Starting to look like a long evening for the travelling side.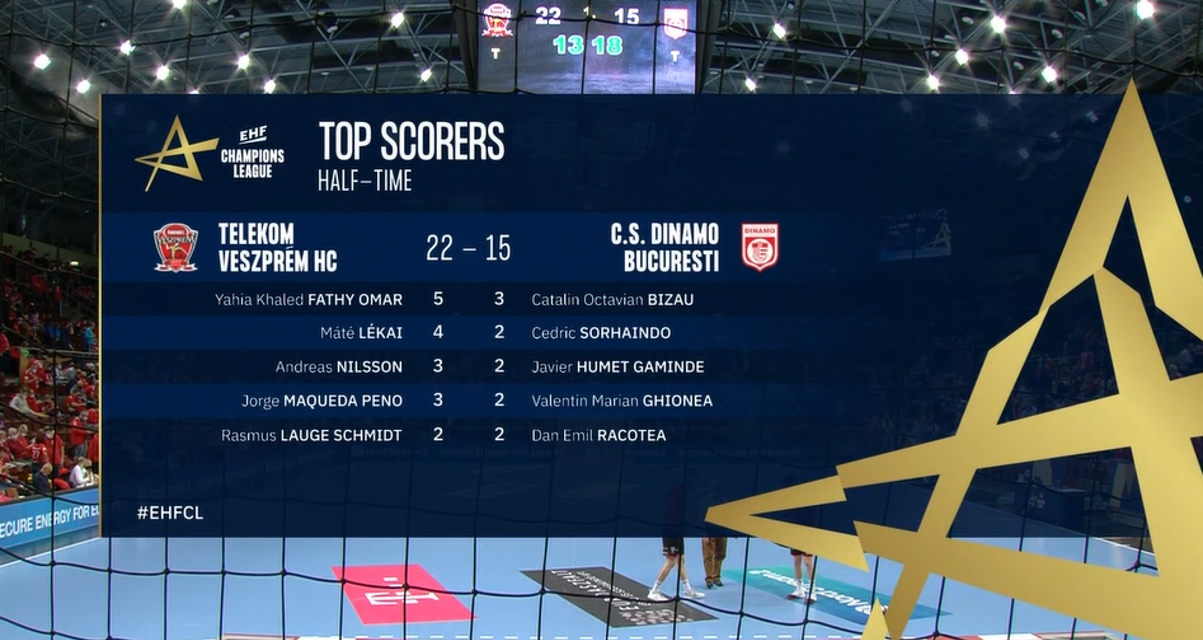 19:20
Dinamo struggling a lot with this Veszprém defence and Maqueda cuts through their attack like butter at the other end. 21:15 and it's time-out Veszprém. Hard to see what could be changed for Dinamo at half-time. 
19:15
Veszprém really starting to find their stride now. Kentin Mahe makes it 19:14 as they start to turn the screw. And Xavi Pascual isn't happy with his Dinamo side: "Why are we attacking after 20 seconds? Why?" the Spaniard is asking his side for more composure in attack. 
19:08
Omar has eyes in the back of his head! Looking so so good today... 
19:02
Veszprém have restored their two-goal lead after having been caught sleeping by Alex Pascaul as the Spanish youngster nicked the ball from Veszprém after their throw off. Very well done. Yahia Omar netted his 5th to bring the reds back to +2. 
18:54
We are off to a serious pace here in Hungary! Veszprém not holding back on the fast breaks, throwing bodies at each and every gap they see. Some serious bits of defending too with. Yahia Omar is looking in good form so far he is 3/3. Veszprém 9:6 Dinamo.
18:35
Here is the Veszprém squad for today, the big news relased by the club earlier today was that Petar Nenadic will be out for the rest of the year. He suffered serious hamstring and injury. We wish him the best for a speedy recovery.
18:15
Just 15 minutes until throw-off for our first game of this evening: Telekom Veszprém HC vs C.S. Dinamo Bucuresti 18:45 (CET)! With this being the only game at this time it will be our main focus for the Live Blog with MOTW between PSG Handball and Kielce being the main event tonight at 20:45 (CET).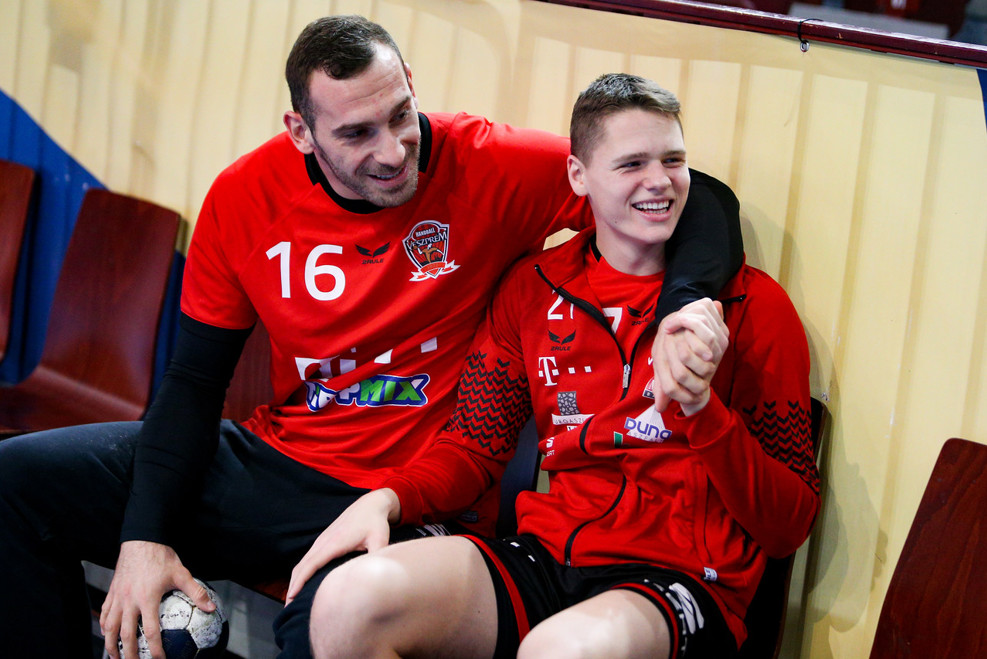 16:55
The first match tonight is between Veszprém and Dinamo. In the first game between the two teams this season, Dinamo took the two points at home (31:29) - although generally Veszprém have had a much better season, with five wins to Dinamo's two. 
Veszprém's top scorer, Gasper Marguc, has netted 42 times so far in the competition. That is four times more than Dinamo's best scorer, Valentin Ghionea.
Veszprém are unfortunately missing left back Petar Nenadic, who has scored 41 goals so far this season - but is out until January with a hamstring injury.
16:30
Last night Hannah Jackson caught up with PSG's Nikola Karabatic and Kielce's Branko Vujovic for the Gorenje Dinner for Two. You can watch their chat on Instagram while you wait for the evening's games to throw off!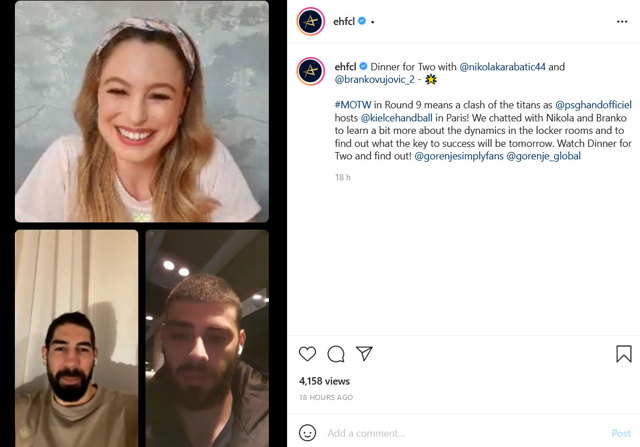 16:00
Fancy winning a Champions League ball? Now's your chance. All you need to do is guess the top scorer for tonight's Match of the Week, and tag two of your friends on our Instagram post. Easy. 
A top tip - check out the players' performances so far this season on their club pages: Paris Saint-Germain, and Lomza Vive Kielce. Mikkel Hansen and Dylan Nahi are the top scorers for the two clubs so far, but that doesn't necessarily mean they will top-score tonight.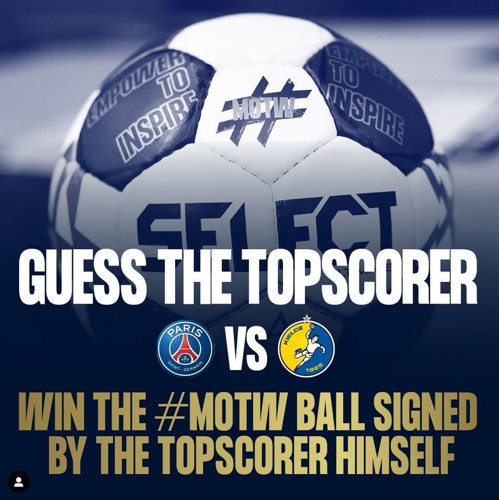 15:30
Welcome to the EHF Champions League Men live blog for the second batch of four matches in round 9. Action throws off in a little over three hours at 18:45 CET, when Telekom Veszprém welcome C.S. Dinamo. At 20:45 CET there will be three matches including the Match of the Week, which sees Kielce visit Paris Saint-Germain. As our feature notes, it's familiar territory for two of Kielce's players, Dylan Nahi and Nicolas Tournat. We caught up with them to find out what their expectations are.
WEDNESDAY 1 DECEMBER
23:15
Here ends our coverage of the first four matches of round 9 in the EHF Champions League group phase. Make sure to join us for the second quartet of matches tomorrow:
18:45 CET: Veszprém vs Dinamo
20:45 CET: MOTW PSG vs Kielce, Kiel vs Vardar, Barça vs Porto
You can read below what happened in each of the four matches. Be back tomorrow for more exciting action in Europe's top flight! Good night!
22:59
Over in group B, Flensburg have missed a chance to go level in points - for at least one day - with Barça and PSG. The German side slump into a nine-goal defeat at Motor and are down to sixth position now, overtaken by today's opponents.

22:52
So what do the results from tonight mean?
First of all, Montpellier are further strengthening their position on top of group A. Their narrow win over Zagreb means they are now three points clear of both Szeged and Aalborg, after the Danish 2021 EHF Champions League finalists won the direct duel with the Hungarian side tonight.
No direct impact on the standings, but great for them of course, is Meshkov's Brest first win of the season. They were close before against Zagreb but tonight they have done it - surprisingly in an away game at Elverum.
Remember you can always check the latest group standings here.

22:46
Four matches done, four matches coming up tomorrow. Here are some of the best pics of the opening night of round 9:
























It might have been freezing cold outside in Aalborg, in the arena it was steaming hot for the 2021 finalists as they take an important win over Szeged. Both teams now share second place in group A with 12 points from nine matches. Good stuff!
So yes, it did get close in the end and Montpellier are happy to come away with the win here. Great battling qualities from Zagreb, who can take a lot from this match despite the defeat.

22:07
Team timeout Zagreb. They are back to within three goals of Montpellier now and coach Ivica Obrvan believes something still goes here!


21:58
Watch this one. Just watch it.

21:55
Halfway through the second half, Montpellier have opened a five-goal gap to Zagreb (21:16) and look like cruising to another win, while Aalborg remain just two ahead of Szeged (25:23) with all to play for.


21:44
Sportsmanship. This is the EHF Champions League.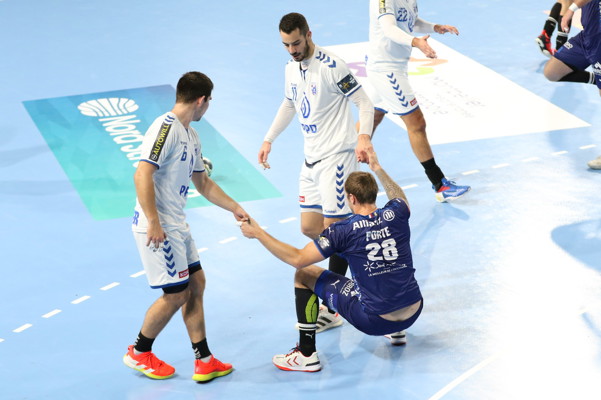 Zagreb got their first win of the season last week and have carried some self-confidence into tonight's match, but group A leaders Montpellier are just a bit more efficient so far. Interesting stat: no less than 10 different Montpellier players have already gotten their name on the score sheet.
Aalborg keep the momentum going after their MOTW win over Kiel last week. Szeged hanging in there, with Mario Sostaric the best scorer of the match so far, with five goals.

21:08
It is advantage for the home teams so far, with Montpellier leading Zagreb 10:7, and Aalborg also three up against Szeged, 11:8, with 11 minutes left in the first half.
Meanwhile, enjoy this beauty from Valentin Porte:

20:47
We are off and running in Denmark and France for the last two matches of tonight: Aalborg host Szeged in a match that was delayed from its initial 18:45 CET start because of the weather situation in Denmark, and group A leaders Montpellier hope to strengthen their position against Zagreb.

20:29
We have the moment in Elverum for you: look how Ivan Matskevich gives Brest their long-awaited maiden victory of the 2021/22 season.
Wow! Big, big win for Motor, who leapfrog Flensburg in the standings, pushing the German side down to a disappointing sixth position in group B. And Malasinskas also wins that goal-scoring duel with Jakobsen: 9-8...
Yes, they have done it! Brest take their first win of the season thanks to a Ivan Matskevich buzzer beater, upsetting Elverum in an up-and-down game. What a fightback from three down (31:28) with eight minutes on the clock!

20:14
Time timeout Elverum. This one is going to the wire with the Norwegian hosts and Meshkov Brest tied at 32:32 in the closing stages.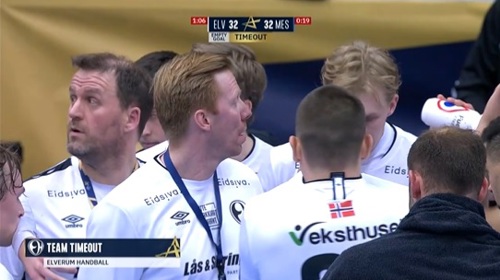 19:59
Congrats to Flensburg for passing the 7,000-goal mark in their EHF Champions League history! Only Barça, Veszprém, Kiel, Zagreb and Celje reached the milestone before.
It was Emil Jakobsen with his seventh of the match - a penalty to trail Motor by 20:18 - to score the goal:

19:52
Elverum have quickly stepped up a gear after the break: from two down they are now three up despite Mikita Vailupau netting again and again...:

Not much in between the two teams for the first half, with Aidenas Malisinskas and Emil Jakobsen having a neck-to-neck duel for best scorer of the match; currently both on six goals!
"Up front more is definitely possible," the German side says on Twitter:
Is this finally going to be the night of Meshkov Brest's first win of the season?! They lead by two at the break against Elverum and Mikita Vailupau has been on fire with four goals so far:

19:13
Great Golla goal, but Flensburg taking a team timeout as the game at Motor remains level.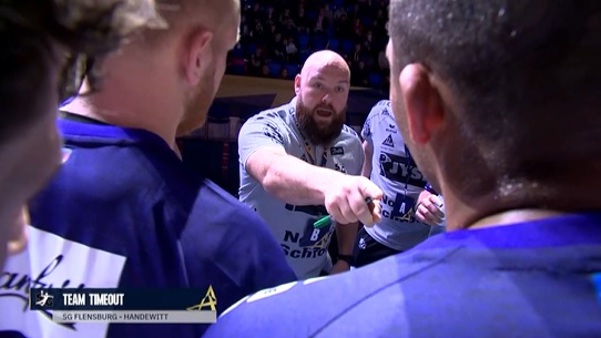 19:06
Big save as Elverum are struggling in the opening stages against Brest:

18:57
Motor and Flensburg are tied at 5:5 after the opening 10 minutes. Aidenas Malasinskas starring with four goals against Benjamin Buric so far!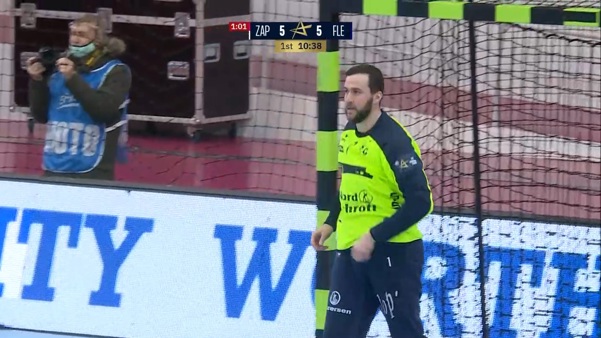 18:32
Szeged players checking the weather app on their phones? Let's hope it calms down in Aalborg and all stay safe!

18:23
While the other group A game in Scandinavia between Aalborg and Szeged has been delayed until 20:45 CET, we will first focus on Elverum hosting Brest. It is a match between two sides that are desperate for a win.
Elverum had their four-match unbeaten streak ended by two defeats against group leaders Montpellier. And Brest... well they are the only group phase participants without a win yet this season.

18:11
So we are starting off with Motor vs Flensburg and Elverum vs Brest at 18:45 CET.
Only one point is separating Motor (sixth place with six points) and Flensburg (fifth with seven) in group B as this is an important game for both. Mind you, Flensburg could go level on points with both Barça and PSG - at least for one night - if they win tonight.
However, if Motor are displaying moves like these again, they might be hard to beat:  

18:00
Here is an official statement regarding the delayed throw-off for the match between Aalborg and Szeged in Denmark tonight, now pushed back to a 20:45 CET start:

17:00
Tonight's playing schedule includes three of the top-four teams in group A! First we see fourth-ranked Aalborg host second-ranked Szeged at 18:45 CET, followed by top-ranked Montpellier taking on Zagreb two hours later.
How will those games affect the standings in group A after round 9?

16:45
This is what we have in store for you tonight and tomorrow: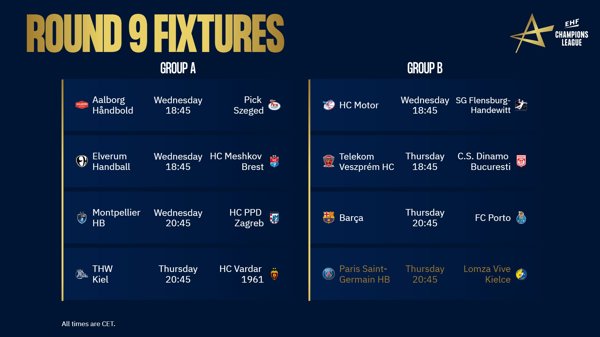 16:30
Good afternoon. Days are getting shorter and temperatures are sinking, but the EHF Champions League Men is not going into its winter sleep yet...
... as we have two more rounds in Europe's top flight coming up, with round 9 to be played tonight and tomorrow.
Get yourself in the mood for two bright nights in these dark days with our round preview: