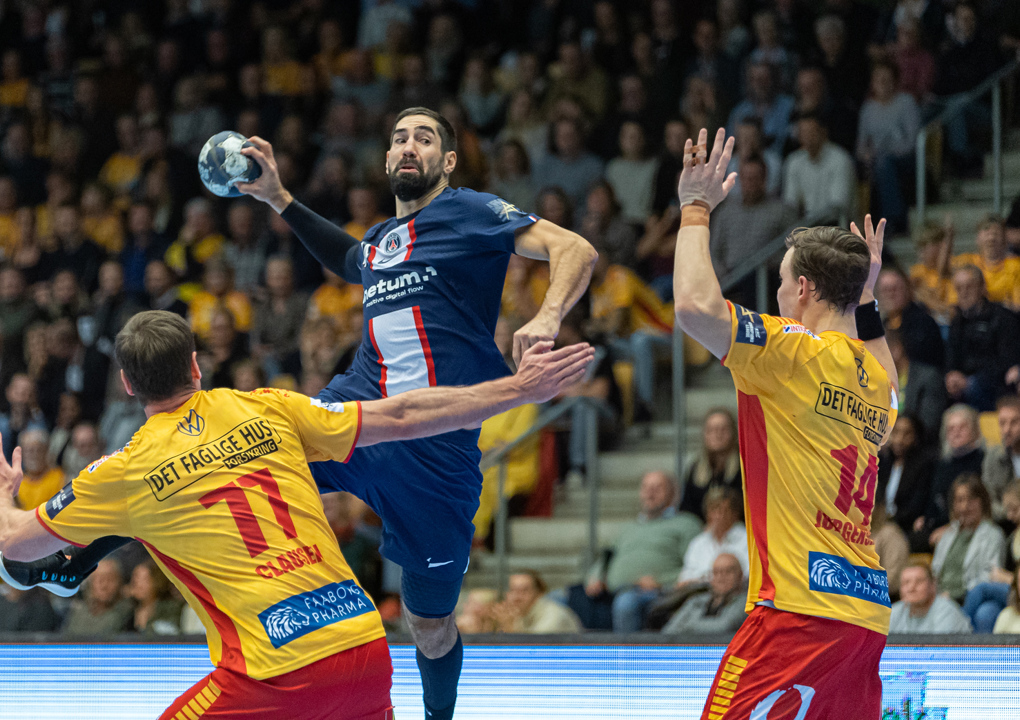 SUMMARY: Barça beat Kiel in MOTW; PSG end round 8 top of group A
23:11
We close our coverage from round 8 of the Machineseeker EHF Champions League group phase with some post-match reaction from Nantes. 
"We worked all week and were ready to be successful in this match. The difference was made during the first 20 minutes. Viktor (Hallgrímsson), was on fire and the atmosphere was amazing as usual," said Jérémy Toto, Nantes line player.
"We came into the game late. We fought in the first half but missed too many small things to come back and even win in the second one. We are struggling with our self-confidence right now and to look for positive things. We stood together, so at least I'm happy about it," said Stefan Madsen, Aalborg coach.
















Four points against Aalborg in one week is an excellent performance, thanks to our great players. Viktor (Hallgrímsson) helped the team with 20 saves. Congratulations to him and to all the players.
22:55
The action on the court in round 8 of the Machineseeker EHF Champions League group phase 2022/23 is over.
You could say that group A provided the surprise results in round 8, with Zagreb beating Veszprém and Porto earning a point against Magdeburg. However, Kielce's narrow win over Elverum demonstrated that the top teams in group B cannot afford to take any opponents lightly.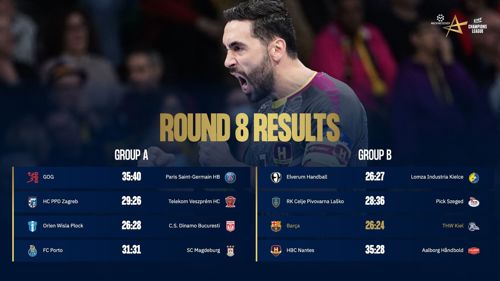 I am very pleased with the performance of my team in today's match. I must admit that it is never easy to play against Orlen Wisła Płock, so it was a great pleasure to face Xavi Sabate in today's match. I can say it was a bit of a gift from the team to the Romanian fans because today is their National Day, so it's a happy day for them.










22:31
How do the group B standings look after Nantes' win against Aalborg? Well, Nantes have a five-point gap over the Danish side, and they are again only two points behind Kielce in the race to earn an automatic quarter-final spot.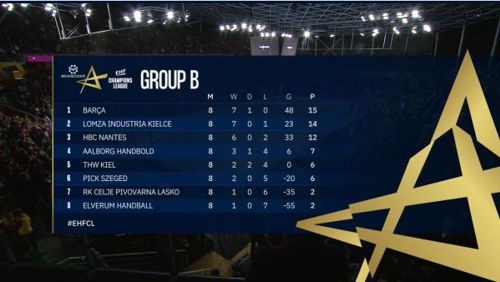 22:28
Porto are off the mark in group A after earning a point in dramatic circumstances against Magdeburg. The Portuguese side had a sensational start to the second half, but Magdeburg came close to taking both points in the closing stages.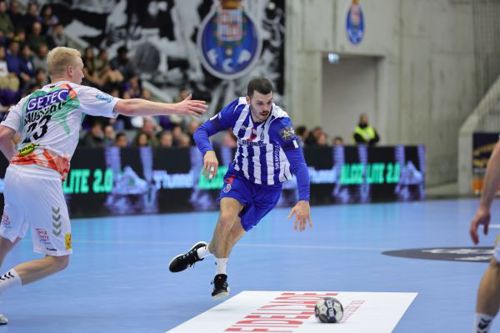 22:19
Aalborg reduced Nantes' advantage to two goals, 30:28, in the 57th minute, but the home side finished with a flourish to record a seven-goal triumph. 
While Alexandre Cavalcanti ended the match as Nantes' top scorer with six goals, the French side had 12 players register on the scoresheet.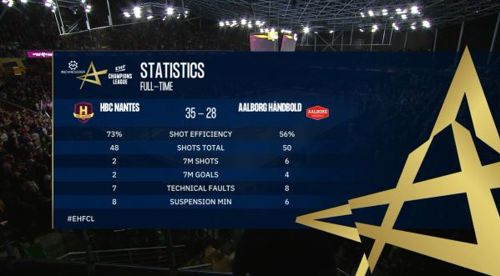 22:05
Porto have a one-goal lead to defend as they enter the final 10 minutes against Magdeburg. It is fair to say that is not a position that they would have expected at half-time.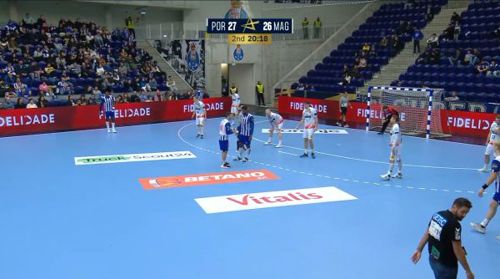 22:00
We might have spoke too soon about Barthold's belief about Aalborg's prospects of a comeback. Viktor Hallgrímsson has just made a double save to deny the Norwegian left wing. Hallgrímsson stopped a penalty and a rebound from Barthold.
21:57
Sebastian Barthold's reaction after putting the ball in the top right-hand corner shows that he believes Aalborg can still earn something from this match. Nantes are ahead 26:22 – but they have called a timeout with exactly 14 minutes remaining.
21:53
People around Europe (and the world...) might be turning their attention more towards our other 20:45 CET game, as Porto are now ahead 22:20 against Magdeburg after 43 minutes.
21:51
A few minutes ago, Viktor Hallgrímsson denied Mikkel Hansen's latest seven-metre attempt. The personal duel between the Icelandic goalkeeper and Danish left back is captivating, and it has typified the difference between the two teams.
Nantes lead 24:18 after 42 minutes and look on their way to repeating last week's success.

21:38
As the ehfcl Twitter account notes, Nikola Portner (Magdeburg) and Viktor Hallgrímsson (Nantes) had the same statistics after the first half of their matches.
21:33
Magdeburg have a four-goal advantage against Porto after 30 minutes in Portugal. Notably, Ómar Ingi Magnusson has scored seven goals from seven shots for the German side. With Gisli Thorgeir Kristjansson scoring two goals in the first half, Icelandic players have scored nine of Magdeburg's 16 goals in the first half. It seems as though Icelandic players are having a big say in the outcome of both of our 20:45 CET matches this evening.
21:29
After Viktor Hallgrímsson's excellent performance in goal in the first half, Nantes have a six-goal lead against Aalborg.
The Icelandic goalkeeper's heroics have been supported by what the court players have done for Nantes in attack. Officially, Nantes finished the first 30 minutes with a shooting percentage of 78 per cent, which was 26 per cent higher than Aalborg's.
21:18
As Nantes lead 15:10 with five minutes remaining in the first half, Viktor Hallgrímsson's save percentage remains above 40 per cent. 
21:12
Lukas Sandell will play no further part for Aalborg after receiving a red card in the 17th minute. 
21:09
This is what we'll call round one of Viktor Hallgrímsson vs Mikkel Hansen. Hallgrímsson followed up this save from Hansen with another save that denied the Danish left back a minute or so later.
21:05
Jérémy Toto collects the ball as if Henrik Møllgaard isn't there, turns, shoots and scores – and Nantes have an 11:4 lead after 16 minutes.
21:00
Simon Gade, who conceded seven goals from seven shots faced, has been replaced by Mikael Aggefors in the Aalborg goal. Aggefors denied a long-range effort from Alexandre Cavalcanti, but he couldn't stop Jérémy Toto's attempt from the six-metre line on Nantes' next attack.
20:56
Unsurprisingly, with Nantes leading 7:2 after seven minutes, Stefan Madsen has called the first timeout of the match for Aalborg. Nantes have scored all seven of their shots so far. 
20:52
The home crowd were already in good voice, but Viktor Hallgrímsson stopping an excellent breakthrough chance for Mikkel Hansen has resulted in the volume going up another level. Nantes are off to a fast start and lead 5:1 after five minutes.  
20:47
Aalborg will have to contend with a ferocious atmosphere over the next 59 minutes of handball if they are to beat Nantes this evening.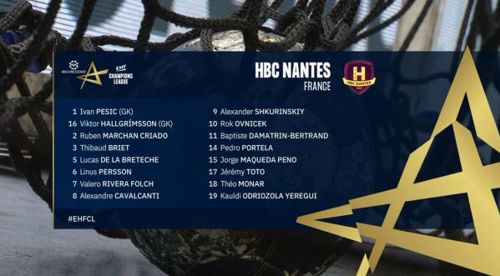 20:38
We have less than 10 minutes to go until Nantes vs Aalborg begins in France. On Wednesday, Thibaud Briet explained that last week's encounter suited the French side's playing style. Will they be able to replicate that performance tonight? 
"Last week was a big fight. We were in the shoes of the outsider, which suits us pretty well. We played our game perfectly, got on the ball quickly and defended very hard," said Thibaud Briet.

20:30
Here is how Dinamo Bucuresti celebrated their second victory over Wisla Plock in as many weeks.
20:23
For Dinamo Bucuresti, the main significance of their win in Plock is that they have joined SC Magdeburg on nine points in group A. Of course, Magdeburg will face FC Porto in just under 25 minutes, so Dinamo may yet have to satisfy themselves with the fact that they are now two points clear of GOG.
20:18
Tin Lucin's tally of 10 goals for Wisla Plock is not enough as Dinamo claim the two points in Poland with a 28:26 victory.
Overall, in a match that was tight for 45 minutes, Dinamo's superior variety in attack might have made the difference. The Romanian side utilised their back court, wings and line players when required at various stages in the match.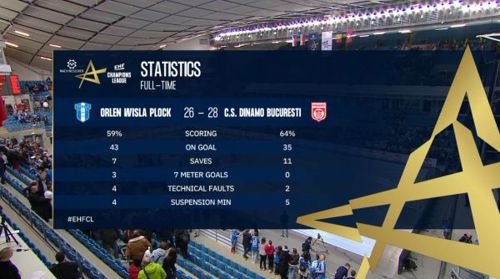 20:10
A slightly odd fact as Dinamo close in on victory against Wisla Plock is that the visitors have not scored from the seven-metre line. Indeed, Dinamo have converted none of their three penalties this evening, while Plock have scored three from four.
20:05
It's in-flight time for Dinamo as Ali Zein sets up Lazar Kukic to restore their three-goal advantage, 25:22.
19:58
Xavi Sabate called a timeout for Plock after Nicusor Andrei Negru gave Dinamo a three-goal lead, 20:17, in the 47th minute. Although there is still time for Plock to come back, they will need to find another gear in attack in the last 10 minutes.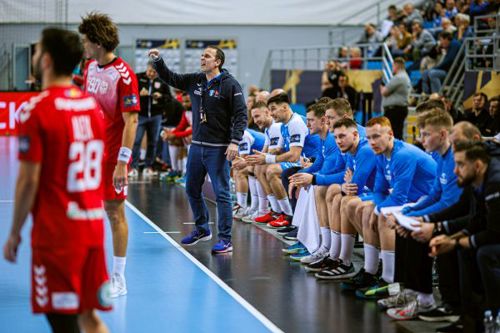 19:54
Valentin Ghionea makes it two goals from two attempts against his former club this evening to extend Dinamo's lead to 19:17.
19:50
As per the statistics on EHFTV, Plock have had five more shots than Dinamo. The Romanian side have a slender lead after starting the second half with a little more spark in attack.
19:45
Javier Humet Gaminde has scored zero goals from three shots for Dinamo, according to the official statistics. But he has shown to provide a great assist when under significant pressure!
19:35
The goal timeline from the first half shows that Dinamo and Plock both had one significant goalless period. 
At the start of the match, Plock had to wait more than five minutes for their first goal. Dinamo had a period of almost five minutes without a goal after Alex Pascual scored in the ninth minute to give them a 4:2 advantage.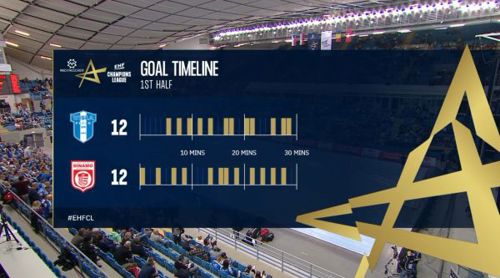 19:28
As you would expect in a low-scoring contest, the goalkeepers had moments where the stars of the show in the first half. Kristian Pilipovic enjoyed denying Mohamed Mamdouh Shebib and responding to Khalifa Ghedbane's incredible start at the other end for Dinamo.
19:26
With Michal Daszak's final shot of the first half hitting the crossbar, Plock are level with Dinamo Bucuresti after 30 minutes in Poland. 
While Daszak leads the scorers for both teams after scoring five times from seven attempts, Dinamo goalkeeper Khalifa Ghedbane made seven saves from 19 shots faced in the first period. In a match where every save might ultimately matter, Kristian Pilipovic stopped five shots from 17 faced for Plock.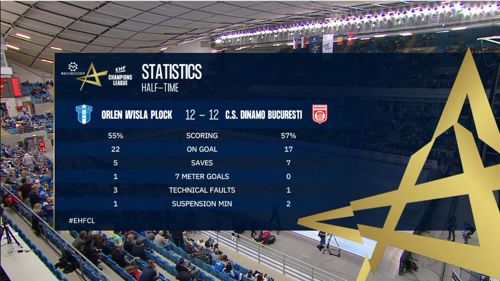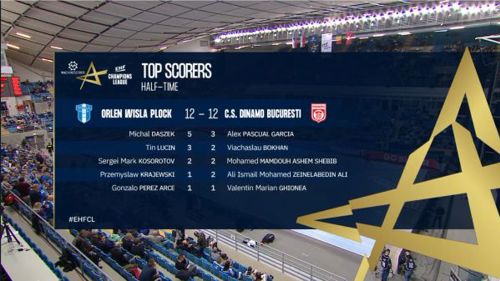 19:16
One are where Dinamo have had success in attack is connecting with their line players.
They are frequently using two line players in attack, and Mohamed Mamdouh Shebib, Viachaslau Bokhan and Cedric Sorhaindo have scored five of their 11 goals. However, Plock are level as half-time approaches, 11:11.
19:04
We've only had 13 goals in 17 minutes, but there have been glimpses of what both teams can do when they counter attack. Andrii Akimenko applied some spin to the ball to finish this swift move for Dinamo in the opening minute.
18:58
After almost 10 minutes played in Poland, Plock had twice as many shots as Dinamo – but Khalifa Ghedbane's fantastic start meant that the Romanian side led 4:2. Plock have since scored two consecutive goals to level the match at 4:4.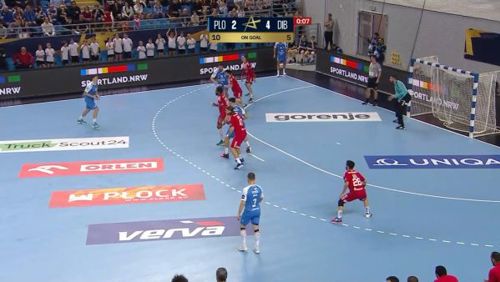 18:52
Dinamo goalkeeper Khalifa Ghedbane has made a great start for the visitors. Five shots faced, four saves made - but Michal Daszek did find a way to open Plock's account from approximately nine metres. Dinamo lead 3:1 as the seven-minute mark approaches.
18:45
We are just about ready for the throw-off between Plock and Dinamo!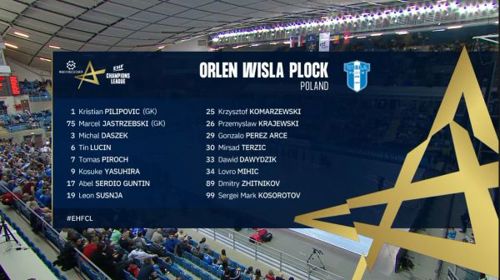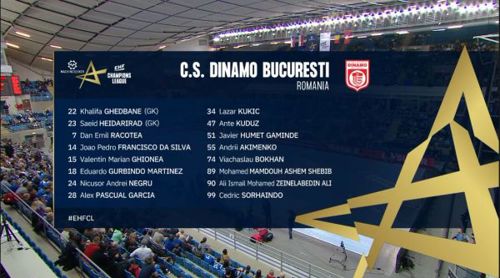 18:27
Although Nantes vs Aalborg is still more than two hours away, Nantes coach Gregory Cojean provided us with his thoughts on Wednesday about his side's clash in France against Aalborg. 
"We made a very good performance with a real physical challenge last week. I think they didn't accept the defeat very well at home. They probably want to take their revenge. To hope for another win, it will be necessary to provide the same commitment and the same intensity as last week," said Gregory Cojean.
18:14
As we mentioned earlier, Xavi Sabate is hoping for Wisla Plock's supporters to lift his side this evening. 
Plock have only collected one point from their last four games in the Machineseeker EHF Champions League. However, they beat GOG and Porto in their first two home games of the season. 
17:56
Valentin Ghionea played for Wisla Plock from 2012 until 2018 – and his spell with the Polish side included six seasons in the EHF Champions League.
The 38-year-old right wing has starred for Dinamo since he returned to his homeland in 2020 after playing for Sporting for two years. When Ghionea meets his former club in Poland this evening, he wants to make it an evening to remember for Dinamo on a special day in Romania.
"We have the power to win at Plock. We go with good morale and we want both points. A win for us in Plock would not automatically mean play-off qualification, but it would make our mission easier. We wouldn't have that stress from the last season. We want to win also because it is Romania's National Day and we want to dedicate the victory to all Romanians," Ghionea said on Tuesday evening.
17:45
In our first match of the evening, Wisla Plock are bidding to join Dinamo Bucuresti on seven points in group A when they host the Romanian side in Poland at 18:45 CET.
When Plock coach Xavi Sabate spoke on Tuesday, he emphasised that his side will need assistance from their fans if they are to achieve a different outcome from last week.
"We play against extremely difficult rivals. The have a lot of quality and it will be a really tough match. We play at home and we will need the full arena to support us," said Xavi Sabate.
17:00
Aalborg have released their squad list against Nantes - the same players as last week. Meanwhile Nantes have tweeted that they're sold out, so expect a wall of purple in the H Arena!
16:40
It's been a rough first half of the European season for FC Porto, who have lost seven matches on the trot. Today they host SC Magdeburg, who beat them last week 41:36. 
Domestically, Porto have been doing much better and are top of the Portuguese league with nine wins, one draw and one loss so far. Let's see what they can do tonight against Magdeburg, with the support of the Dragao Arena behind them. A place in the play-offs is still not out of the question if they can turn their season around, but their chances diminish with every new loss.
16:25
Action begins in about two and a half hours when Plock take on Dinamo again - last week, the Romanian side won 32:27.
It's Romania's national day, so Dinamo may have a bit of extra motivation. It's also Krystian Witkowski's birthday, but the now-23-year-old Polish goalkeeper isn't set to line up for Plock this evening - Kristian Pilipovic is the number one between the posts, and Marcel Jastrzebski is named alongside him on the teamsheet.
16:00
Welcome back to the live blog as round 8 of the Machineseeker EHF Champions League continues.
Last night we had five excellent matches, including a cracking Match of the Week between Barça and Kiel which went all the way to the last few minutes. There are three more to come tonight: Plock vs Dinamo up first a 18:45 CET, followed by Porto vs Magdeburg and Nantes vs Aalborg at 20:45 CET.
Last week's MOTW was in Aalborg and Nantes took the win, with Alexandre Cavalcanti named Player of the Match. Our reporter Tiago Nogueira caught up with the Portuguese left back ahead of the return leg.
Wednesday 30 November
23:15
Phew, what an evening of handball this has been! From a last-minute win for Kielce to a surprising defeat for Veszprém to a tight MOTW victory for Barça, culminating in that emotional retirement of the famous No. 8 shirt of Barça legend Victor Tomás...
... and then you have to realise that round 8 is not even done yet! We are back Thursday evening, same time, same place, for the last three games:
at 18:45 CET: Plock vs Dinamo
at 20:45 CET: Porto vs Magdeburg and Nantes vs Aalborg
So make sure to join us again then! For now, it is good night and we leave you as usual with the best pictures of all matches played tonight:

































22:57
What an emotional night in the sold-out Palau Blaugrana, just the tribute that Victor Tomás has deserved. Legend!

22:54
Here are the three remaining reviews from tonight's matches, written by EHF journalists Kevin Domas and Björn Pazen:
22:44
Victor Tomás, the emotions on his special night... You can read more on the Barça legend in an episode of our This is me... series, which will be available exclusively for all subscribers to our EHF Champions League newsletter. So is you have not already done so, subscribe to our EHF Champions League newsletter here!


22:39
Let's hear from Player of the Match Gonzalo Pérez de Vargas, whose 40 per cent save rate has been a crucial factor for Barça in winning this MOTW against Kiel:
It was a really tough game against one of the best teams in the Champions League. It was a rough game in defence, the goalkeepers were good, and it was a typical game between two teams that want to win the Champions League. It is good for us to win the game at the end, to get the two points, and to get a good celebration with Victor (Tomás) tonight.

22:28
Barça will be extra happy they have avoided a defeat tonight, not spoiling the party that follows this MOTW: the retirement of Victor Tomás' No. 8 jersey!
Incredible scenes in Zagreb! The hosts surprise Veszprém with a fantastic second-half performance and a 73% scoring efficiency to hand the Hungarian favourites their first defeat of the season. This result means that Veszprém are now overtaken as group leaders by PSG.
Morten Olsen nets 12 for GOG, but the points go to Paris, who see Kamil Syprzak reach a double-digit figure as well: 10. 
It is Barça in the end! A tough battle, but the two-time defending champions come out on top to regain the lead in group B. Gonzalo Pérez de Vargas finishes on a save percentage of 40+ and is awarded the Player of the Match title.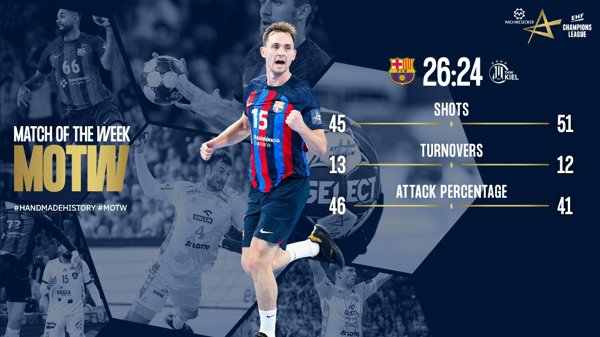 22:10
Five minutes left in Barcelona, and Barça lead Kiel by a single goal 24:23. Do the hosts have the stronger finish again, like last week? 
22:07
Here it is: the first Sander Sagosen goal since Kiel's quarter-final against PSG on 19 May:

22:02
Elsewhere, Zagreb 22:21 up against Veszprém! A massive upset in the making in Croatia?


21:51
Not a high-scoring MOTW this, but that is also due to the quality of the goalkeepers. Watch Barça's Gonzalo Pérez de Vargas:

21:47
They have the most scoring attack in the competition so far, but it has taken Barça more than eight (=8!) minutes in the second half to finally find the net again. Pretty incredible. Kiel 17:16 after 10 minutes.
21:36
Kiel are holding up well in Palau Blaugrana so far. Not many teams have won here in the history of the EHF Champions League – in fact, Barça have lost just nine home games!
Two of those were against Kiel, back in 2008 and 2009. Tonight, Kiel could become the only team to win away at Barça for a third time. As of now, Kiel and Kielce (in 2015 and 2021) are the only teams to have achieved the feat twice.
Anyway, back to the MOTW now!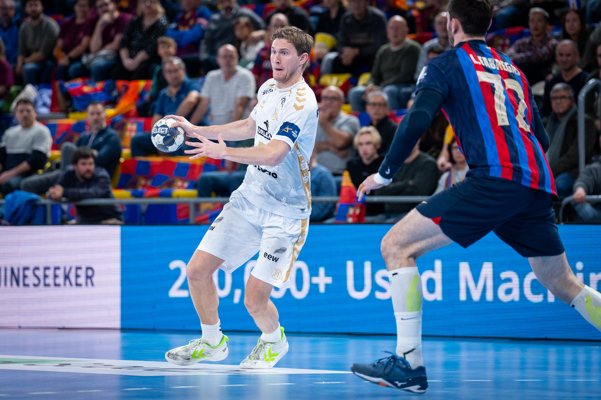 Veszprém are given a tough challenge in Croatia. The group A leaders have even needed a 3:0 run to close out the first half with a two-goal advantage. If Zagreb can keep this up, it might be quite a battle in the second half.
Line player Kamil Syprzak the big man for PSG so far, as his seven goals make the difference with hosts GOG. PSG have been up by five (17:12), but with the difference back at three, it could still get interesting after the break.
Nothing in it: Kiel had an early three-goal lead but since then this MOTW has been very much in the balance. Kiel's Harald Reinkind with four goals the best scorer so far; Barça goalkeeper Gonzalo Pérez de Vargas with eight saves from 20 shots.
21:18
So good to see Sander Sagosen finally back for Kiel after foot surgery half a year ago, though the Norwegian star picks up a two-minute suspension just before the break of the MOTW.


21:13
PSG have built a five-goal lead over GOG in Denmark, but the cheekiest goal so far has come from the hosts:

21:04
A packed Palau Blaugrana and a high-pace game on the court. This is how a MOTW should be played! Kiel 9:8 up after 18 minutes.

20:56
Here is the footage of Niklas Landin's excellent start to this MOTW:

20:55
Elsewhere Zagreb go 4:2 up on Veszprém in the opening eight minutes. Some start for the Croatian side against the group leaders!
20:53
What a start for Niklas Landin! Only conceding once in the opening six minutes (and stopping an Aleix Gómez penalty en route) as Kiel take an early 3:1 lead at Barça in MOTW.
20:44
Before we throw off the MOTW as well as GOG vs PSG and Zagreb vs Veszprém, here is the match review from EHF journalist Björn Pazen for Kielce's close win in Elverum earlier tonight:

20:38
Remember, the happenings in Palau Blaugrana tonight are about more than 'just' MOTW; Barça will officially retire the jersey No. 8, which has been worn for so many years by club icon and former captain Victor Tomás:

20:35
Are you ready for the big one tonight? The MOTW between Barça and Kiel throws off in 10 minutes!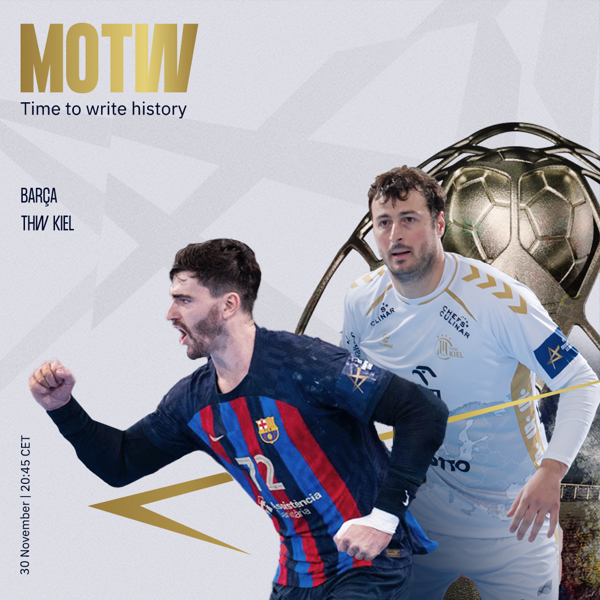 20:27
Szeged had done the damage in Celje already in the first half. Here is the match review from EHF journalist Björn Pazen:
An almost identical result to last week, when Szeged won 36:27... Celje have fought well, but their squad, how talented, is yet too young and too unexperienced to get points from matches like these.
Richárd Bódó and Sebastian Frimmel both score six for Szeged.
Wow, Kielce just avoid losing one or two points here! Alex Dujshebaev puts them one up in the final minute, before Artsem Karalek has a crucial block to deny Elverum a goal in their last attack.
Still, well done Elverum, even if they don't earn any points for this performance...
Alex Dujshebaev for Kielce and Uros Borzas for Elverum both with six goals the leading scorers in this match.

20:09
Elverum vs Kielce really going down to the wire: 26:26 with two minutes left. Good stuff!
20:04
Over in Celje, Szeged have entere gallery-play mode:

20:01
Team timeout Elverum. It is only 24:23 to Kielce, so Elverum still very much in with a chance keep at least one point in Norway tonight. That would be a massive result for them! Uros Borzas with five their best shooter so far.


19:56
Szeged still well ahead in Celje (28:23 at the moment), but that doesn't mean the hosts don't score noteworthy goals:

19:46
Interesting start to the second half in Elverum. First, Kielce look sharper and soar ahead to 19:15 and 20:16, but the hosts have got two back to stay in touch: 20:18 after the opening 11 minutes of the second half.

Celje were left with not much of a chance in Szeged last week, and the story repeats itself on home court tonight. There has been a brief spell where Celje caught up, but as soon as Szeged got their act together again, it was mostly one-way traffic again. Austria's Sebastian Frimmel with five goals the leading scorer.
Very, very close match in Norway! Elverum and Kielce are entangled in a tight battle, with only Kielce at one point (8:6) opening a lead of more than one goal.
Can Elverum keep it up after the break?

19:11
Meanwhile in Norway, Elverum and Kielce still in a neck-to-neck battle: 10:10. The most beautiful goal so far:

19:08
Team timeout Szeged. Coach Juan Carlos Pastor is not happy to see his team giving away their initial dominance. Celje have cut back the deficit to just two: 10:8 to Szeged after 17 minutes.


19:01
Just how you want to start the match as a goalkeeper:

18:56
Elverum and Kielce are still in the balance after the opening 10 minutes: 5:5. But Szeged have already built a healthy 8:4 lead in Celje.

18:34
Surely you are familiar with our data analyst and journalist Julian Rux by now. Prior to the MOTW later tonight, Julian has put Kiel's attack under the microscope, with leads to this very interesting in-depth analysis.


18:23
Even before tonight's match, Kielce's French wing Dylan Nahi has celebrated a little party as he turned 23 today. Luckily, Nahi shoots a bit quicker with a handball than with a confetti pistol... ;-)

18:19
Elverum are in the same boat as Celje. The only two points the Norwegian side have gained so far have come from a win against Celje and it would be some upset if they were to add any more points tonight, facing Kielce.
Kielce have won all three previous duels with Elverum and if they also win the fourth tonight, they will overtake Barça go top of group B – at least for two hours, as Barça of course take the court at 20:45 CET for the MOTW against Kiel.

18:08
Celje earned their two points with a stunning win over Kiel in September, but have lost their other six games. They need to start earning points from matches like the one tonight... but having said that, Celje have lost the last eight duels with Szeged and have not beaten their Hungarian opponents since 2008.
Still, Celje's Aleks Vlah is currently the top scorer of the Machineseeker EHF Champions League, with 52 goals.
Szeged, on the other hand, are on four points and they can open a substantial four-point advantage over Celje tonight in the race for the play-off spots.

18:00
Only 45 minutes until throw-off. We start round 8 in Elverum and Celje, the two lowest-ranked teams in group B, who are both on two points and who lost last week against the opponents they are going to meet again at 18:45 CET.
Elverum take on second-ranked Kielce after their 37:33 defeat in Poland six days ago; Celje are up against Szeged and want to improve from their 36:27 defeat in Hungary last week.

16:56
Barça vs Kiel could be the final of the Machineseeker EHF Champions League... In fact, it has been an EHF Champions League final four times in the past – most recently in 2020, when Kiel won 33:28. That was also the only time in their last six duels since 2017 that Kiel beat Barça...
Last week, Kiel came close again when they led by two going into the final minute and... ah, better watch for yourself what happened:

16:34
Be prepared for a packed handball night full of excitement!
We have five matches coming up, and those include the current top-two teams from both groups (Veszprém and PSG in group A; Barça and Kielce in B) as well as the Match of the Week between Barça and Kiel at 20:45 CET.
Things can't get much better than this!
And as a special bonus, Barça will tonight retire their famous No. 8 jersey as worn by club legend and long-term team captain Victor Tomás.
Stay tuned...

16:23
Eight matches as we start into the second half of the group phase. Here is the round preview with info on each game:
16:15
Good afternoon and welcome to the live blog for round 8 of the Machineseeker EHF Champions League! If you enjoyed round 7 last week, then we have good news for you: the teams who met last week are going to play each other again this week.
Here is the schedule with five games tonight and three tomorrow: