SUMMARY: All set for the final day of the EHF EURO
Day 16 of the Women's EHF EURO 2022 is the last rest day of the tournament, as the teams are preparing for Sunday's medal matches in Ljubljana.
Saturday 19 November 2022
18:00
In just under 24 hours the bronze medal match between France and Montenegro will have started, followed by the big final between Denmark and Norway. You can already get prepared by reading the previews from Courtney Gahan and Björn Pazen below...
... and the live blog of course returns on Sunday morning for a proper build-up to the medal matches.
Enjoy your evening and join us tomorrow for a sparking finish to this Women's EHF EURO 2022!
16:47
In case you missed it earlier: the organisers have drawn a very positive balance of the first Women's EHF EURO co-hosted by three national federations.
On the eve of the final day, they have spoken at the official closing press conference, and EHF journalist Björn Pazen gets you up to date in what has been said in this article.

15:52
It is time to listen to your favourite podcast again! This time, the official EHF EURO podcast takes a closer look at how Denmark and Norway have stormed into the final.
The Scandinavian neighbours will meet for the second time in five days; this time with a gold medal on the line. We hear from Denmark's Kristina Jørgensen and Mette Tranborg and Norway's Sunniva Andersen, while we share a Handball Haiku or two before previewing the final matches in Ljubljana.
Listen below or download the latest episode here. 
14:32
So, how are Denmark looking forward to their first EHF EURO final in 18 years?
We know it's going to be a really, really tough game and that Norway have been in this situation, in the final, so many times — also in a row now — and they are used to it and we are not. It's totally new for us to be in the final, but we're looking forward and we are given everything we got. I promise to my country that we will give whatever it takes.
14:01
Here you go, the results of the play-off draw for the 2023 World Championship qualification. The teams in bold have been EHF EURO 2022 participants:
Türkiye vs Serbia
Romania vs Portugal
Iceland vs Hungary
Poland vs Kosovo
Italy vs Slovenia
Germany vs Greece
Switzerland vs Czech Republic
Austria vs Spain
North Macedonia vs Ukraine
Slovakia vs Croatia
These play-offs will be played on 7/8 April (first leg) and 11/12 April 2023 (second leg); the 10 winners qualify for the final tournament in Denmark, Norway, and Sweden.

13:51
We get you some quotes from the teams playing the medal matches on Sunday, as they have been talking to media representatives here in Ljubljana. First, here is Norway goalkeeper Silje Solberg:
We will forget the last defeat against them (Denmark) here, we will learn from our mistakes. And of course we do not want to lose twice against the same opponent. It is for gold, and we need to fight.
13:41
Breaking news! Just revealed, here is the official logo of the Women's EHF EURO 2024, combining the various shades of red used in the flags of Hungary, Switzerland and Austria:

13:32
Presenter Edit Szalay currently giving an outlook on the next EHF EURO – in 2024 in Hungary, Switzerland and Austria, when the number of participants will increase from 16 to 24 for the first time. Should be a cracking event!

13:12
Nora Mørk + penalty throw = goal
Here is the latest Stat of the Day provided by Julian Rux, detailing Nora Mørk's strength from the penalty line. Only one shot missed from 27 attempts:
12:57
At 13:00 CET, the official closing press conference of the Women's EHF EURO 2022 will start, and you can watch it live on our Home of Handball YouTube channel, embedded here on top of this live blog. It also includes a presentation of the EHF EURO 2024 as well as the draw of the play-offs of the European qualification for the 2023 IHF World Championship.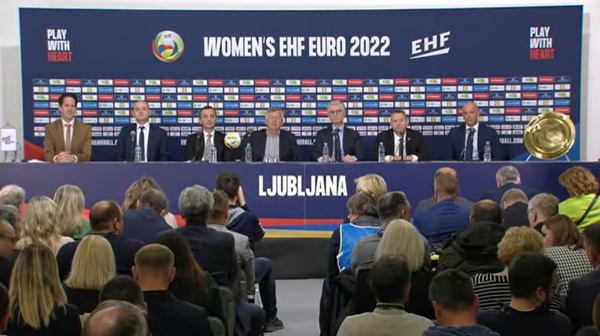 12:26
While you will see many previews and predictions for the final between Denmark and Norway tomorrow, one story really stands apart. Our data analyst and journalist Julian Rux has been taking a deep dive into the numbers and figures behind both teams, and has come up with this thorough analysis comparing our two finalists.
So, make sure to read it carefully before tomorrow evening!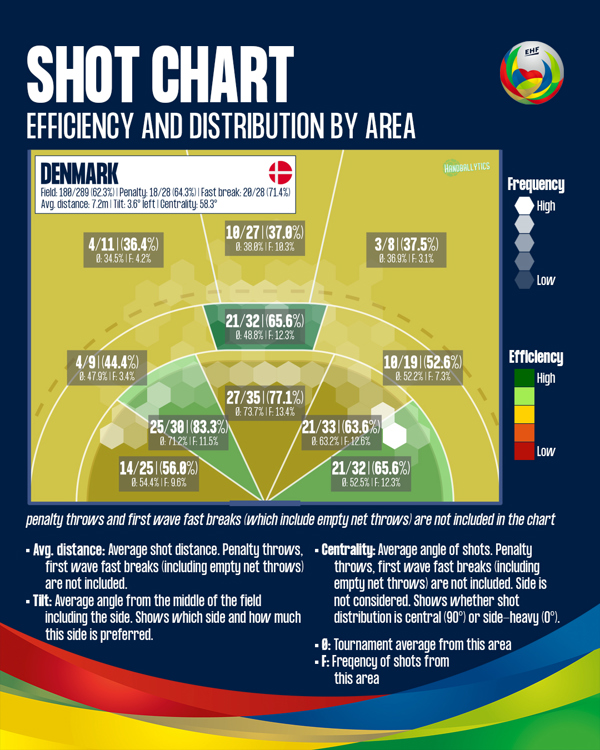 11:16
It is the morning after the night before... Two semi-finals in Stožice Arena, each in its own way highly entertaining, have confirmed our finalists for tomorrow: Denmark and Norway, who defeated Montenegro and France, respectively.
Watch the highlights of both clashes below:
10:54
Let's get going today with another edition of our daily photo series featuring women in sport, a cooperation between EHF and kolektiff: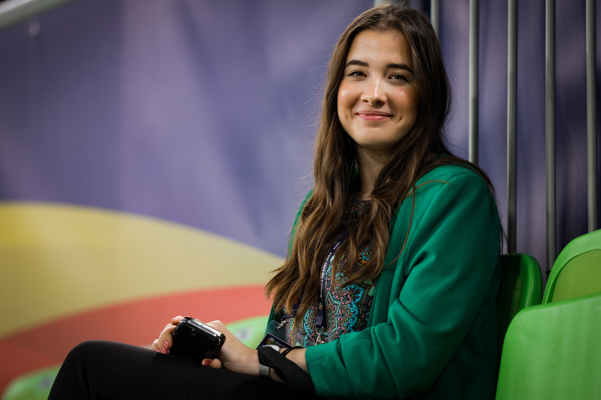 Natália Rácz joined our EHF EURO events department in August 2022, and just three months later, this 23-year old is one of the key players of our team. Managing and coordinating all accommodation and transport details and needs for people on-site is a demanding task, but Natalia makes sure everything is running without a hitch! We are more than sure there is a bright future for Natalia, as she is winning this Women's EHF EURO 2022 ❤.
10:15
Good morning, welcome to the live blog for the penultimate day of the Women's EHF EURO 2022.
The day after the semi-finals is the day before the medal matches, so you will hear from both during the day. We will look back at all what happened yesterday in Stožice Arena, when Denmark and Norway won spectacular matches to set up an all-Scandinavian final, leaving Montenegro and France the battle for bronze.
So, even with no matches on, a lot to talk about today!
Also, today is the last day for you to for the Women's EHF EURO 2022 All-star Team. Just pick favourite players in the Home of Handball app and get the chance to win attractive prizes. Read all about it here on eurohandball.com!