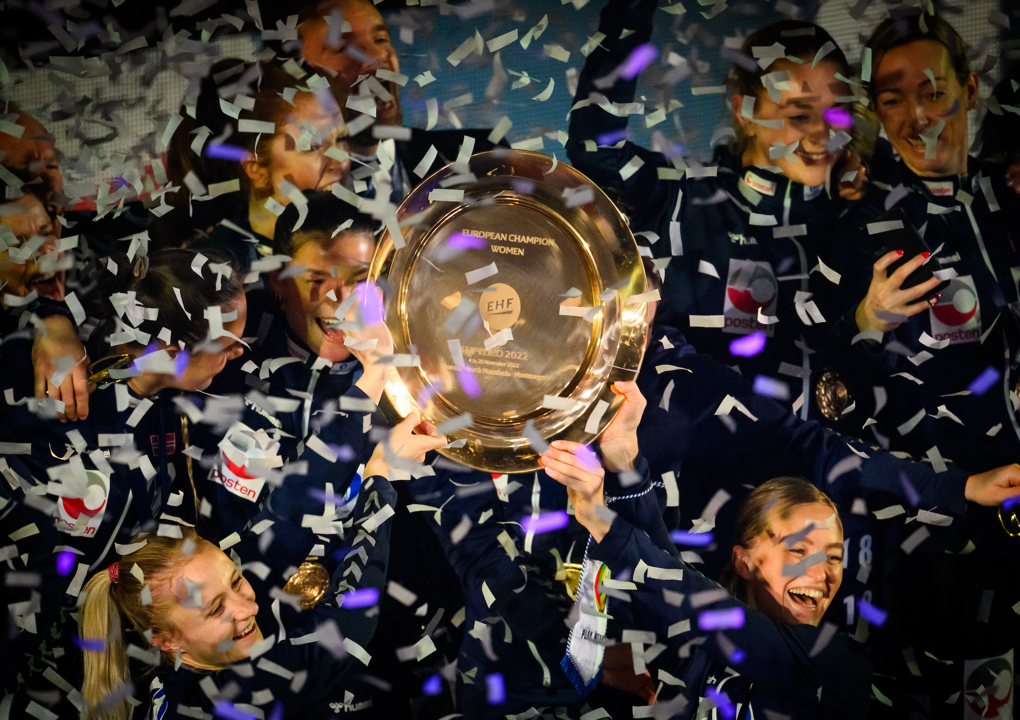 SUMMARY: Norway lift EHF EURO trophy again
After 17 scintillating days, the Women's EHF EURO 2022 has come to an end on Sunday night, with Norway defending their title in a thrilling final against Denmark. Also, Montenegro have won bronze in an emotional extra-time win over France. Earlier, the All-star Team, led by MVP Henny Reistad of Norway, has been revealed.
23:45
Six hours ago we started the 17th and last day of the Women's EHF EURO 2022. We have seen how Montenegro beat France in an emotional bronze medal match, and we have witnessed how Norway leave it late to down Denmark in a worthy final of this championship.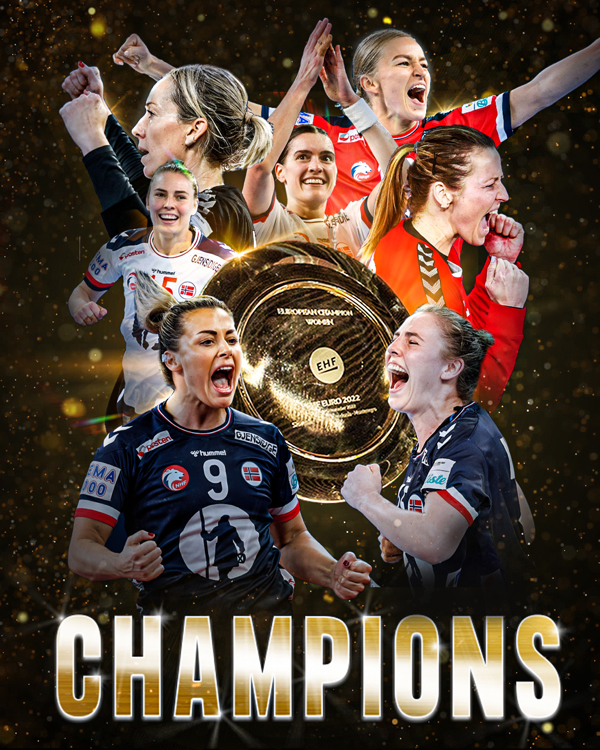 Knowing that the trophy stays where it has been for the past two years, we can already look forward to the Women's EHF EURO 2024 in Hungary, Switzerland and Austria...
... but we leave that for another time. This live blog for the Women's EHF EURO 2022 ends here, after more than two weeks full of exciting games in Slovenia, North Macedonia, and Montenegro.
Thanks for following the European Championship with us! Workers are removing all EHF EURO related stuff from the Stožice arena at the time, so it is time to say goodbye and until next time. And, as usual, enjoy the gallery as our closer.
Nasvidenje from Ljubljana!


















23:38
The time to let it sink in and reflect comes later – both for Norway and Denmark. Here is what the two coaches have told media after the final:
To win this trophy was hard work. We are humble, sometimes we lose, sometimes we win. It was not obvious that Norway would win this game, as Denmark have good players and good coaches; we have big respect for them.
As always, Norway are deserved champions, but I am also proud of my team. After 41 minutes we were ahead by four goals and created more chances, but Katrine Lunde showed her great experience. 18 years ago, Denmark played their last final, and already then Lunde was a key to our defeat. Now we are sad that we did not win, but from tomorrow we can raise our heads.
22:57
Two legends of our sport, and what an impact they both have had on this EHF EURO:
22:49
It just looks good on them, this EHF EURO trophy, doesn't it? For a record-extending ninth time it belongs to them.
The title also confirms Norway already as participants of two big events in 2024: the Paris Olympic Games and the Women's EHF EURO 2024 in Hungary, Switzerland and Austria.
Gratulerer!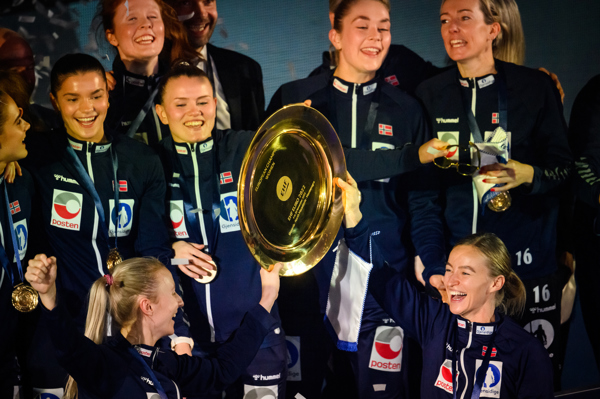 22:32
The big moment is here... Norway are receiving the champions' trophy right NOW.
22:25
Read how Norway have done it again! This is the match report of the final in which they have secured their ninth EHF EURO trophy:
22:28
And here is Katrine Lunde, the goalkeeper who has been instrumental in Norway's comeback this final:
It is really amazing. The match was really tough. (Personal records) don't mean too much, but I am really happy because we are winning, and that was really important today.
22:12
Here is the first reaction from Denmark right back Louise Burgaard:
We were not as strict in our defence as we were in the first 55 minutes. Norway have the routine and I think we got a bit overwhelmed by that. I am really disappointed because we were really close and we made an incredible tournament.
22:08
What a final! Both would have deserved the trophy, but that will go back to Norway again!
22:02
Nora Mørk the Player of the Match in this final, but also the top scorer of the whole tournament, with 50 goals, two ahead of Montenegro's Djurdjina Jaukovic.
21:59
Just so, so, so strong! This has not been their best match, but they do it again!
Norway edge ahead just seven minutes before the end, but it only matters what the scoreboard says after 60 minutes.
But what a heartbreak for Denmark. So close to finishing their 18-year wait for another EHF EURO title, so close...
NORWAY DEFEND THEIR EHF EURO TITLE AND ARE EUROPEAN CHAMPIONS FOR THE NINTH TIME
21:52
Denmark have lost the plot a bit here. Norway feel they have taken over command and two goals from tournament MVP Henny Reistad now open a two-goal gap for Norway; 26:24, with just two minutes left...
21:48
The first lead for Norway! Another brilliant save from Kathrine Lunde and in the next attack Kristine Breistøl puts Norway past Denmark for the first time this match: 24:23.
21:44
We are back level: 22:22!
Good we brought in Courtney Gahan for her half-time thoughts, as she predicted to perfection that Kathrine Lunde's arrival in Norway's goal would make the difference, which is exactly what has happened.
Lunde keeps her goal clean as Norway scores four in a row to level things up. What a final this is!
21:38
Norway down to six with Maren Aardahl suspended for two minutes, and Denmark take advantage as Sarah Iversen scores in the empty goal for a four-goal lead: 22:18 to Denmark, and the second half is halfway done!
21:34
Ten minutes into the second half and we are at 20:17. Denmark have been staying ahead for two, three goals for quite a while now.
Will it creep in at a certain point that they could win their first gold in 18 years?
21:27
It has taken the teams nearly four minutes in the second half to find the net: Malin Aune nets for Norway, but Denmark hit back right away thanks to Emma Friss: 16:13.
21:17
Denmark have been clean and clinical so far. It will be interesting to see whether Norway coach Thorir Hergeirsson has managed to give his players a recipe for how to get more cracks in that Danish defence.
His counterpart Jesper Jensen won't change so much. His concept has been working for most of the first half, which has seen Denmark take a five-goal lead (10:5) at one point.
One of the finest goals from Denmark (no, they are not all about defence):

Nora Mørk with her seventh – the goal that puts her level on top of the scorers' list – just before the buzzer makes it 15:12 as Norway are still playing catch up with a clean and clinical Denmark side.
Let's hear from Courtney Gahan again for her half-time thoughts:
"The score board shows a lead for Denmark but the on-court battle between the two Scandinavian sides is evenly matched overall — the difference is the depth on Denmark's side. While Norway have some weakness on the wings, Denmark are strong in all positions, and they still have players to spare on the bench, especially to rotate in on the back court.
Nora Mørk is responsible for over half Norway's goals, while nine different players have scored for Denmark. This depth can certainly end up being key, although there is one key weapon we haven't seen from Norway yet — and she can absolutely be a match decider: Katrine Lunde.
Many times before, either Norway or Lunde's club team Vipers looked headed for a loss, before Lunde was brought on and absolutely turned the match on its head. We may see Lunde appear in the second half and change everything."
20:58 
Nora Mørk is on five from five. She needs only two more to join Djurdjina Jaukovic on a tournament-leading 48 goals. Though the top scorer's title is certainly not her mind right now. 
20:55
Norway are just kept in check perfectly by the Danish defence. However, they just score back-to-back goals as Nora Mørk reduces to gap to three: 10:7. 
20:48
Team timeout Norway. This had to be called by Thorir Hergeirsson, as his team is 8:4 down after 15 minutes of this final. Can the coach guides his team in the right direction against Denmark? Their defence look rock-solid in this opening quarter.

20:45
Denmark now leading by four: 7:3, after Louise Burgaard was the first player to score in this final:
20:42
We are 11 minutes underway and Emma Friss, Denmark's all-star left wing, nets for 6:3 – the first three-goal lead in this final.
20:35
Denmark with the better start – and a 2:0 lead after four minutes.
20:31
We have officially started the final of the Women's EHF EURO 2022! Enjoy!
20:20
This the match we have been working towards for the past 16 days!
It is Denmark against Norway for that trophy 16 teams were dreaming off when the Women's EHF EURO 2022 started on 4 November.
Will it be Norway lifting it for the ninth time? Or Denmark for their fourth?
This promises to be cracking final. Bring it on!

20:02
What an inspirational fight from Montenegro: one week after a heavy defeat, they turn the tables on France to say goodbye to Jovanka Radicevic with an bronze that shines like a gold. 
Read the match review from EHF journalist Courtney Gahan:
19:57
Let's hear from France centre back Grace Zaadi:
Everything went wrong for us, from the beginning of the game. We lost balls we usually don't. I think today we missed too many things to reach the third place. Of course, I am very disappointed but we couldn't expect more with this way of playing.
19:49
Crazy scened in Ljubljana as the Stožice Arena is boiling over!
What a result for Montenegro, the 2012 champions who had not beaten France for 10 years but have dug deep to get the result they want to give star right wing Jovanka Radicevic a shining farewell from the national team.
MONTENEGRO ARE THE BRONZE MEDALLISTS!
19:43
On the other side, Grace Zaadi shoots a penalty high! She kept France in the match with that late goal in regular time, but she cannot do it again.
Bronze now surely for Montenegro!
19:38
Montenegro two up with four minutes remaining: Jovanka Radicevic converts a penalty throw for her fifth of the match and it stands 25:23!
19:34
Just another great save from Marta Batinovic to deny Grace Zaadi this time in the last second of the first five minutes.
A crucial save, Montenegro lead 24:23!
19:29
23:23! You feel the tension, the emotions in every corner of Stožice Arena.
If we are still level after these two times five minutes, we will get another extra time. Only then we might go to a shootout.
What an hectic and tumultuous end to the 60 minutes! We are in for extra time as it stands 22:22.
Montenegro look like they have won it 22:21, but Itana Grbic causes a last-second penalty as she prevents France from talking a free throw quickly, gets the red card, and Grace Zaadi converts from the seven-metre line.
Two times five minutes more of this intense battle!
19:14
Is this the turnaround? Montenegro getting too hectic and stay goalless for several minutes now, while France manage to find the four times without answer: It is 21:20 to France!
19:08
France are just missing too many chances to go level again, though when they score... Oh-là-là:
19:01
Djurdjina Jaukovic's four goals so far have put her in the lead of the tournament's top scorers' list with 46 goals, overtaking Alina Grijseels 44. Still some players on the hunt though who will see in action in the final later tonight, like Henny Reistad (43) and Nora Mørk (42).
18:56
France stay in touch and close the gap, but Marta Batonovic just keeps doing what she has done in the first half:
18:45
Seven minutes into the second half and Montenegro go three up for the first time as Djurdjina Jaukovic nets for 16:13. If France don't find the answer soon, this could be the decisive phase in this match. No wonder France coach Olivier Krumbholz calls his second timeout.
18:42
The momentum remains with Montenegro. Marta Batinovic now on seven saves from 14 attempts as Montenegro go 15:13 up. And they are playing their attack on the side where the Macedonian fans are cheering.
18:38
Here is that terrific buzzer beater from Itana Grbic. Real highlight of in the first half:
18:33
Second half about to throw off. Don't forget you can watch along this game by tuning in to our Twitch show on the Home of Handball channel. It also running on top of this live blog.

Wow, what a buzzer beater by Itana Grbic for her fourth of the game. She smashes the ball past Cléopatre Darleux to send Montenegro into the break with a slim lead. All to play for in the second half!
Let's hear from EHF journalist Courtney Gahan here in Ljubljana:
"Sometimes it seems as though a team accustomed to playing finals can have far more trouble adjusting to playing or bronze than other sides. That appears to be the case here as France did not look to be at their best level early on, with a number of uncharacteristic errors from the reigning Olympic champions.
Until Friday night, France had not lost a semi-final since the EHF EURO 2016. They had a shock at the 2019 World Championship, when they were knocked out in the preliminary round, but apart from that, they have played every final at every championship since 2017. On the other hand, Montenegro had not reached a semi-final since the EHF EURO 2012.
They always say the bronze match is the most difficult to get mentally prepared for and the feeling is that France were not quite in the right mindset to start, but the urgency is growing as the clock ticks on and their form is rising to match. So, we go to the break with the score just how we like it in such a match: level with everything to play for in the second period."
18:19
France pretty sloppy in their attack this first half, but Montenegro goalkeeper Marta Batinovic is showing her class over and over again, too.
18:06
Both teams have had two-goal leads – but after 19 minutes we are all in the balance again: 8:8.
Lots of energy, lots of pace, lots of mistakes, too. Entertaining stuff! And the Montenegrin fans are loving it.
17:59
Just the intense match we have been expecting! The battle for bronze is truly on as Montenegro and France are locked at 6:6 after 13 minutes.
17:37
In 2018, France won gold.
In 2020, France won silver.
In 2022, France...
Let's see if they keep the rhythm going. France have been so strong all tournament, until they ran into a tough lesson taught by the superior Norwegian masters in the semi-final Friday.
No doubt France want to bounce back and will be up for this one!

17:31
France have won EHF EURO bronze three times: in 2002, 2006 and 2016; Montenegro played the bronze medal once before – in 2014, when they lost to Sweden.
Montenegro defeated France 24:23 on their way to gold at the London 2012 Olympic Games, but have lost all eight games against France since, including their main round opener of the EHF EURO 2022 they played exactly one week ago: 27:19.
For sure Montenegro, supported again by a large legion of fans here in the Stožice Arena, are ready to dig deep for a different result tonight!

17:24
No matter how this penultimate match of the tournament pans out, one player will be in the focus for sure: Jovanka Radicevic is saying farewell to the Montenegrin national team so be prepared for an emotional goodbye from one the biggest start of the EHF EURO.
EHF journalist Björn Pazen wrote this story on the last act of Joka's glorious career:
17:15
The start of the final night of the Women's EHF EURO 2022 is only half an hour away!
We are going to see the best four teams of this tournament in action once again, and this time the medals are at stake.
But first, enjoy this video presenting all 10 players that have been named into the Women's EHF EURO 2022 All-star Team. What a bunch of stars!
17:00
Welcome back to the live blog for the decisive matches of this EHF EURO. Since the championship is all about women in sport, here is the last episode of your daily image series in the cooperation between EHF and kolektiff: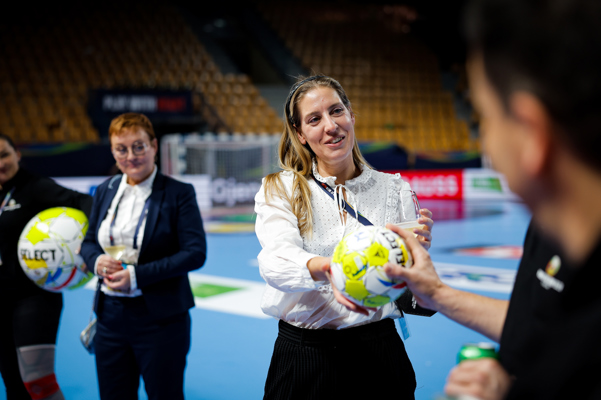 As we come to an end of the Women's EHF EURO 2022 ❤, we present you Maike Bouwer, our event manager. Maike is working tirelessly from EHF EURO to EHF EURO preparing each event ahead of its throw-off, and once on site, she acts as a venue manager, making sure everything runs smoothly. Maike, you are the one we look up to!

14:30
Six hours to go until the final... A good time to listen to the latest EHF EURO podcast, recording of the live show held during Saturday morning's media call on the Home of Handball Twitch channel, where we dished out our alternative awards and spoke to a plethora of brilliant players.
Among our 16 guests were Norway's Stine Oftedal and Silje Solberg, Denmark's Sandra Toft and Emma Friis, Montenegro's Milena Raičević and Itana Grbić, and France's Pauletta Foppa and Cléopâtre Darleux.
13:57
Looking at the All-star Team, we see that our finalists are both represented twice: centre back Stine Oftedal and MVP Henny Reistad from Norway; left wing Emma Friis and defender Kathrine Heindahl from Denmark.
EHF journalist Courtney Gahan has a closer look at the Danish team for this feature, as Denmark is ready for a final in which they look for their fourth EHF EURO trophy – and they will have to beat Norway for only the 10th time in history to lift that trophy tonight.
13:18
Talking about the All-star Team, Stine Oftedal is in it – again. EHF journalist Björn Pazen spoke to the Norwegian captain before the team was revealed this morning, and they talked about her role of guiding a partly new Norwegian team to success at this EHF EURO:
12:05
Let's meet the team of the championship that you have helped shaping with your votes. Here is the Women's EHF EURO 2022 All-star team: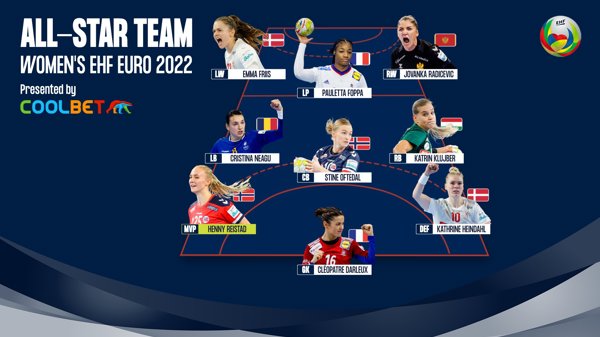 Women's EHF EURO 2022 All-star Team:
Goalkeeper: Cléopatre Darleux, France
Left wing: Emma Friis, Denmark
Left back: Cristina Neagu, Romania
Centre back: Stine Oftedal, Norway
Right back: Katrin Klujber, Hungary
Right wing: Jovanka Radicevic, Montenegro
Line player: Pauletta Foppa, France
Best defender: Kathrine Heindahl, Denmark
MVP: Henny Reistad, Norway
11:33
It is a tradition that on the last day of a European Championship, EHF President Michael Wiederer shares his views, not only on the current tournament but also on upcoming events.
EHF journalist Björn Pazen has sat down with Wiederer, who shows his satisfaction with the EHF EURO 2022 and paint an optimistic picture for future events in this interview:

10:00
Good morning and welcome to the live blog for the Women's EHF EURO 2022 for the last time.
We have been climbing a mountain for the past 16 days, and now are reaching the summit: it is the finals day with both medal matches.
Here is the schedule: