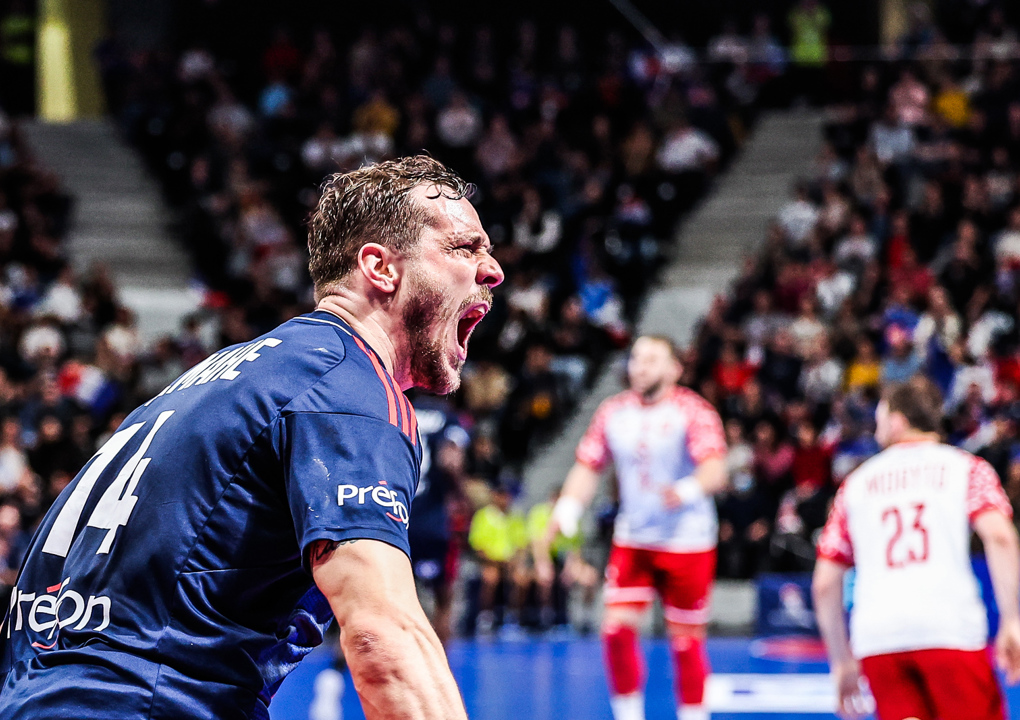 Five talking points after fascinating week of qualifiers
We had dominant wins for these teams, but also big surprises over the course of last week, with plenty to talk about before everything will be decided between 26 and 30 April when the last two rounds are scheduled and the other 15 berths will be awarded.
Five teams go through with four wins
The top three sides from the EHF EURO 2022 – Sweden, Spain and Denmark – and the hosts, Germany, were already qualified for the EHF EURO 2024, with 20 spots up for grabs via the qualifiers. Five of those spots have been already clinched last week, as four teams extended their winning streaks to four games, punching their tickets to the final tournament.
In group 1, Portugal recorded their best-ever start in the EHF EURO Qualifiers with four wins in four matches, delivering two clear wins against North Macedonia (29:23 and 32:27) to seal their berth. They were surprisingly joined by Austria, which are clearly dominating group 4, also winning four out of four to earn their fourth berth in a row for the EHF EURO.
With the best attack of the competition so far, with 150 goals scored, Hungary won group 6, sealing their place at the EHF EURO and the first place in the group with two wins against Switzerland: 37:32 and 36:27.
Slovenia and reigning Olympic champions France made it through with four wins in four matches in groups 7 and 8.
Race for third-placed sides heats up
There are still 15 spots up for grabs for Germany 2024, with the first two spots in each group progressing. The other four spots are reserved for the best four sides which finish on the third place in their groups, with their results against the last-placed team in their respective groups omitted.
The battle is fierce here and it will definitely go to the wire - until the final minutes of the last games – as Netherlands, the Faroe Islands and Italy will progress to the final tournament in this moment, with the fourth place being stuck in a perfect tie between Georgia and Slovakia at this moment.
After a draw and a win against Croatia, Netherlands are tied with Goran Perkovac's side in the standings, but have an inferior goal difference than Croatia, which sends them to the third place. However, at the end of the EHF EURO 2024 Qualifiers, the Dutch side will finish over Croatia in the case of a tie at points, with the tiebreaker being the head-to-head results.
The Faroe Islands are second in the ranking of the third-placed teams, with two points, while the other six teams are currently at 0 points, with the goal difference separating them: Italy (52:70), Georgia (47:65) and Slovakia (47:65) are tied at -18, followed by Bosnia Herzegovina (-19), Estonia (-20) and Türkiye (-26), in what will definitely be a fascinating battle for the four qualifying places.
Greece and Faroe Islands shock opponents
There are obviously surprises in such a packed competition, with plenty of teams trying to develop and produce upsets and the biggest ones came this week courtesy of Greece and the Faroe Islands. Greece have so far never qualified for the EHF EURO but are now in pole position to seal a place in the final tournament after extending their winning streak to three games.
The cornerstone of this form was the 32:28 win against the Netherlands back in October, and the wins against Belgium (26:24 twice) helped Greece edge closer to a EHF EURO berth. However, they will meet powerhouse Croatia twice in their last two matches.
The Faroe Islands might have lost against Romania on Saturday (25:17), but their win in Torshavn (28:26) was one that they will never forget. Backed by an outstanding game from right wing Hakun West Av Teigum, who scored 11 goals from 12 shots, the Faroe Islands secured only their second win in history in the EHF EURO Qualifiers and made a huge step for qualification.
They have a prime chance to finish either in the top two, or as one of the best four teams on the third place, needing a win against Ukraine in Torshavn in April to get even closer.
Turchenko confirms magnificent form
No player has scored more goals in the first four rounds of the EHF EURO 2024 Qualifiers than Ihor Turchenko, Ukraine's left back, who has been truly impressive with 33 goals – despite his team winning only one of the four matches they played.
Turchenko has not scored less than seven goals in any of Ukraine's matches so far, confirming his excellent run as one of the in-form players this season, having also been the top goal scorer of the group phase of the EHF European League Men, where he had 85 goals for HC Motor.
Only three players have scored at least 30 goals: Netherlands right back Kay Smits has 31 goals and Georgia right back Giorgi Tskhovrebadze is on 30 – 17 of which came in last week's double-header against Lithuania.
Hosts Germany have plenty to fix
The four teams directly qualified for the final tournament are meeting in the EHF EURO Cup 2024, with Sweden taking four wins out of four games after clinching two wins against Spain last week: 33:29 on home court and 31:30 in Jaen, Spain.
The Scandinavian side delivered two excellent performances, as backs Felix Claar and Eric Johansson were nothing short of superb, thriving even as the MVP of the EHF EURO 2022, Jim Gottfridsson, and goalkeeper Andreas Palicka were out of the side.
The biggest question mark in the EHF EURO Cup 2024 so far has been Germany, which clearly lost both games against Denmark: 30:23 and 21:28, with plenty to fix for coach Alfred Gislason.
The main issue has been the attack, as Germany have now lost four matches out of four in this EHF EURO Cup 2024. On the other hand, Denmark, who missed players like Niklas Landin and Mikkel Hansen, are ushering in new talent and still have a chance to finish first if they beat Sweden when the competition wraps up in April.
photos courtesy of Johnny Fidelin/Icon Sport (France), Aniko Kovacs (Hungary), Marco Wolf (Germany)