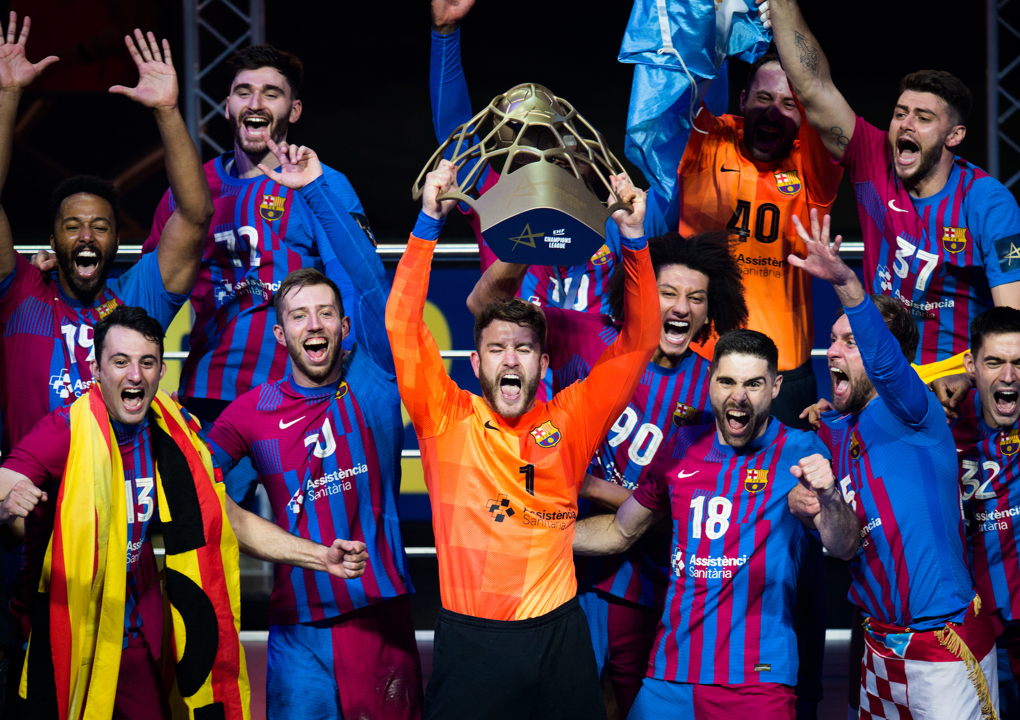 Summary: Barça defend title for 10th trophy
Barça are the EHF Champions League Men 2021/22 champions! The Spanish side became the first team ever to reclaim a trophy won at the EHF FINAL4 in Cologne when they beat Lomza Vive Kielce after extra time and a penalty shootout on Sunday in LANXESS arena. Earlier on Sunday, Kielce secured third place in the 2021/22 season against Veszprém. 
Barça crowned champions of the EHF Champions League Men 2021/22
the Spanish side became the first to reclaim the title in Cologne after a penalty shootout win, 37:35, in the final versus Kielce
THW Kiel clinched third place in Cologne for the first time, defeating Veszprém 37:35 in the placement match after a penalty shootout
Barça wing Aleix Gomez was the top scorer of the season, with 104 goals scored, and Kielce line player Artsem Karalek was awarded MVP of the EHF FINAL4 Men 2022
Courtney Gahan reported live from Cologne throughout the event, with input from journalist Björn Pazen and EHF FINAL4 photos by EHF/kolektiff

22:50
The 54-hour live Twitch show has come to an end and with that, our coverage of the EHF FINAL4 Men 2022 is finished. 
Thank you for joining us for this thrilling weekend. We hope you enjoyed it as much as we did! 
21:07
Alongside the awarding of the trophy, there were two other awards in the ceremony — MVP of the EHF FINAL4 Men 2022 and top scorer of the season. 
The MVP award went to none other than the man who sent the final to extra time, Kielce line player Artsem Karalek. 
Top scorer was secured by Barça wing Aleix Gomez, with a season total of 104 goals. Gomez was also named in the All-star Team for the third straight time this season and has now won his second Champions League trophy. 
21:04
The EHF FINAL4 Men and the season are wrapped up, but our 54-hour live Twitch show is still running so you do not have to farewell the event yet! 
Catch the last of the show before the conclusion here. 
21:00
Two thrilling days in LANXESS arena, helped by the fact that tickets were sold out both days — and the arena management rightly received a commemorative award from EHF Marketing for the superb organisation of the event.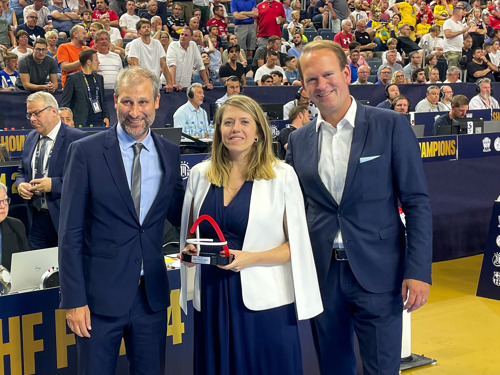 20:51
That magic moment they work all season — and beyond — for. 
20:46
What a match to decide the title! Only the second penalty shootout in the history of the EHF FINAL4 Men in Cologne, and Kielce were involved in both. Barça were the victors this time around, making plenty of history — 10 EHF Champions League titles and first to reclaim the trophy in Cologne. 
Read our review of the final below. 
It has been two intense days — a very intense but also very nice time. It's a childhood dream come true to be able to play here. Now it's time to come to terms with the defeat and the fact that we didn't reach the goal of our dreams.










































For me, it was the hardest game in my life since I am a professional. It was amazing with a lot of emotion. Finally, we won this final on penalties. It means a lot for me. I am proud of my team. We showed a lot of character yesterday and today, as both matches were not easy for us. Today we made history. We will enjoy this title, but still we want more.
Barça become the first team to reclaim an EHF Champions League title won in Cologne as they beat Kielce in a penalty shootout. 
Goalkeeper Gonzalo Perez de Vargas was the deciding factor, as he made the one and only save of the shootout, while all Barça players score their goals. The save came against Perez de Vargas' Spain national teammate Alex Dujshebaev, while the other Kielce players — Arkadiusz Moryto, Igor Karacic and Daniel Dujshebaev scored their goals. 
As Alex Dujshebaev shot third for Kielce, it all came down to the last shot for Barça. Aleix Gomez scored first, Dika Mem followed then Melvyn Richardson and Ali Zein, and finally Ludovic Fabregas stepped up to the line with everything in his hands. And Fabregas did not falter, netting the goal.
The extra time period ends with the score still level — and so we go to a penalty shootout for the second time on finals day! 
It is Kielce's second final in the EHF Champions League, and the second time their trophy match goes to a penalty shootout. 
19:44
The first five minutes of extra time end with Barça in front 30:29. We saw some spectacular saves and goals, and it was Aleix Gomez who struck for Barça to edge in front, with his ninth goal of the game.  
Barça could see victory, with a one-goal edge and seconds to go — but Artsem Karalek gains possession and, staying absolutely calm, nets an equaliser right on the buzzer to send the final into extra time. 
19:30
70 seconds to go. 28:27 for Barça after Aleix Gomez nets his eighth of the game. 
Below, check out a great goal from Uladzislau Kulesh. 
19:26
Four minutes to the buzzer on the final and Barça reclaim the lead for the first time since the 41st minute, 27:26, thanks to two quick goals scored by backs Dika Mem then Ali Zein. 
But this match is on the edge and we could very easily see a last-second winner or an extra time period to decide the title. 
19:17
It's crunch time and most likely we are now seeing the last 10 minutes of the 2021/22 season! 
Barça coach Carlos Ortega calls a timeout as the click hits 51 minutes with Kielce still holding the edge, at 24:23. 
In attack, the Spanish side have majority French players on court in this final stage, with backs Timothey N'Guessan, Melvyn Richardson and Dika Mem working together with line player Ludovic Fabregas. Meanwhile for Kielce, the Dujshebaev brothers Alex and Daniel are working with Igor Karacic on the back court. Uladzislau Kulesh has also had a big impact for Kielce in the second half, with some superb goals. 
19:10
We enter the last quarter of the final — assuming extra time is not needed — with Kielce one in front at 21:20. 
Goalkeeper Gonzalo Perez de Varagas is really rising as a key for Barça, with 11 saves, although Kielce's Andreas Wolff is not far behind, with eight. 
19:02
Eight minutes played in the second period and we still have a level game at 18:18, although the tables have turned a little, with Kielce now leading the charge — scoring first and leaving Barça to answer. 
Six goals in the first half brought Barça wing Aleix Gomez's season total to 100, and he is the first player to reach that mark in a Champions League season since German Uwe Gensheimer in 2016/17. The closest since then was coincidentally a Kielce player — and another Spaniard: Alex Dujshebaev, who reached 99 goals in the 2018/19 season. 
Below, enjoy the double save from Perez de Vargas I mentioned earlier. 
18:53
The final resumes! Barça goalkeeper Gonzalo Perez de Vargas has returned to court ready to put on his best show it seems, as he makes a huge double save in the opening minutes. In the 32nd, it's 15:14 for the Spanish side. 
If you are following the final at home and dreaming of being here in Cologne for the 2023 edition, it is almost time to purchase your tickets, with sales opening exclusively on the Home of Handball app on Monday and on the website on Tuesday. 

18:41 HALF-TIME THOUGHTS | BY BJÖRN PAZEN
Here we have the thoughts on the first half from our journalist Björn Pazen. 
"When the two most stable teams of the season face each other in the final of a competition, no one can expect an easygoing evening for either of them. Barça and Lomza Vive Kielce are on almost the same level in almost all departments after 30 minutes.
While Kielce are stronger in the goalkeeping — Andreas Wolff is ahead in the duel with Gonzalo Perez de Vargas — the defending champions had advantages in the beginning of the game, as they were more efficient in attack, mainly from the score of 5:2 to the 10:7 thanks to goal machine Aleix Gomez and his counter part on the left wing, Angel Fernandez. With six strikes in the first half, Gomez is on the best way to becoming Champions League top scorer for the first time.
But boosted by their excited fans, Kielce struck back and had a great comeback. Like in all three previous matches of the EHF FINAL4 Men 2022, nothing is decided yet."
18:37 HALF-TIME | BARÇA VS THW KIEL 14:13
We go to the half-time break in the final just the way we like it — with an almost level score and everything still very open for the second half. 
18:30
Five minutes left in the first half as Kielce are rewarded for their fight, levelling the score at 12:12 with a goal from line player Artsem Karalek. 
In Barça's goal, Gonzalo Perez de Vargas has started to make more saves, nor holding the same tally as Kielce's Andreas Wolff — five. 
For the Spanish side, the wings are doing the most damage, with Aleix Gomez already netting five from five and Angel Fernandez on three from three. But they are not the only dangerous ones...what a goal from left back Haniel Langaro below. 
18:22
17 minutes in, Kielce are still chasing Barça, with the Spanish side profiting from a stronger opening and holidng a steady two- to three-goal lead. Right now it is 9:7 for the defending title holders. 
With four saves, Kielce goalkeeper Andreas Wolff is an important factor in the match, as he ensures Barça are not capitalising on more of the chances created. 
18:11
10 minutes played in the final and so far Barça are looking very strong, as they hold the edge at 6:4. 
The two players left in the race for the season's top scorer title, Barça's Dika Mem and Aleix Gomez, have scored one and two goals, respectively. That means Mem's total for the season is now 95, while Gomez's is 96. Will both pass the 100-goal mark in this match? 
Below, check out a great clip captured by our mobile reporters showing the final minutes before entering the court for the match.
17:56
This is it! The very last match of the season, the one we've all been waiting for — the title decider! 
Barça and Kielce are taking the court right now and it's time for you to join us on EHFTV.com. You do not want to miss a minute of this sure thriller. 
For those who would like some supplementary commentary alongside the game, watchalong with our live Twitch show. 
17:55
And a quick look at more of the key facts surrounding the final not already covered in Björn Pazen's pre-match thoughts. 
Kielce beat Veszprém 37:35 in the semi-final on Saturday; Barça were victorious 34:30 against Kiel. Leading up to the EHF FINAL4, Kielce were winners of group B, eliminated Montpellier in the quarter-finals and have a season balance of 12 wins and four defeats. Barça finished second in the same group and were victorious twice against Flensburg in the quarter-finals. 
Alongside aiming for their 10th trophy overall, which would extend their own record for most wins in the competition, Barça can become the first team to take the title four times in Cologne. Kielce took the trophy once, in 2016. Barça are playing their 10th EHF FINAL4 and have reached the final in Cologne for the seventh time, while Kielce have their fifth appearance and second final. 
Kielce won both group matches against Barça this season (32:30 at Palau Blaugrana and 29:27 on home ground). In the overall balance, Barça won six of 11 duels, two matches ended in a draw, and Kielce won three times. 
At the EHF FINAL4, Barça have won both previous matches against Kielce — the 2013 semi-final (33:28) and the placement match in 2019 (40:35). 
The coaches combine for 11 Champions League titles: Carlos Ortega won six trophies as a Barça player; Talant Dujshebaev won the trophy once as a player (1994 with Santander) and four times as a coach (2006, 2008 and 2009 with Ciudad Real and 2016 with Kielce). As a coach, Dujshebaev faced Barça twice in an EHF Champions League final. In 2005 he lost in the old two-leg format with Ciudad Real. In 2011 he lost with Atletico Madrid in Cologne. 
Barça's Aitor Arino and Gonzalo Perez de Vargas can become the first players to win the trophy four times in Cologne after 2011, 2015 and 2021. Three more players have the chance to win their third trophy — among them the two Croatian internationals playing the final, Igor Karacic (Kielce) and Luka Cindric (Barça), and French line player Ludovic Fabregas (Barça). Karacic, Cindric and Alex Dujshebaev won the title together with Vardar in 2017. Karacic (2019) and Perez de Vargas (2021) were MVPs at previous EHF FINAL4 Men tournaments.
17:49 PRE-MATCH THOUGHS | BY BJÖRN PAZEN
And now it's time to switch to trophy match mode! Read journalist Björn Pazen's pre-match analysis below: 
"We have to dive deep into the history of the EHF Champions League to find a team that beat Barça twice in one season: It was THW Kiel, first in the group phase of the 2009/10 season, then in the first ever final at Cologne in 2010.  
Now Kielce have the chance to beat Barça for the third time in the same season, after winning both group matches against the record title winners. To be honest, Kielce vs Barça was the expected final — they were the two strongest sides of the competition so far. They have had the most consistency in their squad and the deepest high-quality rotation.  
Barça improved after the double defeat in November, remaining unbeaten in the eight matches since then, including a draw against Paris, three victories against Flensburg and wins against Kiel and Veszprém — so the only stain on their vest is the outcome against Kielce.  
When taking the semis into account, we can expect four key duels in the final: Gonzalo Perez de Vargas versus Andreas Wolff in goal, Aleix Gomez versus Arkadiusz Moryto on the wings, the all-French clash Ludovic Fabregas versus Nicolas Tournat at the line, and the all-Croatian duel Igor Karacic versus Luka Cindric on the centre and left back.  
And it will be the duel of two masterminds as coaches. Talant Dujshebaev knows how to steer his teams on the winners' podium, while Carlos Ortega can make history and become the coach who led Barça to the top right in his first season, end the Cologne curse that no team can defend the title and bring the historic 10th trophy to the cabinet of the Barça museum in Camp Nou. Is there any more motivation? No!"  









17:44
Before we turn our attention fully to the final, starting in 15 minutes, recap on how THW Kiel clinched third at the EHF FINAL4 for the first time below. 








Niklas Landin emerges the main hero for Kiel, as he makes two saves in the penalty shootout and five shots from each side are not needed. 
Landin's saves came against Gasper Marguc and his national teammate Rasmus Lauge, while Yahia Omar hit the post. Vladimir Cupara also makes a penalty save for Veszprém, versus Miha Zarabec. 
Kiel's Niclas Ekberg, Steffen Weinhold and Magnus Landin are all successful with their shots, while Veszprém's Petar Nenadic is the only one to score for Veszprém. 
17:00
The teams will alternate with five penalty shots each. Should the score remain level, the penalty shootout will then become 'sudden death' to decide the winner. 
A tense ending sees Veszprém level with a penalty scored by Kentin Mahe after the buzzer, and the 3/4/ placement match will be decided in a penalty shootout!
16:50
Two minutes to go and Veszprém are back in front, 33:32. Should regular time end with the score leve, the match will go straight to a penalty shootout to decide the winner. 
16:47
Five minutes to the buzzer. Kiel in front 32:31. Veszprém have changed goalkeeper Rodrigo Corrales for Vladimir Cupara and are taking Cupara out for their attacking phases as they add an extra attacker. At the other end of the court, THW Kiel are doing the same. 
It looks as though this match is going right down to the wire...
16:39
Just outside the final 10 minutes, THW Kiel's chase is finally rewarded as they equalise at 30:30. It is difficult to believe this is a placement match given the fiery atmosphere in LANXESS arena, but as journalist Björn Pazen said in his half-time thoughts, it is clear neither team wants to leave Cologne empty-handed. 
Niklas Landin has just returned to the German team's goal, while at the other end of the court Veszprém goalkeeper Rodrigo Corrales has reached a tally of 13 saves. Veszprém right back Yahia Omar is proving a headache for Kiel, having become the top scorer of the game with eight goals thanks to a great run from the 44th to 48th minute during which he struck four times. 
16:29
Kiel have not managed to come closer than two goals, as Veszprém stay steadily with the upper hand. In the 43rd minute, it's 26:23 for the Hungarian team. 
After his saves dried up, Niklas Landin has just been replaced by Dario Quenstedt in Kiel's goal.
Meanwhile, concerning the season's top scorer race, it looks as though it will be a contest between Barça's Dika Mem and Aleix Gomez, as Veszprém back Petar Nenadic has not added more goals since his first this game, and coach Momir Ilic is favouring flow and pace on the back court with the combinations of Yahia Omar, Kentin Mahe, Mate Lekai and Rasmus Lauge proving fruitful. 
16:20
Five minutes into the second period, Kiel have outscored Veszprém 5:3, bringing the game much closer at 19:21. 
Two of those goals came from wing Rune Dahmke, who was not on court in the first half but has made his presence felt quickly. Back Nikola Bilyk also netted two in the opening minutes of this half. 
And Rodrigo Corrales continues his exceptional game in Veszprém's goal. Should Veszprém take the win here, the Spanish keeper must be hailed as the biggest hero of the match. 
16:14
We are back for the second half of the 3/4 placement match, with THW Kiel facing a comeback task as they trail Veszprém 14:18 in a highly entertaining clash. 
Catch this thrilling game live on EHFTV.com. 

16:07 HALF-TIME THOUGHTS | BY BJÖRN PAZEN
Time to hear from journalist Björn Pazen with his thoughts on the match so far. 
"Anyone who thought that two exhausted and disappointed teams would play their last match of a long season only for honour have been proven completely wrong in the placement match. Kiel and Veszprém played with full speed, power and emotions. The will to win was clearly visible. Both sides fought for every ball and centimetre on the court — neither wants to leave Cologne empty-handed. And both sides counted on extremely strong goalkeeper performances by Rodrigo Corrales (Veszprém) and Niklas Landin (Kiel).
Keys for Veszprém's well-deserved half-time lead were the higher number of saves by Corrales (nine), the goals of powerful line player Andreas Nilsson (five from five attempts) and the fact that they scored much more easy goals, while Kiel had to fight hard for every strike, losing much more energy to score. And one of Veszprém's players had something special to celebrate: Peter Lukacs scored his first ever goal at an EHF FINAL4. On the other side, Kiel playmaker Miha Zarabec was unstoppable, finding the gaps in Veszprém's defence with his breakthroughs."
15:59 HALF-TIME | THW KIEL VS VESZPRÉM 14:18
Veszprém stretch their lead in the last minutes of the half, keeping Kiel scoreless for almost a full five minutes. The Hungarian side have a promising advantage but will certainly not be relaxing after their experience yesterday, when they ended up defeated by Kielce after a similarly strong show in the opening half and a lead at the break. 
15:51
Five minutes to go in the half and Veszprém are maintaining control, leading 16:14. The difference shows clearly in the statistics, with Rodrigo Corrales now on eight saves, keeping THW Kiel's shooting accuracy at a low 54 per cent. At the other end of the court, Veszprém are scoring at 70 per cent accuracy. 
But the top scorer so far is a Kiel player: back Miha Zarabec is having the most success against Veszprém's defence, with four goals. 
15:44
21 minutes played. 26 goals scored. Yet we are also enjoying some spectacular moments from the goalkeepers — Niklas Landin for Kiel and Rodrigo Corrales for Vesprém. 
THW Kiel coach Filip Jicha calls the first timeout of the game as Veszprém pull away to a two-goal distance, 14:12, thanks to a goal from back Jorge Maqueda. 
15:34
The game is unfolding at a furious pace and the top actions keep coming in. Be sure to follow the EHF Champions League Twitter channel to catch every single highlight shared. 
As we hit the 16-minute mark, the game is level at 9:9. 
Domagoj Duvnjak had a huge start, scoring three goals by the 12th minute. On Veszprém's side, Petar Nenadic has scored one to inch him closer to the season's top scorer leaders, with now 92 goals in 2021/22. 
If there was any question regarding motivation to win this match, it is absolutely gone — every player is delivering 110 per cent and the result is a highly entertaining match. Check out a great goal from Veszprém's Kentin Mahe below. 
15:27
10 minutes into the 3/4 placement game and we are enjoying an atmosphere and intensity as though it is a title decider. Veszprém have the edge right now, at 4:3. 
The goalkeepers in particular are giving us a big show, with both counting three saves so far, and Kiel's Niklas Landin on a big save rate of 43 per cent and Veszprém's Rodrigo Corrales on 50 per cent. 
15:17
Yahia Omar likes to get out of the blocks fast — just like yesterday in the opening semi-final, the Egyptian right back is the first on the score board as today's matches get underway. 
Some fun facts about Omar: He is still only 24 but is the starter in his position for Veszprém and also in the Egypt national team, who made history as the first African team to reach the Olympic semi-finals at Tokyo 2020. At that event, Omar was named the All-star Team right back — the first non-European in the Olympic All-star Team since 1992. 
Veszprém is Omar's first European club, where he arrived in 2019. Read about his early days at Veszprém here. 
15:15
Game on! Starting whistle in the 3/4 placement match. Who will take third place in 2021/22? And will Petar Nenadic score enough to become the season's top scorer?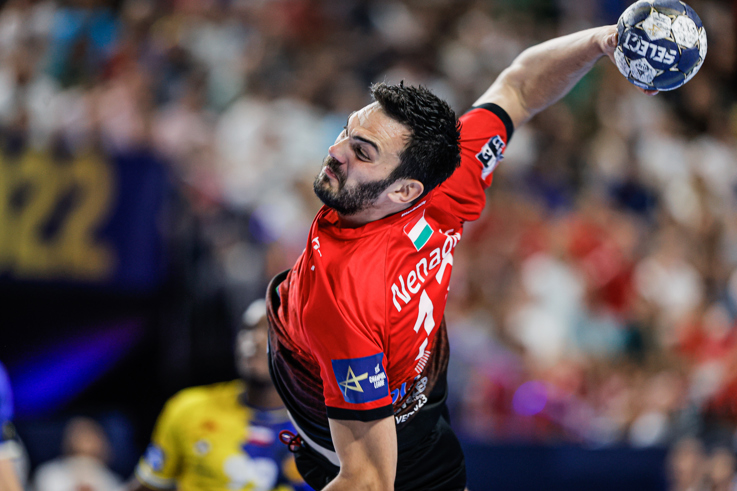 15:06
Want some extra company to follow the 3/4 placement match? Join us on Twitch for a watchalong of the match with Patrick Kendrick and three-time Champions League winner with THW Kiel, Dominik Klein. 
15:03
As we wait for the starting whistle in the 3/4 placement match, the finalists Barça and Kielce will be in their last preparation stages before leaving the hotel to travel to the arena for 18:00 CEST throw-off. 
Below, enjoy highlights of the two semi-finals, as the Spanish and Polish sides took their victories, and Kiel and Veszprém put up great fights before succumbing to defeat. 
14:57
It is almost time for throw-off in the 3/4 placement match. It's time to grab your snacks and switch on EHFTV.com to catch the action live!
14:34 PRE-MATCH THOUGHTS | BY BJÖRN PAZEN
Let's hear from journalist Björn Pazen with his thoughts on today's 3/4 placement match: 
"'Nobody wants to play this match, but we have to. This is part of the schedule,' said Kiel coach Filip Jicha on Saturday night. But in the deepest of his heart he wants to play — and he wants to win it. It is not only for honour, but for the higher prize money and the chance to finish a long and demanding season victorious.
And this constellation is a special one: for the first time, the former THW teammates and former Champions League top scorers Jicha and Momir Ilic face each other as coaches.
Kiel looked really tired in the second half of their semi against Barça. Veszprém have the deeper bench, which might be the key again. Kiel have played two placement matches in Cologne, and lost all of them. And maybe Veszprém even have another special motivation: enable their left back Petar Nenadic to score and score and score. The Serbian back is three goals below the Barça duo Dika Mem and Aleix Gomez and can still become top scorer of the season — and in this case would bring a trophy home, which is more than a consolation prize."









14:16
Yesterday I asked our live blog readers to have their say in a poll on which coach would lead his team to the title. Interestingly, two of the favourites were Veszprém's Momir Ilic and Kiel's Filip Jicha, who are instead set to meet in the 3/4 placement game. Barça's Carlos Ortega received the fewest votes of the four, yet the defending title holders are held by many — including Kielce coach Talant Dujshebaev — as the favourites to claim the trophy.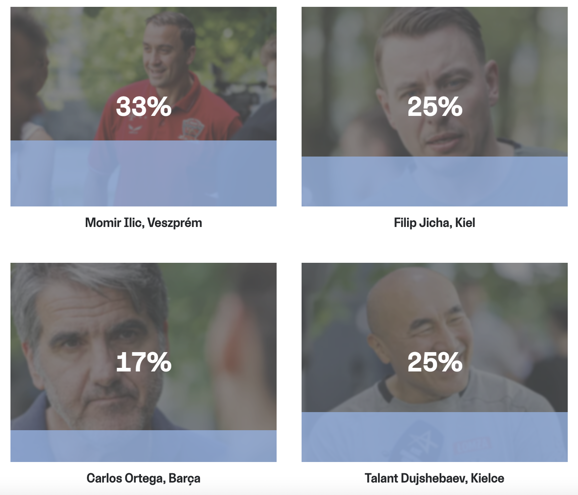 14:09
Just over an hour until the 3/4 placement game begins and Veszprém and Kiel are in the arena getting ready to start their warm ups. 
This opening match today will feature three players named in the season's All-star Team — Kiel goalkeeper Niklas Landin, and Veszprém backs Petar Nenadic and Kentin Mahe. In the final, we will see Barça's high scorers Dika Mem and Aleix Gomez, as well as Kielce coach Talant Dujshebaev. 
See some highlights of the best of the season below. 
13:57
The final countdown is on for the 3/4 placement match — but also for the final. Just look how the excitement is building throughout Cologne, as the Kielce fans made their way through the city towards the arena, making sure everyone knows about today's trophy game. 
We will give everything tomorrow [Sunday] to make our fans proud and win the match for third place.
12:58
Game time is fast approaching, with the 3/4 placement match first up at 15:15 CEST — and that means it's time to take a closer look at the Kiel vs Veszprém encounter. 
Yesterday, both teams were defeated in high-scoring semi-finals, with Kiel losing to Barça 30:34 and Veszprém losing to Kielce 35:37. 
It was perhaps a more devastating loss for Veszprém, as they suffered yet another EHF FINAL4 defeat to Kielce after seeming so in control of the match and leading. In 2016, the final saw a similar story — and although the squads in both sides were almost entirely different then, it still seems a repeat of history in some way. 
On Kiel's side, Filip Jicha said after the game that there was no denying Barça were simply better: "I am very proud of my players, because they fought like lions and did everything. In the end, Barça deserved to win. This is hard to say as a coach. After this long season and such a constellation everyone tried to surprise Barça and played really well in the first half. Gonzalo [Perez de Vargas] made some saves and gave Barca the air they needed. We tried everything and we changed the defence. We have to admit that we cannot win every match. I wish all luck for the final. We put everything we have left in our legs and brains and try to win tomorrow."
If Kiel take the victory, it will be their first third-place finish at the EHF FINAL4. Veszprém took third once, in 2017, when they beat Barcelona. 
The teams have a long history against each other, with 23 previous clashes. Each team won 11 of those games, and one ended in a draw. In Cologne, they have each won against the other twice, always in semi-finals. 
In the semi-final, Kiel coach Jicha faced his former team (as a player), Barça. Today, Veszprém coach Momir Ilic will meet his former team, with whom he took his two Champions League titles. Not only did he win those titles with Kiel, but together with Jicha, in 2010 and 2012.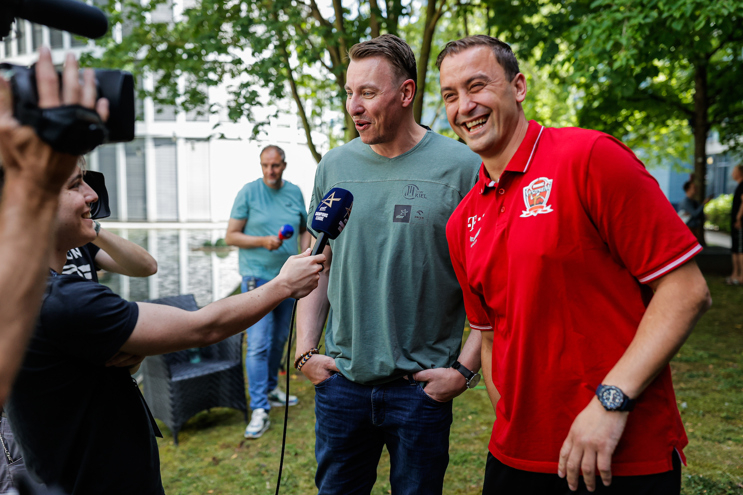 We have a possibility to show up tomorrow [Sunday] and give something back to our fans who came a long way to support us.
12:02
No doubt the most coveted prize on the line this weekend is the EHF Champions League title. But there is also one other big award being decided: the season's top scorer. 
After yesterday's semi-finals, Barça's Dika Mem and Aleix Gomez lead the standings with 94 goals, ahead of Veszprém's Petar Nenadic with 91. 
Of those three, the clear top scorer on day one at the EHF FINAL4 was Gomez, whose 12 goals saw him make a big jump up to first in the season list. It was almost a record-equalling performance from Gomez, with the highest number of goals ever scored in one match at the EHF FINAL4 standing at 13, by Juanin Garcia in 2010. 
With the 12 goals, Gomez joined Veszprém's Petar Nenadic in second on that list of high scorers in one EHF FINAL4 match. Can he possibly add even more today and equal or break this record? 
11:47
The 54-hour live Twitch show is still running for almost another 12 hours, set to conclude late this evening after the matches. Right now, we have a panel of journalists from across Europe participating in a quiz — and their knowledge is sure to blow your mind. 
Overnight, we have had guests from as far as Australia on the show. Plenty of great stuff already seen and plenty more to come! 
11:29
Two thrilling semi-finals yesterday, an incredible atmosphere in LANXESS arena — full of spectators for the first time since 2019, and plenty of great photos to capture it all. 
You can see plenty of photos of yesterday's games in the live blog/summary of the semi-finals. Below, I have collected a few of my favourites that show all the different sides of the event. 
View of the court before the Veszprém vs Kielce semi-final: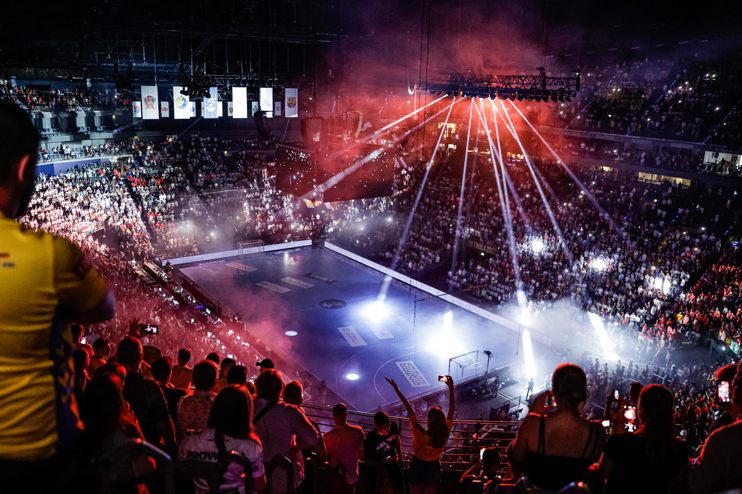 Veszprém back Jorge Maqueda smiling at the camera as he arrives for the semi-final: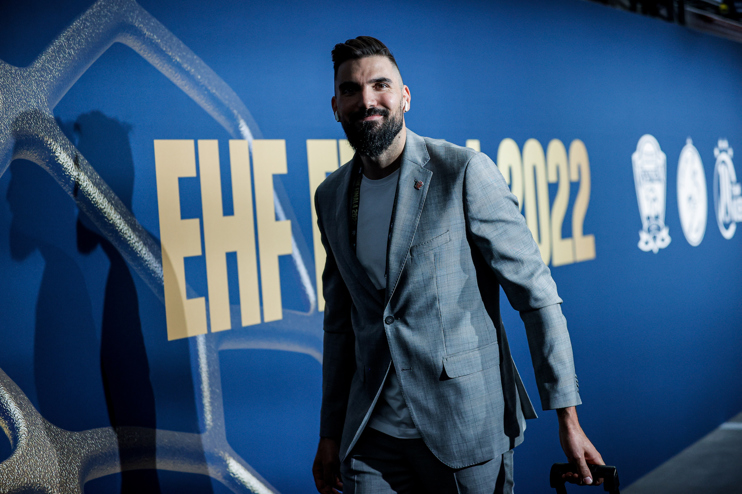 Probably because he just came through this huge show of support from the Veszprém fans: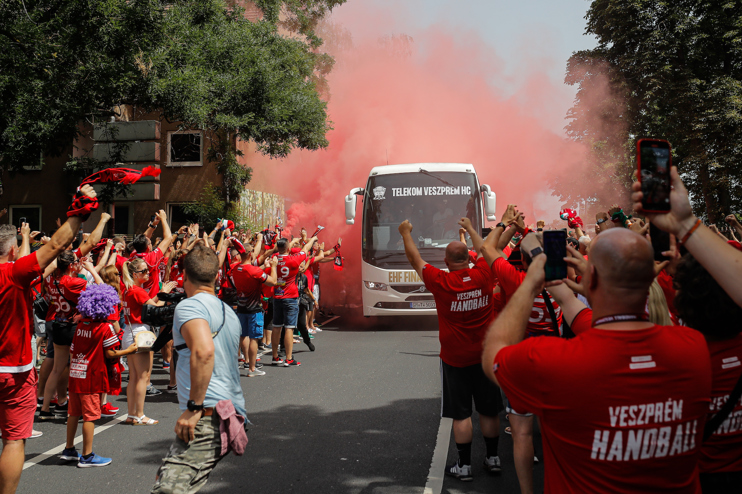 Tense timeouts — Igor Karacic talks to his Kielce teammates during a timeout in their semi-final against Veszprém: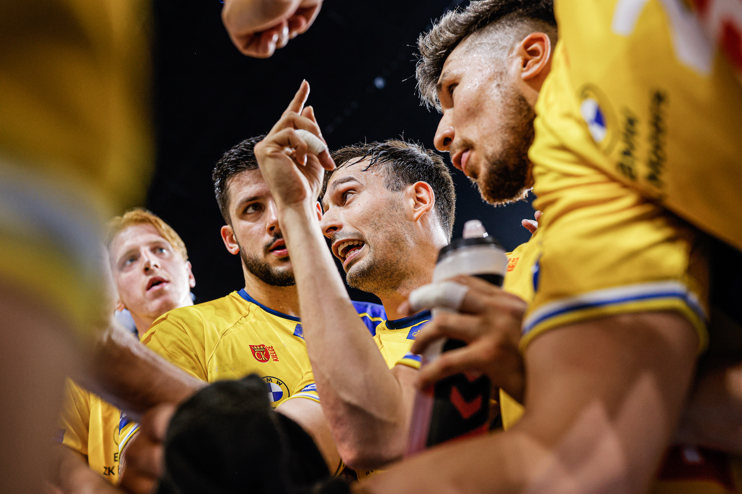 So much excitement to take in!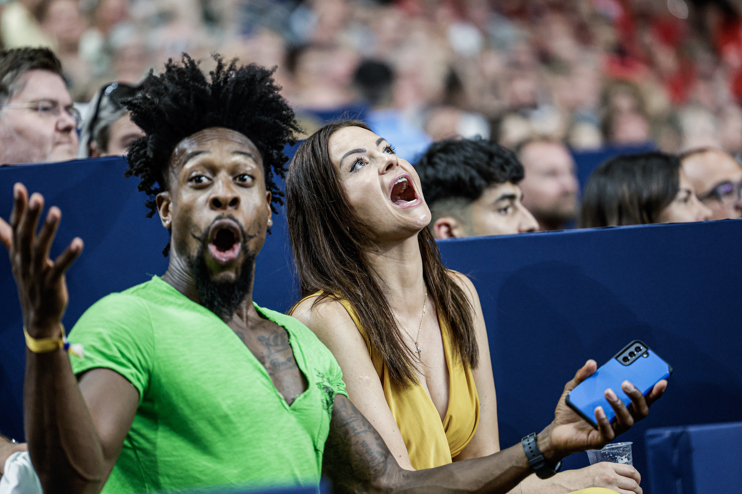 Interesting masks. You know you have devoted fans when they come this prepared:
Two icons of Kiel and heroes of handball in their nations — Domagoj Duvnjak and Niklas Landin enter the court for the Kiel vs Barça semi-final: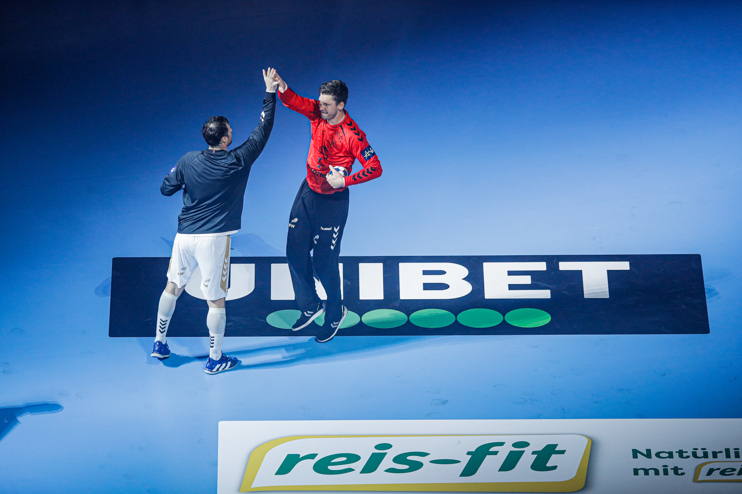 Barça goalkeeper Gonzalo Perez de Vargas takes a moment for fans after the match: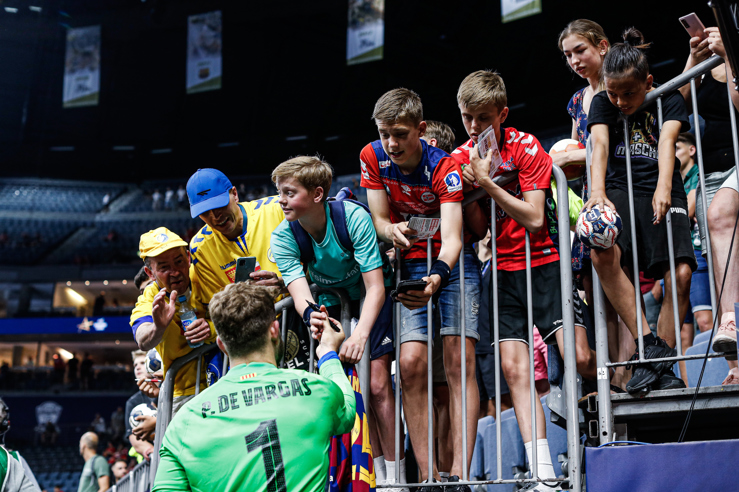 And one more view of the amazing, sold-out LANXESS arena — remember if you want to be here next year to experience this incredible event live, tickets are soon going on sale and you can pick them up here.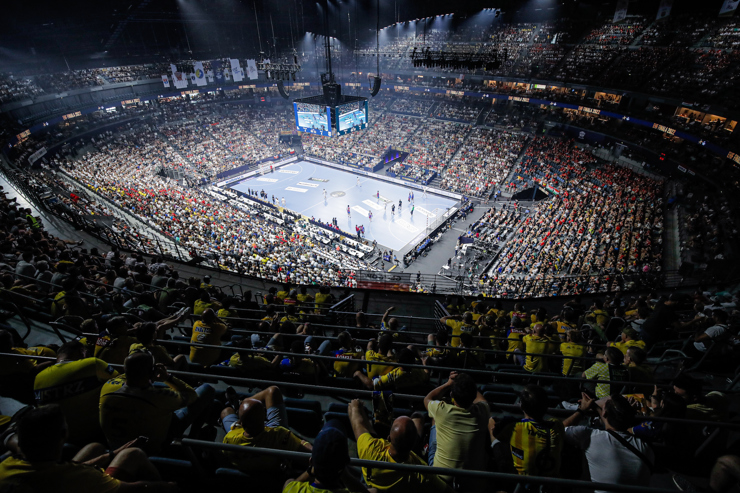 We are one step closer to our objective, which is winning the Champions League. Tomorrow [Sunday] we will need another great fight, no matter who wins the second semi-final, it will be a top team. We try to win again.
10:34
Time to get ready for what's coming up! Check out our preview of today's matches below, and recap on everything from yesterday's semi-finals with our summary of the thrilling Saturday in Cologne. 
Sunday 19 June
10:04
Good morning and welcome to the very last day of the 2021/22 European cup season! Today, the title in the top-flight men's competition, the EHF Champions League, will be decided. 
We have plenty of excitement coming your way. First of all, here's the schedule for the day: 
final at 18:00 CEST: Barça vs Lomza Vive Kielce
3/4 placement match at 15:15 CEST: THW Kiel vs Telekom Veszprém